Music Hub: First steps on a musical journey…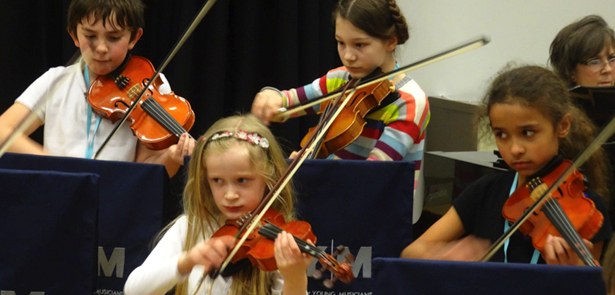 With the new term beginning at Peterborough Centre for Young Musicians (PCYM), it's the perfect time for young people to start learning an instrument – and thanks to the support of Peterborough Music Hub, it's open to all 5-18-year-olds
The Peterborough Centre for Young Musicians celebrates its 2nd birthday this term, and is really going from strength to strength.
In that time PCYM has grown from 24 to 85 students, giving a growing number of budding musicians the chance to learn more about music, play in performances across the city, see performances and – above all – have fun!
PCYM is all about playing together; the more, the merrier. To that end, it is appealing to all young musicians currently learning an instrument – especially those who would like to play their instrument with other young musicians – to consider joining the Centre for its weekly Saturday morning sessions. PCYM offers expert tuition from experienced professional musicians, with 12 tutors and 23 different sessions to take part in.
PCYM currently offers junior and senior level ensembles Strings (violin, viola, cello), brass (trumpet, trombone, horn), woodwind (flute, clarinet, saxophone, recorder, oboe), piano, singing, guitar (acoustic, electric, bass, ukulele) and percussion (drum kit, orchestral percussion).
PCYM players don't just play together, they perform together too. This means young musicians have the opportunity to play with leading professionals, get real, memorable concert experience and chalk up achievements they can genuinely be proud of.
In their first two years, PCYM players have performed at some truly prestigious events, including the world premiere of Peterborough composer Martin Bright's Reeds Sway at Water's Edge, and as part of Strictly Cathedral – with Strictly winner and Olympic champion Louis Smith MBE and war veteran Lance Corporal Cassidy Little – both at Peterborough Cathedral. This October will see PCYM back at the Cathedral to take part in the Museum of the Moon Space Concert (see following pages for details).
Any young musician aged 5-18 who has been learning an instrument for at least 2 terms, right up to grade 8/diploma standard, is welcome to join PCYM. Substantial bursaries and free instrument loans are available, too. To get a taste of what PCYM is all about, come along to any session during term time to try an instrumental ensemble, musicianship class and singing group – or simply ask questions and meet the staff.
PCYM also holds regular Open Days offering a more formal and structured experience. Come and trial a whole morning or pop in at any time during that morning.
PCYM Open Days include:
Performances from a Guildhall School of Music & Drama ensemble.
An opportunity to meet the teachers.
A trial of PCYM Saturday including ensemble, singing and musicianship.
Information desk providing all the details and information you u need.
Assistance with completing Application/Bursary forms to join PCYM.
Regular PCYM sessions take place at Ormiston Bushfield Academy on Saturdays (term time), 9am-12:30pm.
For further information and details visit: www.pcym.org.uk
With support from Peterborough Music Hub the Peterborough Centre for Young Musicians is a collaboration between Ormiston Bushfield Academy and the Guildhall School of Music & Drama.
"To do a new piece with a new group of people in a huge cathedral, which was full, was a big challenge, but PCYM's Percussion Ensemble rose to it magnificently. The performers themselves seemed to thoroughly enjoy it – although they found it a bit awe-inspiring! But each time they play this piece they play it better, which is really rewarding – and I would imagine that the Peterborough Cathedral concert is an experience they won't forget in a hurry!" – Martin Bright, composer
---
Bursaries and instrument loans bring opportunities to budding young players

Not every young person is lucky enough to own a musical instrument – but even if they don't, they can still get join in.
Peterborough Music Hub supports young musicians through a range of programmes, including free instrument loan and bursaries for lessons. Free instrument loan is open to anyone attending a Peterborough school.
The Music Hub team welcomes donations of unused and unwanted instruments – a great way to give a forgotten and neglected musical instrument a good home. If you have valuable or rare instruments gathering dust in your home, then you can also contact the Hub for further information about the purchase scheme and how it might be able to help find a new owner.
Music bursaries
The Peterborough Music Hub is offering bursaries to eligible young musicians in support of lessons with local music teachers. Successful applicants will be able to show natural flair and a commitment to learning through recommendations from private teachers or schools.
Bursary applications are means tested and will help low-income families (and others with demonstrable financial needs) to support a child's music education and enable them to fulfil their musical potential. The funding can contribute to the cost of private lessons, provide additional training opportunities and/or membership of the city's Peterborough Centre for Young Musicians.
This is a great time to make an application, before the start of the autumn term. The Hub can also assist with free instrument loan and offer advice on locating tutors and other training providers.
Application forms can be obtained through the Peterborough Music Hub, via: or call the PCYM Centre Manager Kirsten Goldthorp for more details on 07920 160035.
---
Whole Class Instrumental Teaching (WCIT)
Taking place in over 40 schools across Peterborough through the 2018-19 academic year, WCIT aims to provide young people the opportunity to learn to play an instrument as well as developing musicianship through singing, rhythm games, basic notation and listening. Performance opportunities are built into the programme so classes have the chance to take part in termly concerts before an audience.
A core requirement of the National Plan for Music Education is that every child should have the opportunity to learn a musical instrument during their education for at least 1 term. Through WCIT children have the opportunity to learn from a wide range of instruments, all of which are provided on free loan.
A priority for Peterborough Music Hub (PMH) is to encourage and nurture the progression of aspiring players, including those with a glimmer of interest in early years. PMH teachers, in conjunction with class teachers, TA's and Music Co-ordinators, can identify students who have an aptitude and desire to learn following their WCIT experience. For some this is start of a life-long hobby or, indeed, the first step on a rewarding career path.
To find out more, go to go to www.peterboroughmusichub.org.uk or contact:
"I attended the end of year performance for parents and was really struck by Zoe's energy and enthusiasm and how much of a positive effect she had upon the year 3s (some of which can be a bit of a handful!) who were paying attention throughout and had clearly engaged with the subject and learnt a great deal! My son thought it was the best lesson he'd had all year and was very pleased to have been trusted with a cello!" – parent at Barnack
Upcoming Events
Everybody's Gone to the Rapture
6 Nov 2018
Kingsgate Conference Centre
Peterborough Music Hub presents a live performance of the music score to the popular video game, Everybody's Gone to the Rapture, written by the BAFTA Award-winning composer Jessica Curry. The piece will be performed by Cambridge-based Britten Sinfonia, alongside professional vocalists and young players and singers from across Peterborough and will be the first live performance of the entire piece. Composer Jessica Curry will also be in attendance.
Free Entry (collection to be taken)
Museum of the Moon – Space Concert
9 Oct, 7pm
Peterborough Cathedral
Join musicians from PCYM and Jack Hunt School for a space-themed concert under the moon – but not as we know it! The evening is part of the Museum of the Moon installation and will take place inside Peterborough Cathedral against the backdrop of its historic interior – and an enormous, illuminated model of the moon! The concert features works from the BBC Ten Pieces repertoire, and will include a dramatic performance of Mars from Holst's suite The Planets.
Free Entry (collection to be taken)
Leave a Reply