Mischief Makers: Summer Reading Challenge 2018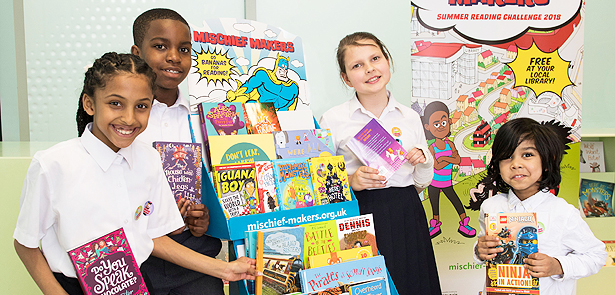 Your child's reading ability will have come on leaps and bounds during the school year, so don't let it slip over the summer holidays. Sign up to the Summer Reading Challenge (produced by the Reading Agency and delivered by Vivacity) and maintain that momentum. There are prizes up for grabs too!
For our little mischief makers it's the moment they've all been looking forward to: the summer holidays! But it's during these long, care-free weeks that children's reading ability can dip. They have worked hard all school year to improve, so don't undo all that hard work by letting them fall out of practice.
The annual Summer Reading Challenge is a creative way to keep youngsters engaged with reading. Aimed at children aged 4-11, the challenge injects a much-needed element of fun, with stickers and awards to incentivise participants. The theme for this year's Summer Reading Challenge is 'Mischief Makers', celebrating the high-jinx capers of the much-loved children's title Beano, which celebrates its 80th anniversary in 2018.
Everyone's invited
The Challenge is designed for all reading abilities. Last year more than 1,800 Peterborough schoolchildren took part in the Challenge, with two-thirds completing it.
Previous Summer Reading Challenges have undoubtedly helped pupils' reading achievement, with significant improvements seen between 2016 and 2017. But with literacy rates lower than the national average – just 63 % of pupils in the city reached the expected level in reading at the end of primary school, compared to 72% nationally – there's plenty of room for further improvement.
The Summer Reading Challenge is an easy way to get the kids involved, keep them busy over the summer holidays and it will even improve other areas of academic achievement. And it all ties into the city's new approach, A Vision for Reading, which aims to boost literacy attainment rates to 75% within the next three years.
How it works
Children can sign up to the Summer Reading Challenge from Saturday 14 July. By signing up they commit to reading six books during the summer holidays. Children can read whatever takes their fancy – fiction, fact books, joke books, picture books, audio books – just as long as they are borrowed from the library. They can borrow one book at a time, or all of them at once – whichever's easiest. Every library in Peterborough and the surrounding areas is taking part and it's completely free to sign up and join in.
Sometimes we all need a little motivation, and the Challenge offers this by the bookcase load! Children receive stickers every time they finish a book plus a folder to keep them in. There are special giveaways and a certificate awaits them on completing the Challenge.
Children younger than four needn't miss out on all the fun either. For younger siblings there's an accompanying mini-challenge, with stickers to collect for each book shared at home. Getting preschool children into the reading habit – even before they can actually read – is a great way to introduce them to the excitement of books and a simple but effective way to ignite their curiosity.
Head start
Reading more isn't just about improving literacy, it has many other proven benefits too. Reading builds confidence, develops lateral thinking and problem-solving skills, and helps lead improvement in other academic areas.
It's also a lot of fun! Because the Summer Reading Challenge gives children free reign to choose what they want to read, it opens them up to the pure joy of reading for pleasure.
Library staff and an enthusiastic band of teenage and adult volunteers will be on hand throughout the Challenge to help children discover new authors and explore the wide range of books on offer. Just drop into your local library to get started. Supporting events are also planned at the libraries and Peterborough Museum.
The Summer Reading Challenge is an accessible way to build on progress made during the term time. Fun, free and most definitely motivating, it will give your children every reason to keep reading this summer.
---
Rev up their reading
Two parents whose children took part in last year's Summer Reading Challenge share why you should take part too.
Natalie, mum to Leo (9) and Amelie (6)
"The Summer Reading Challenge is a lovely activity that you can share together. It is part of our summer holidays and makes it enjoyable in a different way. It's one of the things we always do together. And it one hundred percent helps them do better at school; if you can't read you can't access the curriculum.
"It keeps them consistently reading throughout the holidays. They are engaged with the challenge aspects of it and the prize at the end. It doesn't matter that the stickers are small, they enjoy the sense of achievement."
Claire, mum of five year old
"My five year old has found the confidence to read books aloud herself that aren't school reading books."
---
Mischief Making Max
Thurs 2 August
10am, Vivacity Bretton Library
12noon, Vivacity Central Library
2.30pm, Vivacity Werrington Library
Max is six and loves making mischief. He is cheeky, cheerful and charming but with his pranks getting increasingly daring, is he finally about to get caught?
Join us for this fun and interactive adventure as we discover a world of mischief and bring the Summer Reading Challenge to life.
Children's storytelling performance with Total Insight Theatre.
Running time: 45 minutes. Suitable for ages 5+
Tickets: £4 per child, accompanying adults free. Book in advance at any library.
Saturday Crafts
11am-1pm,Vivacity Central Library
Start the weekend with a bit of crafting. Head down to Central Library for Saturday Morning Craft Sessions, run by a keen-to-help group of young volunteers. Sessions will run every Saturday throughout the summer holidays, except 11 August. Drop in anytime between 11am and 1pm and let their creative genius shine!
---

Summer Reading Challenge 2018
Look out for Dennis, Gnasher and the rest of the gang as they make their way to Vivacity Libraries for this year's Summer Reading Challenge – Mischief Makers. Explore a map of Beanotown to find the mysterious buried treasure and become ultimate mischief makers! Solve clues, collect stickers and have lots of fun and adventures along the way!
Find out more and register your interest at: org/reading
Sign up and take part at any Vivacity library from Saturday 14 July.
Leave a Reply