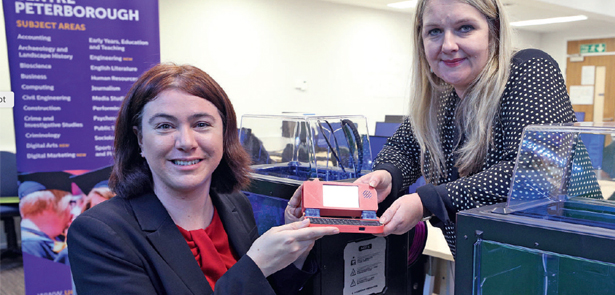 The digital economy advances at an ever-accelerating pace. It carries implications for how we will live, work and play, while with it comes the prospect of a growing 'digital divide'. Alex Mayer (above, left), MEP for the East of England, talks to us about digitalisation's unstoppable march and how education has a central role to play in preparing tomorrow's workforce
Alex, as Labour MEP for the East of England you've got a pretty busy time of it in the European Parliament. What are your main roles there and just how busy are you?
I sit on the Economic and Monetary Affairs Committee, which takes up a lot of my time in Brussels. At the moment we're pushing forward with plans to make it illegal to tax on the basis of gender, this would remove VAT on sanitary products and help tackle period poverty. Roughly each month the Parliament has plenary or voting sessions where I'll speak about important issues and campaigns in the constituency.
You are Labour's spokesperson for the economy and one of the areas you are championing in this area is digital skills. Tell us about that and why you think it's so important.
I'm worried we could develop a 'digital divide' where some parts of the country and society have the skills they need to thrive as digital technologies evolve but others don't. For example a report from Centre for Economics and Business Research, which came out in September, said that 7million people in this country were at risk of being left behind over the next ten years alone because of a lack of skills. It's not just a matter of having the skills in our economy, but having them spread so that everyone has an opportunity to benefit.
The digital age has come upon us quickly and the pace of change only seems to be accelerating. What are the implications for today's workforce?
When people think about the future of work and the impact technology will have they often think of it as Exploring the future at UCP Alex on her recent visit to UCP creating all these hi-tech, well-paid jobs. But if you look at an example like Amazon, they've doubtlessly created some of these jobs but they're reliant on warehouse workers whose pay and conditions are often really concerning. Hopefully we can work to tackle that and make sure everyone has decent pay and conditions.
In the late 70s there was very real concern that widespread adoption of microchip technology would result in mass unemployment. This never happened. But do you think there is now a risk of job losses given the unprecedented rise of mass automation, robots and especially digitalisation? From till operators to warehouse pickers – so many jobs appear to be under threat.
As you point out, technological change is always unpredictable. In the mid-twentieth century everyone thought that we'd have flying cars by now. Obviously we don't but we have tiny computers in our mobile phones, which are more powerful than anyone could ever have imagined back then. So I think these examples show we need to be wary of some of the hype and pay attention to what's actually happening. In some ways the digital revolution is already changing jobs. Look at what is happening on the high street – traditional retailers are losing out to online sales. I also think we shouldn't think of these changes as coming about just because of new technology. Part of the problem is government hasn't kept pace with the big tech companies. For example, online retailers don't pay business rates leaving their high street competitors at a disadvantage. My role as a politician is about making sure we keep pace with technology and make judgement calls about what's fair and what isn't in these new areas, whether that's about skills or tax or regulation.
You're about to vote on measures to improve digital skills across the EU. What are you hoping to achieve from this – what's the end goal?
Obviously with Brexit on the horizon I'd like to see European funds which go towards training and skills in this country replaced if we leave the EU. The European Social Fund spends millions to give people the skills they need to work in the modern economy and this work needs to continue. If we do leave the EU, then the emphasis should be on using this money to make sure we don't leave anyone behind in the digital revolution.
Where are we currently failing in this regard?
I think we're seriously at risk of failing certain communities. It's shocking that millions of people are at risk of being left out of the digital revolution.
What do schools and higher education establishments need to be doing to ensure their students are ready for the digital age?
When people talk about the future there's a lot of emphasis on the need for STEM (science technology, engineering and maths) skills. People thinking of computers and technology make the automatic link to these subjects. However, if you think about it, a lot of the STEM jobs are the jobs that are most easily done by computers. I don't think we'll have no demand for these but I think it would be a mistake to avoid thinking about arts subjects. Really, when technology is so unpredictable, we need an education system that turns out well-rounded and adaptable students.
You recently visited University Centre Peterborough to look at their state-ofthe- art 3D printers. UCP offers degrees in Digital Arts and Digital Marketing, as well as degrees in other related areas. Presumably we need more of the same?
There's clearly a growing demand for digital skills in Peterborough. We've seen employers who need those skills move and set up in the region. Not only do those employers need people with those skills but having a strong skills base here will encourage more and more businesses to come to Peterborough, powering the local economy.
UCP has a history of offering very relevant degrees well-suited to the local economy. Do you think it – and other – higher education establishments have the skillset, agility and future-facing attitude necessary to keep up with what's required of tomorrow's workforce in such a rapidly changing environment.
Local links between business and education will always be important. Further and higher education institutions which are sensitive to local needs have an important task in the future when it comes to lifelong learning. With technology changing so quickly it's important people have the ability to go and learn new skills and take control of their career prospects, and it's important this is linked to the local economy.
The rollout of gigabit-speed internet speeds across Peterborough is expected to unlock significant economic growth over the next 15 years. What sorts of specific advantages do you think this will offer businesses as digitalisation continues apace?
I think the most important benefit will be preventing any kind of digital divide. It will give businesses in the community access to the same internet speeds as businesses in tech hubs across the world. I look forward to a digital Peterborough making its mark on the world.  
Leave a Reply