Mature students are not alone!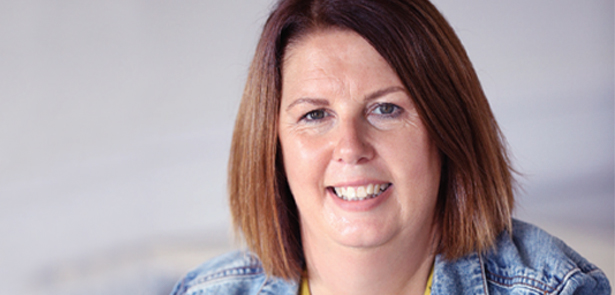 It's never too late to study for a degree and university isn't just for younger students as there is a growing number of mature students (over the age of 21) who take the important step to improving their education. Dawn Farey started studying Sociology at University Centre Peterborough in 2017 and is now entering her final year of a full-time degree. She shares her experiences and offers important advice to others starting this September
We caught up with Dawn at an Open Day for University Centre Peterborough (UCP) where she also works as a Student Ambassador which involves her being involved with university life and helping prospective students to go to university. As well as this role at UCP, she is also a Student Rep for the Sociology course where she sits on academic meetings to provide feedback on behalf of other students on her course.
So what made you choose to study a degree as a mature student?
Going to university had always been something I had dreamed about, but when I was 16, I started working full-time, then over the years with well-paid jobs and having a family — there always seemed a barrier or an excuse in the way and the time never seemed to be right. However, one day I remember talking to my husband and he said, "just go for it" and I knew this was my opportunity, so without hesitation I clicked on the UCAS website and started my journey.
Why did you choose to study at University Centre Peterborough?
UCP seemed perfect for me – they had the right course for me, it was close to where I lived, on a smaller campus and boasted small class sizes, which was exactly what I was looking for. I came in for a tour of the campus and I was so excited to be in this shiny new building with lots of classrooms and even a Costa. I think being older I knew more of what I wanted out of my learning experience and UCP seemed like the ideal place.
What was it like applying for the course?
It was really quick and easy to apply, although on my application, writing the personal statement was so daunting. I remember thinking, "how I can make myself sound interesting at 44?". Once I got over the initial anxiety of thinking I was the only mature student ever it wasn't as bad. When I spoke to the staff at UCP I was relieved they didn't just look at me for my qualifications, but also for my work and life experiences, too. When they let me know I'd been accepted on the course I could have cried with a mixture of excitement and nerves all in one. I was going to be a university student — an older one, but still a student.
Once you got your place confirmed, what next?
The realisation soon kicked in. I knew I had to plan and prepare as having a family meant it was not just me I had to think about. Once the preparations were done, I'd bought my notepads and pens, my children were sorted, my house was clean, and I had given up fulltime work, it was all systems go! I was going to embrace my student life and enjoy it.
Did you miss not working fulltime and becoming a student?
A lot of people would comment on my age and ask me why I was giving up work, but I can honestly say it has been one of the best experiences of my life, age is just a number and we should embrace it. I have been so lucky to have had this amazing experience. Now it's time for the final year.
Did you have any doubts before starting?
It's hard to explain the mixture of emotions and feelings you go through on that first day, I was questioning my ability to be able to do this. Could I write an essay? Would I understand what the lecturers were on about? Would I be the oldest person there? However, once I walked through the door and met my fellow cohort, those uncertainties diminished, and I began to embrace my surroundings. I remember being set my first assignment to write a 1000-word essay, the feeling of absolute dread of how I could write those many words? But now two years down the line I am preparing to write a 10,000-word dissertation and feeling really excited about it.
What support on your course was there as a mature student?
Uni life has had its moments of stress and anxiety, especially when deadlines are looming. It is definitely not a bed of roses, but I think my age and life experiences have helped me deal with these situations. In my first year I attended quite a few study skills sessions which helped me with my academic writing and the dreaded Harvard referencing. I have also been lucky as UCP is an amazing, supportive university and with smaller class sizes it enables you to be able to ask for help when things are challenging. It also allows you to feel like you are heard and aren't just a number to your lecturers. I've also been lucky to have an amazing tutor and lecturers, who are there to answer specific questions about the course, but also give recognition and encouragement when needed.
Would you recommend studying Sociology?
Studying sociology has become life changing for me, covering many thoughtprovoking modules such as: political ideologies, gender, social media, education, work… the list goes on.
Finally, what advice would you give to new mature student?
Attending university as a mature student has enriched my life and given me a new direction. It has been hard at times juggling family life and deadlines — there have also been a few times I have knocked on my tutor's door in tears. But that's the great thing about UCP — I am able to do that. The support and guidance available from the university is fantastic. I would advise any mature students out there thinking about going to UCP to take the plunge as you won't look back. It has enriched my life and I'm sure it will enrich yours!
FUNDING YOUR STUDIES Mature students are just as entitled to apply for tuition fee and maintenance fee loans and you may be entitled to bursary schemes which are available to UCP students. In certain circumstances you may be able to get additional loans / grants to help towards your living costs or childcare. UCP can help advise you on an individual basis so you receive what you are entitled to. For more information about tuition fee and maintenance loans, including how much you may be entitled to, visit www.gov.uk/student-finance.
PART-TIME STUDY OPTIONS Many of the courses at UCP have the option to study part-time so you can fit in your studies around family or work commitments. However, due to the way UCP timetable lecturers for the majority of courses into two full days, you may find that studying fulltime is just as convenient.
HELP AVAILABLE FOR PARENTS Childcare Grant and Parents' Learning Allowance can help parents to balance the cost of childcare and study. Students with an adult who depends on them financially may also be eligible for an Adult Dependants' Grant. There is a nursery next to the Park Crescent campus which offers high quality childcare for babies and young children aged 3 months to 5 years old.
If you want to start a degree in September, there is still time to make your application providing you apply before the end of September. For more information call University Centre Peterborough on 01733 214466 or visit www.ucp.ac.uk
Leave a Reply