Make a difference through mentoring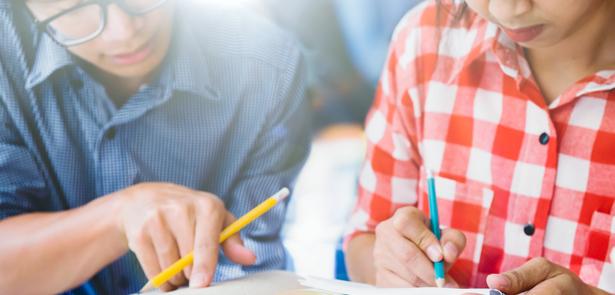 The concept of mentoring is not a new one, however there is a renewed focus nationally on the mentoring of young people by working adults to help address the problem of disengagement in schools
The Careers & Enterprise Company (CEC) is a national employer-led organisation, which was set up by the Government to inspire and prepare young people for the fast-changing world of work. One of its roles is to carry out research into what works in terms of careers inspiration in schools and to award funding to build on successful projects in target areas. As part of this research, evidence was gathered showing that employer mentoring can have a significant impact on young people, as well as being a positive experience for mentors.
Claudia Harris, CEO of The Careers & Enterprise Company, said: 'Too many young people across England are at risk of not achieving their full potential. This can have a lasting impact on their future and career later in life. 'Employer mentoring is a powerful way to address this issue by helping young people get inspired about the world of work. 'Our fund will work to unlock this inspiration by scaling up proven mentoring programmes to help boost social mobility and give young people great life changing experiences.' As part of a national campaign to strengthen and support mentoring across the country, the CEC recognised the impact of the work being carried out by Opportunity Peterborough's Skills Service team and the potential for creatingamentoring programme to compliment this.
The Skills Service was granted £47k of funding from the CEC, which was boosted by the Local Enterprise Partnership and Peterborough City Council, to enable the team to extend its menu of activities and develop an employer mentoring programme. Steve Bowyer, Chief Executive of Opportunity Peterborough, said: 'We're delighted to have been awarded this funding, which has enabled us to further enhance our global award-winning Skills Service. 'The team delivered careers inspiration activities to over 23,000 young people in the last academic year and mentoring is a natural addition to this offering. 'Inspiring young people about their futures is vital for economic growth. While the numbers taking part in mentoring schemes is relatively small, evidence shows that the impact can be huge.'
ABOUT THE PROGRAMME
The Skills Service mentoring programme is dedicated to improving the lives of young people in the Greater Cambridgeshire and Greater Peterborough area. Mentors will work with students at critical stages in their education, targeting those aged between 12 and 16 who have been identified by teachers as not currently realising their potential. This could be for a number of reasons, including low aspirations, low self-esteem and confidence, limited understanding of career opportunities, under-developed interpersonal skills or lack of organisational skills.
By creating and supporting mentoring relationships with local business people, the programme aims to help these students to realise their potential by
• Increasing confidence and motivation, therefore improving academic performance
• Developing a more positive attitude to school
• Raising aspirations and broadening horizons about future careers and options
• Building knowledge and insight about the world of work
• Acquiring employability skills essential in the business world.
The Skills Service is looking for volunteers from the business community to support this new mentoring programme by becoming positive role models for students. Mentors can be at any stage of their own career, whether still relatively new to the workplace and looking to develop key management skills or further on in their career and wanting to make a positive difference to a young person's life.
WHAT ARE THE BENEFITS OF BEING A MENTOR?
• Huge personal satisfaction gained from inspiring young people • Develop listening, motivating and problemsolving skills • Play a part in creating a better skilled workforce in your local area
WHAT MAKES A GOOD MENTOR?
• Having a positive, empathetic and nonjudgemental attitude towards young people
• Being approachable and patient with good listening and communication skills
• Possessing a desire to help with the educational and personal development of young people
• Respecting the needs of people from different educational, economic, cultural and racial backgrounds
• Enthusiasm and perseverance in the absence of any feedback
• A good sense of humour! As a mentor, you are not expected to be a substitute teacher, professional counsellor or social worker. Students with severe behavioural issues or special education needs will receive support from other organisations who can provide support tailored to individual needs.
MENTOR'S JOB DESCRIPTION
• To meet in small groups or on a one-toone basis with student(s) for a period of one academic year.
• To develop supportive relationships with the mentee(s) to help them explore their aspirations around education and work.
• To provide opportunities for mentee(s) to improve their knowledge about the world of work through discussions and a workplace visit.
• To give constructive feedback to mentee(s) regarding their expectations, performance and behaviour.
WHAT IS THE TIME COMMITMENT?
The programme involves eight 50 minute mentoring sessions per academic year that will take place in schools, plus the option to host a workplace visit. Prior to starting the programme, all mentors will attend a one day mentor training course and a half day safeguarding training course. There is also a comprehensive manual of resources available, offering useful guidance and a wide range of suggested practical activities. Every mentor relationship is different. The ultimate goal is to build the self-confidence and self-esteem of young people, supporting them to plan for a successful future.
Interested in finding out more? • Contact Louise Osborne, Mentoring Lead for The Skills Service, on 07944 641583 / 01733 317499 or email
Suitable applicants will be interviewed and an enhanced DBS check will be required. • Find out more about The Skills Service at www.theskillsservice.co.uk or on Twitter @UK_Skills.
Image: www.freepik.com/free-photo/young-students-campus-helps-friend-catching-up-and-learning_1211551
Leave a Reply