Leading consultants appointed in key step forward for University of Peterborough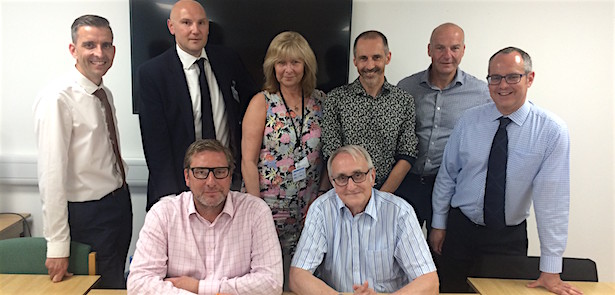 A big step forward for a new university for Peterborough has been taken with the appointment of a world-leading project management consultancy to support the Cambridgeshire & Peterborough Combined Authority in its delivery.
Globally-renowned consultants Mace have been selected to deliver on the Combined Authority's Action Plan for the new university. Their work will begin this summer, continuing through to the project build phase and the opening of the new facility.
The multi-disciplinary team assembled by Mace includes 18 specialist consultants with a wealth of experience in the delivery of university projects around the UK. Mace is most recently noted for its work to successfully deliver the University of Northampton.
Mace will work with the Combined Authority project team as well as internal and external stakeholders in a collaborative partnership model of delivery to best meet the ambitions of the project.
They will also support the ambition for the university to be rooted in the skills needs of the local economy, including developing a curriculum in which advanced technical training is embedded.
The Mace team will deliver against the stages identified in the university Action Plan, which itself was refreshed following the results earlier this year of two reviews.
Mace will work with the Combined Authority to meet the target of 2,000 learners starting their courses at the Embankment site by September 2022.
Mayor James Palmer said: "This appointment is a very important milestone in the delivery of this University. Mace has a track record in the delivery of projects like the University of Northampton, and their expertise and experience will be invaluable.
"But not only that, the Mace team also understand the vision we have. We are not developing just another university, but one that will break the mould for what higher education can deliver. It is about directly linking courses to the well paid, secure jobs and career opportunities in our economy. It is about working with local businesses so we can deliver the skills they need to thrive and push up productivity. And it is about thinking differently about how learning is delivered. So if a two-year accelerated course, higher level apprenticeship or greater workplace-based learning fits better, then that is what we can do. We are not bound by the traditions of traditional degree courses, and with students more and more focused on value for money, having courses which more directly link to good jobs will be important.
"And this is about driving up aspiration locally, and helping the city retain more of its talented, ambitious people by providing a higher education offering that will help them get on in life. The Mace team understand both the technical requirements and ambitions we have for the university, and I can't wait for them to get started with us."
Councillor John Holdich, Leader of Peterborough City Council and Deputy Mayor of the Combined Authority, said: "This is fantastic news and a significant step forward in our plans for a dedicated university for Peterborough. "Mace has an excellent reputation for its expertise in delivering university projects across the country and I look forward to working with them between now and 2022 when the first students will begin studying for degrees at Peterborough University. "With their expertise and support we can deliver a university that provides our residents and those studying here from further afield the chance to acquire skills that will make them attractive to employers in the city. A recent survey of businesses means that we now know what the university's curriculum needs to offer to be able to achieve this."
Tony Gale, Mace's Operations Director, Central and South West UK and Higher Education lead, said: "We are excited to be appointed as the lead consultant to deliver the new University of Peterborough campus. This exciting development will have a transformative impact on Cambridgeshire and Peterborough, creating a new centre of academic excellence for the region and delivering new jobs for local people."
Leave a Reply