Laying the foundations for children's education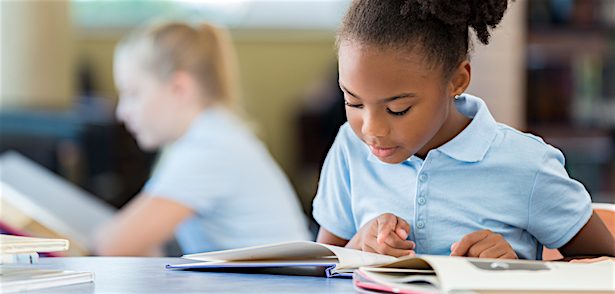 Everyone knows that Peterborough is expanding fast. As a result, the city's schools and nurseries have a constant need for new staff to keep up with demand (Cambridgeshire Research Group has forecast a 19% increase in 5-14 year olds from 2015 to 2036). To help meet the need, University Centre Peterborough (UCP) has developed its two-year foundation degree course, FdA Early Years and Education, providing opportunities for existing Early Years practitioners or those who looking at joining the sector, whilst working with children. The Moment talked to one of the course lecturers to get an insight into the course and what it means for the city.
First of all, what exactly is meant by 'Early Years', and what areas does the course cover?
It's from birth to about age eight – through nursery, pre-school or kindergarten, whichever you want to call it – and then into the first years of primary school. We cover child development, and professional practice and development, and the students also undertake placements every week, so they go to a primary school or nursery to get those professional skills. We also look at equality and inclusion within the classroom, making sure they're meeting the needs of the children with regard to language or abilities, and do international perspectives, looking at how other countries teach Early Years and what their curriculums are, and how we can use that to influence our own practice. We also prepare our students for a further degree, so they can make that transition more easily, getting back into writing essays and studying in a structured way.
What is distinct about early years, rather than just general teaching?
It's partly about being aware of children's development at a young age. So, you teach them but also need to be aware of their growth, health and wellbeing. Personally, I am always very aware that I am setting those children up for the learning that they are going to receive for much of the rest of their lives, so you've got to get that first bit right and make sure that they are well developed in their language, making connections between letter sounds, understanding numbers, that they are physically, socially and emotionally OK, that they are making friends. All of those things are vital when they go on to school and on to work. It's that prepping work that sets up children to grow into young people and adults. Children that age take in so many things that you're not even aware of – but when you do a particular activity with them and later they talk about it, or they have learned a new word, you feel such a sense of pride. I've found it to be a really, really rewarding job.
Teaching very young children is often seen as a 'soft option'…
Yes, you sometimes get comments about 'playing with the children' particularly if you work at a nursery! But these days, it couldn't be further from the truth, what with the number of things people need to be properly trained up on. For example, pre-age tests are no longer administered by health visitors and GPs, they're done by nursery practitioners. There's much more interaction with external agencies, a lot more work with shortfall, if a child is in social care, and lot more contact with medical professionals. The role has really widened, and that is what the course is equipping our students to deal with.
This course includes a Licence to Practice – what is that and why is it significant?
The Licence to Practice is almost like a registration that qualifies you, legally, to be a practitioner within an Early Years setting. It means you can be in charge of those children, and that OFSTED recognises you as having the rights, the skills and the qualifications. We have built that into the programme because without it students would leave with an academic qualification that did not, in itself, give them that right. When our students leave now they have their Level 5 Foundation Degree qualification, but also their Licence to Practice, which means they can go straight into a nursery or school as a Level 5 practitioner.
How many hours a week do students typically work?
The minimum is 12 hours of work placement a week, then there is one full day a week in uni – 9am-5pm – and while it obviously varies greatly when they're coming up to assignment submission, the average student probably does about an extra eight hours a week on independent study. Concentrating the study all in one day is really important. We have a lot of mature students, and it means they can carry on going into work on other days, balance family commitments and so on, so life goes on alongside study.
How many of those placements lead directly to jobs?
I would say that about half the students coming to us already work in an Early Years setting. Around half are mature students (over the age of 21), working as Teaching Assistants, nursery practitioners or nursery managers, who come to us on day release for one day a week, and their workplace then becomes their placement. But the other half come to us potentially never having worked in Early Years before, and we have very high success rates for them finding employment. We have had 100% employment from this course in previous years. The combination of skills and qualifications it offers make them very employable, and it's definitely the place to be if you want to be an Early Years practitioner. You are virtually guaranteed a job in Peterborough; I don't think I have ever been to a city with so many nurseries! The placements themselves are also often paid. Often after a few weeks in placement, we find that students get offered a job or hourly paid work. On the whole I'd say that about 80% of our student placements are paid.
Does this high demand mean those wanting to go on into teaching can also study locally and find work locally?
Yes, absolutely. At the moment we don't offer a specific teaching training programme, but our students often go on to the Education Top-Up which we do at UCP, which turns the FdA into a full BA (Hons) Education degree. Sometimes students might also choose to top up in something slightly different, such as Speech Therapy, if that's an area that has started to interest them. Following that, they can then either do a teacher training programme within a local school, which is essentially like a teacher's apprenticeship with on-the-job teacher training. That way they can get a job as a teacher and use the school to support them and get them through their PGCE, whilst also getting paid. Alternatively, students can fund themselves to complete a traditional PGCE qualification focusing on primary or secondary education. After one year, they are a qualified teacher. But it's not necessarily just about going into teaching. We have students who become managers, or they can become HLTAs – High Level Teaching Assistants – where they have sufficient qualifications to actually run the classroom while the teacher is absent. We have also had students go on to work for the Council, in the Education Department, so there are quite a few employment options from this course.
In the National Student Survey, which reflects what students actually think of their universities and courses, this degree scores 100%. Why do you think students enjoy and value the course so much?
I think because they can keep working at their job, and there is that practical element that they really enjoy. They get the best of both worlds, being told all they need to know in class and then going and putting it straight into practice. There's no waiting for the end of the degree. We also try to make our seminars in quite creative, so they get to do a lot of the activities that an Early Years practitioner would actually do, with a lot of discussion and debate. As staff we all have specialist areas, and we only assign modules to lecturers who have experience in that particular area, but we also often have guest speakers in – from the Council, or perhaps social workers – just to give the students a bit more experience and variety, as well as an awareness of other job roles. We're very big on our pastoral support, as well, making sure everyone is happy and feels supported.
It's not too late to start the course in September as long as you apply before the end of September – contact University Centre Peterborough on 01733 214466 or visit www.ucp.ac.uk
Leave a Reply