The Essential Guide To Clearing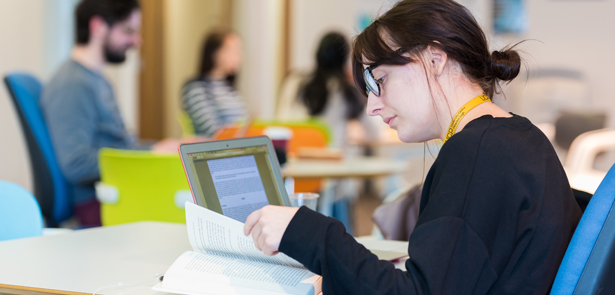 It is becoming more common for students to leave it later to apply for a degree and wait until Clearing to make the application. The Moment magazine have teamed up with professionals from University Centre Peterborough (UCP) to provide expert advice and guidance if you are applying for a degree at UCP during Clearing period.
There can be a variety of reasons why students wait until Clearing to apply for a place at university. Last year over 70,000 students waited until Clearing before securing their place on a degree and this year there are predictions there will be even more so you will not be alone.
Clearing no longer does it mean you didn't get the grades you required to secure a place. You might have changed your mind about the course you want to study, decided you want to study closer to home, want to focus on a career change and improve your qualification or you have not even yet applied.
The most important advice UCP can offer new students is do not to leave it too late or wait until your results come out before applying. This means that when you do get your results, the process will be even quicker and you will have already secured your place.
Many people think that Clearing starts when A-levels results come out on 16th August 2018. This is not the case as you can apply for a place during Clearing before you get your results as Clearing officially started on 5th July 2018.
If you can get your place secured early, then you will have more time to sort out the application for student finances. To confirm a space at university is very quick, but the process for student finances unfortunately takes a lot longer so it is important to get this application moving earlier rather than later (as you are not liable for any tuition fees until you actually start the course). See the section on student finances which will cover what finances you are entitled to and how it works.
How do I apply through Clearing?
Simply contact the UCP admissions team on 01733 214461 or email Their experienced staff will guide you through the process and help you every step of the way. They are used to helping hundreds of students ever year so you can be at ease.
What information do I need to have ready to apply?
Firstly, make sure you have details of your Level 3 grades such as A-levels or BTEC qualification (actual or expected if you are still waiting for your grades) as well as GCSE qualifications. The admissions team will need your personal contact information so remember your full home address including post code, email and date of birth. If you have not applied through UCAS at all, you will need you to have personal statement ready so you are advised to prepare this in advance.
What if I have applied to another university?
If you have applied to and have been accepted to study at another university, you still have the opportunity to change where you study.
Firstly contact you can contact the UCP admissions team and they will look at your application to see if they can offer you a place on a course. Once you have received a response you can contact the other university and ask to be released into Clearing. Once this is done, you can select UCP as your Clearing choice through UCAS Track.
The admissions team can offer you as much help and advice as you need to make this a stress-free experience.
What if I don't get the results I expected?
Don't panic! If there is a small difference, they may still be able to accept you. Simply, contact the UCP admissions team and they will let you know if they can offer you a place.
When A-level results are announced on 16th August 2018, UCP will have a UCAS Clearing hotline with additional staff so you can speak to admissions and academic staff who can advise if you can be accepted on a degree. They will have extended opening times during this period so feel free to pop into their Park Crescent campus if you prefer to speak to someone face to face.
More information about opening times is available on www.ucp.ac.uk
---
STUDENT FINANCES EXPLAINED
Making university affordable is an important factor when choosing where to study. UCP offer lower tuition fees compared with other universities and provide bursaries for all undergraduate students.
Tuition Fees
The tuition fees at UCP for full-time undergraduate UK and EU students starting in September 2018 will be £8,000 per year which is lower when compared to other universities saving you £1,250 per year.
You can apply for a tuition fee loan to cover the full cost of tuition. Student Finance England will pay the fees directly to UCP and you will not have to pay back this loan until after you have finished your studies and are earning over £25,000 a year.
Maintenance Loans
Full-time students can also apply for a maintenance loan from the Government to help with living costs. This is paid into your bank account at the start of each term. The amount of maintenance loan you can borrow depends on your circumstances, including your household income, what year of study you are in, and where you live and study.
For more information and tuition fee and maintenance loans including how much you may be entitled to, visit www.gov.uk/student-finance and follow the quick and simple instructions.
Bursary Schemes
UCP offer two different bursary schemes available to all undergraduate UK and EU students starting in September 2018.
£500 CASH REWARDS
Every full-time undergraduate student starting in September 2018 will receive a £500 cash reward after successfully completing each academic year. This means you will be entitled up to £1,500 over the course of a three year degree. This reward is not means-tested and you do not have to pay it back after you graduate.
£500 LOW INCOME BONUS
If you are from a low income household (under £25,000 per year) and studying a full-time undergraduate course you will receive an additional £500 cash bonus after the end of the first semester for each academic year. This means you could be entitled up to an additional £1,500 over the course of a three year degree. This low income bonus is in addition to the annual £500 cash reward.
Other Financial Support
In addition to a tuition fee loan, maintenance loan and UCP bursaries, you may also be eligible for one of the following sources of financial help:
Disabled Students' Allowance (DSA)
Parents' Learning Allowance
Adult Dependants' Grant
Childcare Grant
The Student Support team at UCP are always available to help advise students on an individual basis so you receive what you are entitled to.
EU Students
EU students can apply for a full-time undergraduate course at UCP in the September 2018 as they will continue to have access to student loans and grants even if the course concludes after the UK's exit from the EU.
Leave a Reply