Peterborough Music Hub: Conductive Music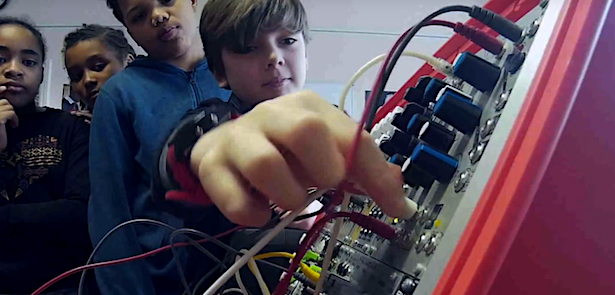 Conductive Music provide music technology workshops to schools (and beyond) bringing music, the sciences and creativity together in startling and fun new ways. They were engaged by Peterborough Music Hub and Youth Inspired to bring the experience to Peterborough's young creatives – but when lockdown struck, Conductive Music themselves had to get creative with their methods… The Moment talked to their executive director Dr Enrico Bertelli about what they do, and how they evolved during the pandemic
What was Conductive Music set up to do?
Conductive Music was born in 2012 with the idea of bringing kids, especially kids from challenging backgrounds, a different perspective on education. So we're all musicians and different denominations – some are more composers, digital musicians, performers, musicologists, you name it! And then, over the years, we've developed different sets of skills, graphic design, creative coding, gamification, STEAM education. The idea is at the base is always the same; it's trying to convince the kids that if they set their mind to it, no matter their circumstances or their barriers, they can get it. So we want them to think 'I can do this…' And the most of the time when we go into schools – because I mean, we were born as an in-person workshop delivery company – we very often show them pathways that they didn't even know existed, or that they thought they would never be able to reach. These are essentially coding workshops that always have a musical element. So, it's free, you can start now, and if your school doesn't support you you can still do it at home. We've also launched an online learning platform now, and even though we ask the school to buy membership, the videos are completely free for the kids. They can use it anytime from home and they don't need anything, because all the software that we use is free. It's basically browser-based, so you go to a website, maybe sign up – but mostly we try to do it without signing up, and then you get going with your creativity.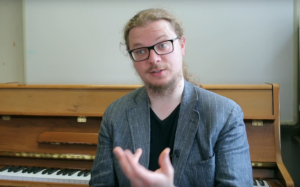 Music is often undervalued in schools, but does allying it with science, maths and coding help get it through the door?
The field is called STEAM, so the usual STEM – science, tech, engineering and maths – has now been expanded with the aid of the arts. And it's something that actually started in academia about 15 years ago, and then started trickling down. So, to give a brief answer to a very multifaceted question, yes, we can actually reach out to schools that would never respond, or have historically had very low engagement with all the hubs, simply because maybe the head teacher is more science or maths oriented. It's also very useful for special schools that might not be as involved with music. Since last March, because of the online learning plans that the schools have put together, many schools have limited themselves to maths and English, which is very sad. Even though these were massive problems, we've managed to cut through the noise. And the results are good. And because of the way we deliver online at the moment – with no camera, no mic and chat only towards the host – we've also discovered that we create a very nice environment for people with anxiety or with any other sorts of mental health situations that might have been present before COVID or might have developed during the pandemic. Maybe with a long-term illness you can't be in school, but we can still reach you – so we'll continue doing this after the pandemic is over as well as in person.
So what have you been doing with Peterborough Music Hub?
This was the first year of the partnership. Our plan was to go into six schools over a week, but then overnight, on January 5, everything got canceled. So we moved online. And the idea was to reach out to all possible kids – not only those six schools – because the advantage of online teaching is we can reach to more people. So we had morning workshops, for Year One to Year Eight – different groups, different targets, different everything, but the ethos is always STEAM. We also created some after-school sessions that many Peterborough students have joined, funded by Youth Inspired, as well as holiday courses. The most recent one was February half term, and that was dedicated to music, storytelling and creative coding. So we took a spooky story from ancient Japan, employed a storyteller, who is now a full-time member of our staff, and taught the kids how to rethink the story, make a soundtrack for it, and embed everything into their very own video game. And as we speak, some of them are working towards their final product because they are submitting for a competition.
That seems to tick all the boxes educationally speaking…
It's a lot of fun. To be honest, we only teach what we like to teach. You know, the reason why I co-founded this company in 2012 was because I was teaching piano and I was fed up with saying 'With your other left hand…' That is something that end up saying constantly! So, we started this – and since then we've only taught what excites us. Until March last year, I had never coded a video game in my life, but because of the extra time that we had on our hands, we started studying, and figured it out. And we figured out that there were platforms out there that made it very easy to share with the kids. Now, if you want to do a simple video game, I can show you in about five or six minutes. A Year Four can do it – an eight or nine-year old.
Was going online an easy transition for you when COVID hit?
Yes and no! It's a completely different approach – but I think the reason why these workshops are successful is because we did not try to do online what we were doing in person. So when we are in a school, we work with what is called tangible computing. We have devices that connect via USB, and then you transform them into a musical instrument. The process is quite simple. Year One and Two, the instrument works, you interact with it. Year Three, and Four, you need to attach a few pieces to it to make it work. And when it comes to Year Five and Six, the instrument doesn't exist – you need to actually put it together and then code it to make it work. When we went online, all of this disappeared. We didn't have the instrumental stuff, so we researched the software – seven of us working full-time for a month finding new solutions. We tested it. And thanks to our partners at the time in March, April, May, June and July last year, we were able to find good recipes. We invested heavily in streaming equipment, cameras, mics, extra screens, desks – I mean, we never worked from home, right? We were always in schools across the country. I was on a two-and-half year tour when March came, and it was the first time that actually I spent more than a week in London! We're normally on tour for three, four months at a time. So there was a big, big change. And it took a lot of research. But it has expanded our portfolio. I teach regularly in a university in Hong Kong, and normally, we would travel there and do workshops, but at the moment, it's all online. In a way, it's cool, because all of the people that have been locked out of China, or Hong Kong itself, can still join in. So we have students from Afghanistan, from the Philippines, from Azerbaijan, and everybody's in the same room, which is pretty awesome.
What's next for you and your work with the Hub?
Well, we do have some in-person sessions coming up now, and for the week of 17 May we're going to go into six schools. We've also got our Easter holiday club from 5 April, which is based on storytelling, music, pixel art and creative coding. We're taking the story of a samurai and creating a platformer game based on this. That just costs a fiver, and by the end of the week the kids will have, first of all, knowledge and access to all the free software which they get to use afterwards. And then they will have a three-level game that they can go away with. And the winners get what is called a Meowbit. Think of it as a tiny Gameboy, which you can download to and play wherever you like. So, basically, we're continuing with the in-school sessions, as well as the holiday courses, and hopefully our partnership with Peterborough Music Hub will continue long after that.
Leave a Reply