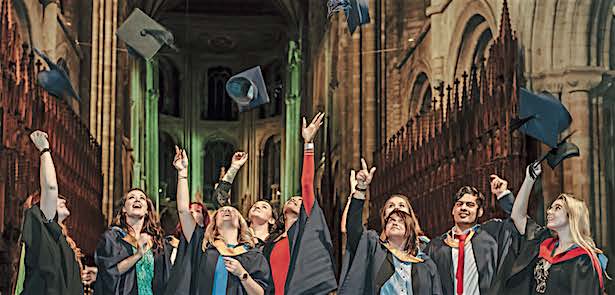 Hundreds of students from University Centre Peterborough (UCP) celebrated their graduation in the historic Peterborough Cathedral on Thursday 20 September 2018.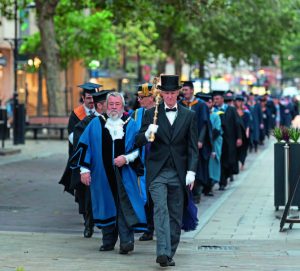 The formal ceremony was led by Deputy Mayor of Peterborough Cllr John Fox as students and academic staff processed from The Bull Hotel to the Cathedral which was packed with family and friends of the students.
Students from University Centre Peterborough have graduated from a variety of degree programmes including Accounting, Bioscience, Computing, Criminology, English Literature, Performing Arts, Sociology and Sports Coaching.  Many of the graduates have already secured full-time work in their chosen careers and will remain and work in the area. This is aided by students gaining work placements and experience while studying which benefits local businesses by securing the best graduates from the region.
Liz Knight, Academic Director at University Centre Peterborough said "This is the most important day in the University Centre calendar and we congratulate all of our students and extend our very best wishes for their future careers. We would also like to extend our sincere thanks to family, friends and businesses that have supported our graduates during their study time."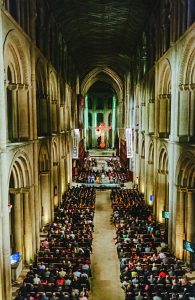 A special award was presented on the evening to Sharon Boswell who graduated after studying a BA (Hons) Sports Coaching and Physical Education degree.  Sharon received 'The Vice Chancellor's Leader Award' which was presented by Anglia Ruskin University in recognition of her contribution to the community.  Just six awards are available each year out of all the students who study at Anglia Ruskin University and University Centre Peterborough.
In his graduation address, Terry Jones, Principal and CEO of Peterborough Regfional College, said: 'The employability of our students is a key strength of UCP and we draw as much pride in where our graduates go next as we do in their achievements here.' Examples include:
Several English Literature students have progressed onto the Teach East programme and will begin their first placements soon in Peterborough secondary schools
Accounting and Finance students have been snapped up by prestigious local firms
Performing arts students have secured exciting jobs: one touring with a rock band as Merchandise and Networking Manager, another directing a musical to be performed at Her Majesty's Theatre in London
Criminology students have secured a diverse range of jobs including: the Probation Service, Teaching, Safeguarding vulnerable girls and working for the domestic violence charity, Refuge. Another is going on to complete her Masters and one student is to become a graduate teacher at UCP
One Bioscience student secured a Forensic Analyst job, another is working as a Science Teacher at the UTC and another as a Biomedical support worker at Addenbrookes Hospital
He added: 'Congratulations to you all – you've done great things. You've earned the right to pause for a moment in the great struggle of life and reflect on a job well done.'
---
"I hope that when you advance beyond Peterborough and UCP that you will build 'Upon This Rock' of intellectual foundation and human support. I hope that you will avoid certainty, question everything and be open-hearted. If you think of life as a mountain then I hope you'll use the intellectual tools gained here to get up the steep bits safely and to help others less fortunate get a little higher too. Most of all, I hope that you enjoy the journey. Well done to you all and good luck!" – Terry Jones, Principal and CEO of Peterborough Regional College, in his graduation address
---
"There have been amazing achievements from the class of 2018, from both an academic and personal point. There have been families created, fun times had and challenges you have learned to navigate. I hope your time at university has made you grow in ways you had hoped and in ways you needed." – graduating Student Officer Rebecca Gardner
Leave a Reply