Celebrating success and making music matter in the new school year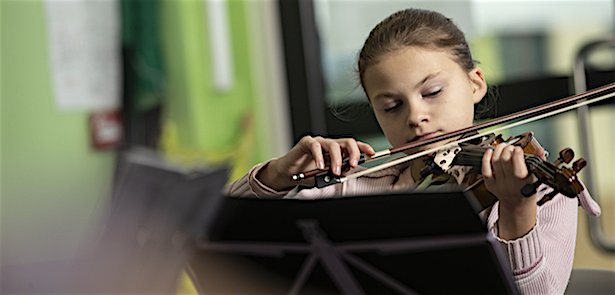 The Peterborough Music Hub (PMH) has had a busy and productive year in 2018-19 with a wide variety of new and continuing activities. As ever we have been working with schools and ever more children and young people, delivering high quality outcomes and outputs for the progression of music in the city.
Why music education?
Music in education can often be sidestepped in favour of devoting more time to the 'core subjects', namely maths and English. It is also sometimes seen as the 'fun' activity to do as a treat or reward.
There are however numerous proven benefits of a high quality, integrated music education, both intrinsic and extrinsic. Learning music can have a significant positive impact on academic grades, improve student well being and develop non examined skills valuable in all elements of life such as teamwork, communication skills, self-discipline, and creativity. Moreover, learning music is enjoyable and fun and a great way of developing friendships. When talking to adults I have never once heard someone say 'I am glad I gave up learning an instrument', with many often picking up music again in later life. At PMH we work alongside schools and to help embed music education into the curriculum and ethos of the school in a way that is meaningful and relevant to their students and brings about an overall positive change.
2018-19 Highlights
94% of all Peterborough Schools engaged in Music Hub Activity
21000 students taking part in Music Hub Activity
A wide range of activities in the following areas:
Whole Class Instrumental Teaching(WCIT)
Ensuring that every child in Peterborough has the opportunity to learn a musical instrument during their education, regardless of their ability to pay
WCIT taught in 63% schools with 1480 hours of teaching
Instrument choice including brass, strings, wind, ukulele, samba
Free Music Curriculum software for all primary schools
Opportunities to play and perform
Providing a platform for Peterborough's young musicians of all ages and ability to play their instrument/sing regularly, enjoy making music with others and celebrate their success.
Peterborough Centre for Young Musicians (PCYM) provides a full Saturday morning programme of ensembles, singing, musicianship, performance and lessons for 100+ students across all ages and ability. Peterborough Youth Orchestra provides holiday activity for young orchestral and jazz musicians.
Workshops in schools including Samba, Djembe, Ukulele, Songwriting, Music Technology
Concerts including 'Museum of the Moon', WCIT and 'Schools Make Music' provided a platform for 1500 students to showcase their skills and hard work.
Signature Music Festival saw 150 students compete and receive meaningful feedback on their work.
17 schools & organisations accessed our Special Project Bid to run projects in their own schools.
Progression routes in music
Allowing all Peterborough students the opportunity to continue and develop their musical learning and achieve their maximum potential after their initial experience, regardless of their ability to pay.
Means Tested bursaries awarded to students to whom finances would be a barrier
Free instrument loan for the whole of a child's education.
1164 students have gaines the Arts Award Discover and can now move through the awards.
5 secondary schools took part in our 'Virtual Creative Zone:Careers in the Creative Industries' looking at career routes in music.
Singing
All Peterborough children have access to good quality singing opportunities. Singing is a truly inclusive musical activity that transcends all economic and academic boundaries and that it has a huge benefit on the wellbeing of our children.
1501 Students from 34 schools took part in Peterborough Sings! KS2 Singing Days based on 'World War I' and 'Magic of the Musicals'. 135 students from 5 schools also took part in the 'Boys Voices' project.
Werrington Schools Christmas Big Sing celebrated community with 165 students from 5schools
Termly SEND Sing-a-long events attracted 120 students in an informal and engaging environment.
Continued Professional Development (CPD)
Offering CPD to all teachers to develop and enhance their skills to deliver a high quality music education for all young people in Peterborough. Over 200 teachers benefitted from our activity including: come and see @ William Law, Music and Drama Education Expo visit, Termly network meetings, Charanga development training, Instrument Teacher CPD sessions and professional qualifications.
High-quality musical experiences
Provide access high quality music experiences with professional musicians and in large venues for Peterborough students to engage, inspire and enrich their music curriculum.
'Banding Together': 60 students from 4 schools worked with Greg Arrowsmith, renowned Musical Director on a completely new performance based on their background and heritage.
'Everybody's Gone to the Rapture': 216 students took part in a free live performance of music from the award winning computer game with the Britten Sinfonia and game footage.
46 schools students saw our schools tours including 'Bugs and Butterflies', 'Professor Astrocat' and 'Thought Machine'
Termly Guildhall School of Music and Drama student ensemble residencies provided professional performances and workshops with 1500 students.
What schools and students tell us…
"Year 2 are loving their ukulele lessons thank you. I have had a lot of positive feedback from parents too. Donna really knows her stuff musically of course, but crucially for us understands young children. It's been a roaring success!" (Head Teacher, Brewster Avenue Infant School)
"Just wanted to say thank you very much for your performance at our school. The feedback has been that it was brilliant, fantastic, fabulous. The Britten Sinfonia events are essential to giving our children that live, close-up, immersive experience of music that gives you those tingly, goosebump feelings." (Thorpe Primary School)
"The Samba workshop was an absolute delight from the very first second right to the last. Even the most reluctant or shy children were instantly swept up by the enthusiasm, excitement and excellently choreographed session. Donna was joyous, she lead the session with an infectious passion for music" (Thomas Deacon Academy)
"I had a great time and the experience opened my eyes to something I don't think I ever would have experienced otherwise." (PCYM student)
"It was so rewarding to see that our Peterborough children are so musical! Amazing work of music teachers- thank you for organising this!" (Parent of PCYM student)
---
Get Involved in 2019-20 
2019-20 Sees a busy, ambitious and varied programme. Whether it is part of a young person's school curriculum or external events and activity allowing young musicians of all ages and ability to develop their skills and have fun making music.
Contact or visit www.peterboroughmusichub.org.uk and www.pcym.org.uk to find out more. Schools and teachers can also receive our ½ termly newsletter with full details of all activity. You can also follow our success on social media.
---
Coming Soon…
The Snowman Live
Wed 4 Dec 2019
Peterborough New Theatre
A fantastic event for the whole family to enjoy this timeless classic including the full screening of the film with a live orchestra(of both professionals and Peterborough Youth Orchestra), singer and narrator.
School performances: 10:30am + 1:30pm – Details sent directly to schools
Public Performance: 6:30pm – Tickets £5 to be available from the box office
Leave a Reply