Careers Show to inspire the future workforce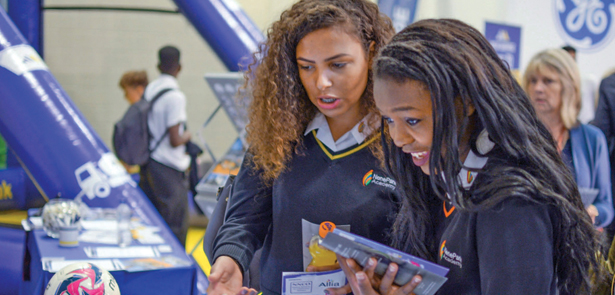 A key event in the careers calendar for the whole of the East of England is the annual Careers Show, which meets many of the benchmarks under one roof! Taking place at the East of England Showground in Peterborough on Friday, 23 June 2017, from 9.30am to 3.30pm, the Careers Show is free to attend and aims to inform and inspire young people aged 14 to 24 about the wide range of career opportunities on offer, both locally and beyond
Following on from the success of last year's Careers Show, which attracted nearly 3,500 visitors, The Skills Service is partnering with WorldSkills UK to organise the 2017 event, with funding from Signpost 2 Skills and The Careers & Enterprise Company. This collaboration will make the Careers Show available to an even wider audience and enable new visitor attractions, such as inspirational 'Skills Competition Showcases'.
What to expect at the Careers Show
● Over 200 exhibitors from all sectors, split into 'experience zones'
● Employers, colleges and training organisations with inspiring and interactive 'Have a Go' activities, providing a chance to try out different skills
● Students and experts demonstrating vocational skills through 'Skills Competition Showcases'
● Opportunity to meet 'Skills Champions' – young people who have excelled in technical skills
● Drop-in 'CV Bootcamp' with business professionals providing useful tips on improving CVs and succeeding at interviews
● Qualified careers advisers offering personalised guidance
● Music and dance acts performing throughout the day, including activities with the Peterborough Music Hub
● Refreshment and picnic areas for taking a well-earned break!
How to get involved
Booking forms are now available at www.thecareersshow.co.uk for exhibitors to book a free stand and schools to book cohorts of students to attend. Alternatively you can contact The Skills Service on 01733 863696 or email to find out more.
Keep up-to-date with plans for the Careers Show by liking 'TheSkillsService' on Facebook or following @UK_Skills on Twitter.
Highlights of the 2016 Careers Show
https://www.youtube.com/watch?v=HbTsLJ8IcXY
What people said about the 2016 event
'The atmosphere at this year's Careers Show was awe-inspiring and feedback from absolutely everyone concerned has been incredible. I'd like to thank all of the exhibitors who gave up their time to make this event such a huge success. We're already looking forward to the next one!'
Steve Bowyer, Chief Executive of Opportunity Peterborough
'This year's event has been a great success, and we are proud to have provided the funding to make it happen. It's been good to see young people connecting with such a wide range of businesses, finding out first-hand what types of careers are available to them in the local area. The event has been all about inspiring the workforce of the future, and it has certainly done that.'
Neil Darwin, Chief Executive of the Greater Cambridge Greater Peterborough LEP
'This event provides a blueprint for how to run a careers event, due to the spacious venue, easy access, great publicity, friendly Skills Service staff and ideal timescale. It allowed students to see a variety of employers, face to face, in a relaxed, friendly atmosphere, while allowing employers and career education providers to network.'
Trevor Diack, Education/ STEM Ambassador, BAE Systems
'Thank you very much for a really worthwhile event that greatly supports our careers programme.'
Lesley Pollard, Community Engagement & Careers Lead at Abbey College
Comments from students ranged from: 'I learnt that I could do an apprenticeship instead of university' and 'I got information about lots of jobs that I have never heard of' to 'I now have a clearer idea of what I want to do' and 'It taught me about what I need to follow the careers I want.'
This feature has been supported by Peterborough-based Perkins Engines Company Limited, one of the world's leading suppliers of off-highway diesel and gas engines.
Leave a Reply