The Big Guide to degrees in Peterborough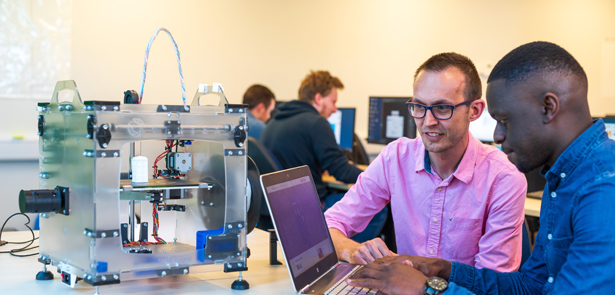 There is a wide range of degrees programmes available to study at University Centre Peterborough (UCP) which can be started in September 2018 – this includes some exciting brand new degrees. This guide is designed to give you a quick overview of the courses available with further information about each course available from www.ucp.ac.uk
Accounting and Finance BSc (Hons)
This degree will develop your understanding of the fundamental language and practices of accounting and finance. On completion of the degree you will gain up to nine exemptions from ACCA (the Association of Chartered Certified Accountants). Peterborough offers excellent job opportunities due to the number of accountancy firms located in the area including Saffrey Champness who are one of the UK's top 20 accountancy practices.
---
Archaeology and Landscape History BA (Hons)
The greater Peterborough area is steeped in history which includes the Bronze Age sites at Flag Fen and Must Farm. During the course there will be field trips to local heritage sites and working with local organisations which are used to build on information gained in lectures. This degree will inspire you to investigate past societies, discovering how they developed both materially and culturally.
---
Bioscience FdSc & BSc (Hons)
By studying Bioscience, you will gain a detailed knowledge and understanding of key biological processes and principles, together with the technical and scientific skills you will need to acquire, interpret and analyse data in health or laboratory setting. The degree can provide employment in science-related sectors, such as the food industry, the health sector – pathology, biomedicine, microbiology, the environmental sector, forensics and the pharmaceutical industry.
---
Business Management BSc (Hons)
This course will cover a wide range of business related modules such as marketing, accounting and finance, project management, business and employment law, managing HR and international trade. This degree will develop skills such as communication, presentation, influencing and negotiation making graduates highly employable. By studying the course two full days a week, students will have the opportunity to seek work placements to improve their career prospects.
---
Computing and Information Systems FdSc & BSc (Hons)
This flexible degree can be studied full-time over two or three years with part-time options available. There will be the opportunity to choose from a wide range of optional modules allowing students to tailor their degree to suit their preferred interests in this diverse sector. Core modules will cover web design and computer programming to database management and network user support and optional modules range from artificial intelligence to digital crime.
---
Construction Management BSc (Hons)
If you already have an HNC or FdA in Construction, the Construction Management Top-up gives you the opportunity to gain a degree whilst studying full time or part time to fit in with work commitments. After completion of this degree, it could lead to a successful career in senior roles such as Construction Site Management, Consultation, Project Co-ordination, Costing and Tendering, Training and Development.
---
Crime and Investigative Studies FdSc & BSc (Hons)
If you interested in crime, forensic science, policing and the law, but unsure which subject to study, this degree will cover them all. The course will cover the crime scene examination part of forensic science with other crime-related subjects, such as policing, criminology, intelligence and the law. This provides graduates a wide range of criminal justice career options to choose from. You will be taught by lecturers with first-hand experience of crime scene analysis, policing and criminal justice.
---
Criminology BA (Hons)
Studying criminology provides you with the opportunity to consider issues such as fear, sex, violence, youth offending, war, terror, genocide and moral panics in an environment where you are encouraged to ask questions, engage in debates wherever possible. The degree introduces you to a wealth of transferable skills such as learning how to write reports, engage in healthy discussion and debates, develop your writing, attention to detail and time-keeping.
---
Digital Arts FdA
A brand new two year foundation degree which is created to meet the demands of the creative industry. On the course you will be introduced to the basic principles of graphic design, animation and photography as well as learning new design technologies like App and computer games design. You will have the opportunity to do a 120 hour (three week) work placement with a design agency or media organisation and/or work on an industry commission.
---
Digital Marketing and Communications FdA & BA (Hons)
A brand new degree which is created to meet the demands of local industry and the changing marketing business environment. The course incorporates professional competencies by mapping directly to the Certificate in Professional Marketing (Digital Marketing) of the Chartered Institute of Marketing (CIM). The final year of the BA (Hons) has a Professional Placement module, which requires the student to engage in a work placement, either during term time or over the long summer vacation.
---
Early Years, Playwork and Education FdA / Education Top-up BA (Hons)
These courses provide a great option if you're already working in an early years setting or primary school as the they are timetabled as one full day a week to fit in with your working environment (paid or voluntary). There are work based learning modules to which will build on your current knowledge and experience. After completing the FdA Early Years, Playwork and Education, students then can go on to complete the BA (Hons) Education Top-up.
---
Engineering BEng (Hons)
There are two brand new engineering degrees to compliment the existing HNC/D provision available. The BEng (Hons) Electrical and Electronic Control Systems Engineering and BEng (Hons) Mechanical and Manufacturing Engineering were created to meet employer demands and skills shortages in the local area and can be studied full time or part time. Both courses have been endorsed by regional engineering companies and also provides a foundation for a variety of postgraduate courses.
---
English Literature BA (Hons)
You will learn how different societies have shaped English literature and how English literature has shaped society. You will examine the ways that literature is affected by culture, language, technology and the economics of the period and how it influences its readers. The range of skills that literature studies develop is transferable to many job markets; whether it's into teaching, librarianship, the arts or roles in the wider jobs market.
---
Human Resource Management Postgraduate Diploma
Aimed at HR professional who have a CIPD level 5 or HR related degree, this two year course is studied part-time in one afternoon/evening a week to fit around your current employment. This level 7 postgraduate diploma has been designed to meet the requirements of CIPD's advanced level qualifications. You will learn how to develop and implement creative and strategic HR solutions that drive organisational performance.
---
Media Studies BA (Hons)
To keep pace with the fast-changing media environment, the Media Studies degree is adapted to meet demands of employers and equip students for a career in the media industry. It reflects the changes in digital and online technology, as well as introducing more practical production elements. The degree looks at the theory behind media – encouraging students to critically examine such subjects as popular culture, society, technology and youth culture.
---
Multimedia Journalism BA (Hons)
During your time studying this course, you will have the opportunity to undertake exciting paid internships with local businesses and placements at major consumer  magazine titles. This is made possible by timetabling your lecturers into two full days a week as employers offer these placements during the working week. The degree will fully equip you to working in a variety of journalism roles in traditional media or online and digital.
---
Performing Arts BA (Hons)
The Performing Arts degree has a strong focus on movement and physicality and explores an interdisciplinary approach, fusing and connecting movement/dance, new media techniques, physical theatre and contemporary theatre practice. The course is designed to help you become a practitioner of physical theatre with you choosing a specialist path, whether as a director, performer, designer or administrator.
---
Psychosocial Studies BA (Hons)
Psychosocial Studies is a social science degree that explores the relationship between the self and society. There is a very broad range of modules covering psychology and sociology, making this course ideal for those with an interest in both subjects. This course addresses important questions about the human condition. It will provide you with the intellectual tools to appreciate the complexities of how we can shape our social surroundings, as well as providing valuable vocational knowledge and skills.
---
Public Service FdA & BA (Hons)
The Public Service course aims to provide the highly sought after skills and knowledge that the public services such as the police, prison service, fire service, ambulance service, revenue and customs, armed forces and the probation service have identified as important for their employees to possess. Students will complete work-based placements in years 1 and 2, which can lead to full-time employment after completing the course.
---
Sociology BA (Hons)
This degree is designed to provide you with a firm grounding in the fundamentals of sociology. It offers a stimulating and challenging exposure to a diversity of specialist areas, which reflect changing emphasis and developments within sociology. You will gain solid foundations in core elements of sociology, philosophy and politics, but you will also develop your knowledge of specialist interests such as crime and deviance, feminism, popular culture, sport, education, work, race and racism and social theory.
---
Sports Coaching and Physical Education BSc (Hons)
By exploring the scientific approach to coaching, you will find out which areas of knowledge, such as human movement, pedagogy, athlete development, physiology and psychology can help contribute to making coaching methods effective. Throughout your studies you will sports industry experience working with sports teams in the local area or work in local schools as teaching assistants in PE lessons to gain valuable experience in teaching.
---
DID YOU KNOW..?
70% of students at UCP gained a first class or 2:1 degree in 2017
Full-time undergraduates at UCP receives a £500 cash reward at the end of every year
Class sizes at UCP are kept smaller so lecturers can offer individual support
All students at UCP can attend a graduation ceremony at Peterborough Cathedral
A third of students at UCP are aged 21 years or over
UCP have launched four brand new degrees available from September 2018
The majority of courses at UCP are studied full-time over two full days a week
Tuition fees at UCP are £1,250 lower per year compared to other universities
Leave a Reply