An inspiring vision for education in Peterborough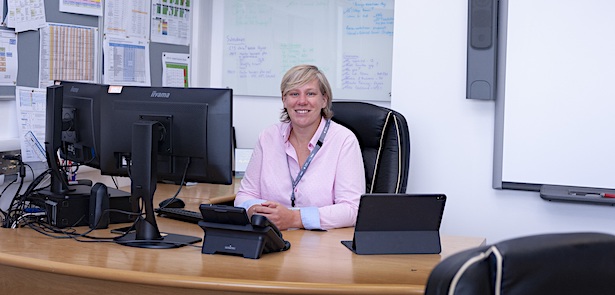 It has been a turbulent year in the world of education. In March, COVID-19 turned society on its head and scuppered many students' final years of university or post-16 education – with exams eventually being cancelled and a difficult results period ensuing. Even those younger students had to adapt, along with their teachers, to virtual learning and remote working. But amongst this difficulty, there has been good news too; particularly for Peterborough and the surrounding region – where the education landscape is changing for the better.
In August, the formation of the Inspire Education Group was announced, bringing together the formerly named Peterborough Regional College and New College Stamford to become Peterborough College and Stamford College – alongside the well- established University Centre Peterborough. To find out more about the Group, their plans for further and higher education in the region – and what it all means for Peterborough – we spoke to Rachel Nicholls, Deputy CEO of Inspire Education Group and Principal of Peterborough College.
Thanks for your time, Rachel. Could you start by telling us a bit more about the Inspire Education Group and what drove its creation?
Of course. I was formerly the Deputy Principal at New College Stamford and joined Peterborough Regional College at the end of 2018, with a view to addressing some of the challenges the college was facing. We quickly discovered that there was a lot of parallels between New College Stamford and Peterborough Regional College – both in terms of demographics we were appealing to and the broad curriculum we were offering. It made sense to bring the two colleges together to maximise the opportunities and potential for high-quality post-16 learning in the area.
Over the last 18 months we have been exploring and moving towards that goal and in August of this year we were very proud to announce the merger under the newly formed Inspire Education Group. Peterborough Regional College and New College Stamford became Peterborough College and Stamford College – and University Centre Peterborough has also joined the group to service the higher education needs of the colleges, employers and local community
For us, this merger wasn't about saving money or cutting jobs. Many mergers happen for those reasons, but this isn't one of them – both colleges and University Centre Peterborough are financially sound. This was about retaining and nurturing talent, maximising growth and innovation in the Peterborough and Stamford areas – and facilitating the potential and success of our staff and students.
As a result of the merger, Inspire Education Group is now responsible for 1,250 staff, over 5,000 full time 16-18-year olds, 800 higher education students and 1,400 apprentices; and we have 3,000 adults on part-time or full-time programmes across the group. It's a significant responsibility that we take very seriously, but it's one that excites us at the same time."
You talked a bit about your previous role at the former New College Stamford, now Stamford College, could you talk a bit more about your own career to date?
Yes, I've been in education for 20 years – I began my career in a student support role, then moved into teaching and then progressed into management roles as a Head of Department, Head of Faculty, Assistant Principal and Deputy Principal. I have worked in several colleges over the years in rural areas and city centres, in various sizes of institutions – my role at Peterborough College is my eighth college. So I like to think that I have a broad range of experience that I can bring and I am exceptionally proud and privileged to be Principal of Peterborough College.
What's particularly important for me is that I am a product of a further education college myself – and for me the further education sector changed my life. I know the power it can have and the change it can bring to people's lives – it's why I'm so passionate about the opportunities that this merger brings, because I know we can deliver a really fantastic educational offer to communities in the area – both now and as we grow into the future. Whether that is through traditional academic subjects, vocational courses or technical education, across a wide range of curriculum areas from entry level to undergraduate qualifications."
The University Centre Peterborough is clearly a big part of your vision for the Inspire Education Group – can you tell us a bit more about the university and its place in the city?
I think a lot of people will be familiar with University Centre Peterborough in some way, even if just in name, but it was established in 2007 as a joint venture between the then Peterborough Regional College and Anglia Ruskin University. It was created to address a gap in the educational needs of Peterborough and the surrounding area – and the university centre delivers degrees across a range of subjects from sports, teacher education and forensics – to more traditional subjects like English literature, accounting and biological sciences, as well as many others.
Following the creation of the Inspire Education Group, University Centre Peterborough is now wholly owned by the group and continues to offer validated courses through Anglia Ruskin University. As a result of moving all the higher education provision from Stamford into University Centre Peterborough, we now offer courses validated by Bishop Grosseteste University, Pearson and The Open University. We continue to develop and deliver a curriculum that meets the needs of local people with a keen focus on partnering with businesses to produce students that are ready to step into a range of industries, whether its construction and civil engineering, performing arts, teaching, business, health, computing and many more.
The university has had a number of successes over the years, with many of our courses having 100% employment rates and students receiving job offers from local and national companies who have visited the site. Some of them have been coming back and employing students from our cohort for five or six years. Elsewhere students have gone on to start their own businesses and our mature students have found the opportunities to set out on a new career path or build on their experience and knowledge.
Will University Centre Peterborough be changing at all under the Inspire Education Group? How does it fit into your plans?
In terms of our plans, University Centre Peterborough will be the higher education arm of the Inspire Education Group – supplying opportunities to our Peterborough and Stamford Colleges. We will have 850 students studying at UCP this academic year and we would love to see this grow in the years to come.
We will not be changing the aims or goals of University Centre Peterborough drastically – only looking to improve, develop and expand them. So, it will remain a university centre dedicated to providing courses and producing graduates that are ready for our times and the challenges we face – whether that be a post COVID-19 world, an increasingly digital society, or the rise of new and emerging industries.
Partnerships with business will continue to be an important part of the university's offer. We already have strong links with Peterborough United Football Club and major local businesses like BGL Group and Saffery Champness – and a number of our teachers continue to work in industries alongside their teaching roles, giving students valuable insights and connections. We want to build on this and have recently acquired funding from the Office for Students to develop employer relationships through the 'Challenge Fund'.
How about the wider vision of the group? What is your vision for post-16 and post-18 education in the region?
When I joined Peterborough College in 2018 and we began considering this merger, the real driver was a desire to change the culture and develop one that is focused on high quality education, with students at the heart of every decision. We wanted their needs to come first every time – and this is the same vision and desire that drives us now as we look to the future of the group and wider post-16/18 education in the region.
But, of course, it's about more than words and visions – and we are excited about how we can raise the level of further and higher education in the region in the years to come. We have plans to develop parts of our estate – which includes a new construction centre at Stamford College and a centre for green technology at Peterborough College, again showcasing our commitment to creating facilities that are ready for the future and that our students and staff deserve.
We are also expanding the Borderville Sports Complex in Stamford, with a new extension, more science labs and classrooms. The beauty of bringing together these institutions within the Inspire Education Group is that every student will have the chance to benefit from these facilities.
Our mission is to transform lives through inspirational education and training. We believe these plans are a marker of that intent and there is certainly a lot of optimism amongst staff and students within the group at what they see as a fresh start and a fresh opportunity to build an education institution that puts students first and provides them with the first class resources and curriculum to thrive.
There have been other developments in Peterborough's education sector in the last year – how do you see yourself working alongside other providers?
Peterborough is an ambitious city, with lots of plans to be a leader on issues like the environment and digital technologies. We believe this ambition should be matched in its education sector.
If we look up and down the country, cities not much bigger than Peterborough have more than one provider of further and higher education. Lincoln or Leicester are just two not too distant examples where multiple universities and colleges operate to give students choice. It is this choice that's important – different providers will do and offer things in different ways, with different strengths – and that can only be a good thing for the city.
When we look at the announcement of the University of Peterborough, for example, we welcome the prospect of two universities in the city. As a provider of education for over 9,000 students in the region, we want to drive forward Peterborough's ambitions alongside our partners and fellow institutions. We are enthusiastic about our plans to grow and develop our colleges and university centre within the Inspire Education Group – and we're excited for what the future holds."
To discover more about the Inspire Education Group, you can visit their website at – www.ieg.ac.uk
---
How Maciej Kazimierek found his start in tech through University Centre Peterborough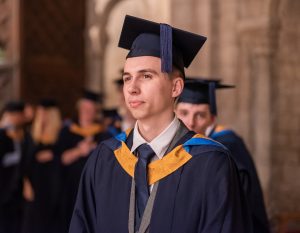 Peterborian Maciej Kazimierek knew he wanted a career in IT but where best to study? The answer, it turned out, was right on his doorstep.
Studying the BSc (Hons) in Computing and Information Systems, offered by University Centre Peterborough, Maciej met Alex Shaw, Chief Technology Officer at Hive Learning when he visited the University last year. Hive are based in London and work on developing learning technologies and they have close ties to the University. When Alex saw Maciej's final-year project – which was just the kind of e-content Hive worked on – he said he'd be in touch over the summer.
He did get in touch, and in October 2019, Maciej Kazimierek started his new job at Hive: "In August I got a call asking if I'd still be interested in applying for a job. I was, so did the interview and got it! Obviously, that really helped me get into the industry even though I had very little experience." Despite the fact Maciej will modestly claim that he was 'lucky', this opportunity did not come about just by chance.
Such opportunities are built into the fabric of the course thanks to its close ties with the industry, and Maciej is by no means an isolated case – with last year's cohort of students having a 100% employment rate.
---
How studying at University Centre Peterborough helped Vicky start her own business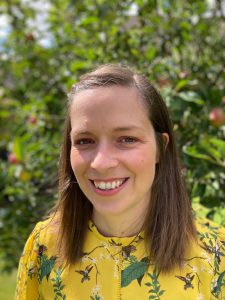 After having two children, Vicky Lawrence wanted to change her career path and study something that would allow her to support others: "I found details of the Psychosocial Studies degree at www.ucp.ac.uk and went to an open day. It went from there; I visited a couple of times and spoke with the course leader. I was scared but I didn't look back!"
"Starting at University Centre Peterborough was scary, but I soon felt at ease. The staff were all so helpful and supportive, from the lecturers to the support teams. It was great to be in small classes, being able to be familiar with teaching staff and interact with peers." – Vicky took on a role as an ambassador for the University in her final year, giving her the opportunity to get to know more staff members.
In her first year at the university, Vicky became interested in positive psychology through modules on her course. She decided to set up a business, Grow Positive (www.grow-positive.co.uk), to help individuals and organisations to improve their wellbeing and embrace positive changes – all through workshops, motivational talks and individual coaching.
"I would recommend anyone thinking of studying at University Centre Peterborough, to visit the campus or speak to someone online and go for it! Have a good think about which course is right for you, there are plenty of choices in different subjects. It is a great place to study and be involved with, I hope to stay connected with University Centre Peterborough for many years to come and truly enjoyed my student experience there."
Leave a Reply