Amazing Grace – new lockdown collaboration between The King's Singers and Soundabout Inclusive Choir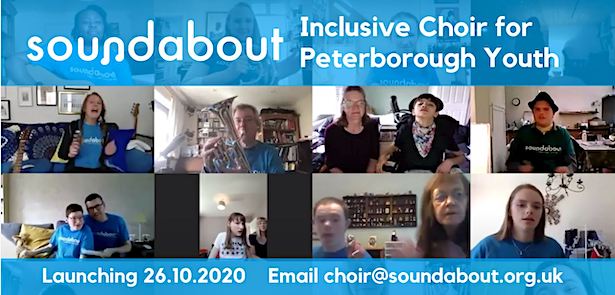 On Sunday 30th August renowned British a 'Capella group The King's Singers and the Soundabout Inclusive Choir released a new version of 'Amazing Grace', produced during lockdown as part of group's Finding Harmony campaign.
The release coincides with the announcement of a brand new Soundabout Inclusive Choir for Peterborough Youth which will meet every two weeks from Saturday 26th September.
Amazing Grace is the first collaboration of its kind between the superlative vocal sextet and the all abilities choir, which focuses on removing barriers from people with severe and profound learning disabilities being able to not only have a voice, but to lead the group.
The arrangement of Amazing Grace by music therapist Steve Dunachie was based on a performance by Soundabout Inclusive Choir member Sam Pittick, who has Down's Syndrome and hearing loss, and is built on his musical choices, pace, rhythm and pitch.
Clare Cook, CEO of Soundabout said, "The experience of working with The King's Singers on this collaboration of Amazing Grace has been extremely significant one for the Soundabout Inclusive Choir, led as it was by our talented choir member Sam. We are much looking forward to starting the Soundabout Inclusive Choir in Peterborough, as it is the ultimate example of the power of music to bring people together and give everyone a voice."
Steve Dunachie said, I was delighted to be asked to arrange Amazing Grace for Soundabout, featuring Sam and his friends, and to see the final product so skilfully put together. As a music therapist one is aware that the very best musical resources are needed for clients, and The King's Singers are the very best."
If you are aged 18 and under and would be interested in joining the Soundabout Inclusive Choir for Peterborough Youth, please email or visit www.soundabout.org.uk.
Amazing Grace premiered on The King's Singers and Soundabout's Facebook pages and Youtube channels at 2pm on Sunday 30th August.
Leave a Reply