Young referees – blow the whistle!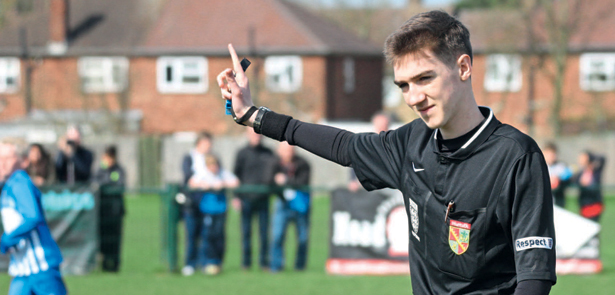 Young football referees in Peterborough enjoy a clear advantage over those elsewhere in the country thanks to the Peterborough and Fenland Referee Development Scheme, a grassroots programme of support and mentorship for the next generation of referees
The Referee Development Scheme for football is run by the Peterborough Referees Association with the support of Vivacity. Since its formation in 2011 the scheme has helped to tutor, train and mentor hundreds of young referees, many of whom have steadily progressed through the referee promotion system and are now refereeing at a high level. Some successful referees have gone on to officiate at internationals and National school cup finals and tournaments as far afield as Spain, Portugal, Croatia and China.
Peterborough, it seems, is the place to hone your skills as a football referee, as Chairman Rob Windle explains: 'The Referee Development Scheme is quite unique. We're well respected throughout the UK as one of the best, if not the best, and we have had the greatest percentage increase of membership of any Referees organisation in England. We are proud of what we have achieved and are grateful to our supporters such as Vivacity and local leagues.'
The scheme was created to support referees both during and, crucially, after their initial training. Participants take part in training evenings, with classroom-based match analysis to enhance and build their confidence in the nuances of the game. Famous Premier League and FIFA referees regularly come along to offer their advice, while experienced referees go out to matches to watch the young referees in action, offering constructive feedback so they can continue to improve.
Oi, Ref!
Thanks to the scheme there are more youngsters than ever becoming referees in the Peterborough area, and with hundreds of football matches in Peterborough every weekend there's plenty of demand for more. In fact, thanks to Vivacity's backing the Referee Development Scheme is now leading the way with other areas looking at Peterborough's success and asking for tips to improve their own set ups. The result is a steady supply of exceptional referees who provide our local leagues with the properly trained officials they need – a fortunate position sadly far removed from other parts of the country.
Vivacity's Sports Director, Jon Marsden, said: ' This has been a fantastic investment. We are very proud to have played a key role in providing properly trained officials for local leagues.' Trained referees are paid for their time. 'It's a good incentive,' says Rob. 'On a typical weekend a referee can earn quite a reasonable amount of money.' But for the young people that join the scheme there's something far more valuable on offer. 'Refereeing not only helps you to learn more about the sport, it brings out an incredible set of life skills. Think of the qualities a referee needs: honesty, integrity, the ability to make decisions, or deal with heated situations. These are skills that are going to help young people stand out in the future. Nurturing invaluable life skills is one of the best things about the scheme.'
Why not get involved?
Find out more about the Referee Development Scheme and dates for future courses and events on the Peterborough Referees Association Facebook page www.facebook.com/PeterboroughRefereesAssociation ● If any organisation would like to support the scheme with sponsorship then please contact Chairman Robert Windle on 01733 204445.
Leave a Reply