Young citizens making change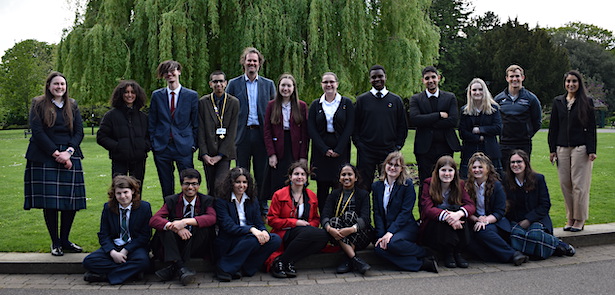 Students in Peterborough have been getting political… Thanks to Peterborough Citizens – a chapter of Citizens UK – schools across the city having been shaping mental healthcare provision, working with the Clinical Commissioning Group (CCG) and local MP Paul Bristow to improve and increase resources. To find out more, Moment editor Toby Venables got on a Zoom session with all the key participants, including project initiator and UCP politics lecturer Tim Hall, Deputy Head of sixth form at Thomas Deacon Academy James Mepham, Counsellor at The Peterborough School Michelle Lay, and students Charlotte Hemens, Althea Andrade, Emma Marriott, Julia Nowak and Flora Whitticase…
First of all Tim, tell us how all this came about…
Tim: What Peterborough Citizens sought to do was to find a project to give schools a taste for being part of a civic alliance. Schools do get involved in some politics, but not like this. It's kind of new. So we asked around. Initially, James Mepham and I had a conversation. James is Deputy Head of sixth form at Thomas Deacon Academy, and I came to him over a year or so ago and said 'What are the issues?' He said 'Mental health. We've got parents coming in and saying "What can you do? How can you support my son or daughter?"' Not a lot, really, was the initial response. We've obviously got some support in schools, but it's very limited in relation to the demand. So we thought mental health would be a good project and pitched the idea for James and his students to convene a summit on mental health. That was back in November 2020 – which, obviously, due to the pandemic, was done virtually. It had, I think, 12 schools participating initially, and that led to sharing of stories, and then campaigns really developed from that. That's the origin of it, and it's been ably supported by James at TDA, and Michelle Lay, a school counsellor who's here from the Peterborough School. Michelle is also Director of Clinical Services at Young People's Counselling Service, so she's brought in much of the professional, inside understanding. The rest was really handed over to the students; they've done all the running!
Can I just ask Michelle what were some of the specific mental health issues that arose – and did COVID add to these?
Michelle: The main topic that was coming up was the challenge for young people to find out what services were available – it's a real minefield out there, different support for different age groups at different locations… The current provider, which is changing in July, also had huge waiting times. So there was a really long waiting list for young people to access support, and the support that they were receiving sometimes after waiting seven or eight months would perhaps only be four sessions of support. There were many different topics but what became clear was that young people were really unhappy with the general provision for the city of Peterborough for their mental health and wellbeing. The pandemic has also had a huge impact – at the charity that I help run I've doubled my therapists in a year. COVID has actually almost quadrupled that need.
Let me turn to the students now… Why did you want to get actively involved in this?
Althea: I think mental health is as important as physical health, if not more important, but it's only lately that mental health has been gaining attention. At the same time, I felt that if I had the opportunity to be able to contribute and mould the facilities to teenagers' preferences and requirements, that would be very, very good. That's one of the main reasons why I stepped up and took this opportunity.
Emma: I've had to accompany one of my friends to A&E for mental health support, and I found it really challenging that there weren't any mental health firstaiders, and that we were just really shown to a room and told to call 111. In fact, that person didn't really get the help they needed until about 15 hours later, and of course if they were suicidal, and if I wasn't with them, who knows what would have happened? I just feel if I'm able to help contribute in any way to make it better for other people and to feel more comfortable addressing it, then that's definitely something I want to be a part of.
Julia: One of my friends now is going through this whole process, and she has been waiting two weeks just to hear that she's on a waiting list. Who knows how long she's going to wait to get help – and when she does get the help, how good will the help be?
James, as sixth form Deputy Head you've been with this from the start – can I ask why, coming from a teacher's perspective, you felt the need to get behind it?
James: As Michelle's already alluded to, we have so many students coming to us saying I've got X, Y and Z mental health issues, but as a pastoral leader, I sit there and sometimes I'm thinking 'I don't have a clue. How can I help you?' So for me, there's an issue with mental health support at a school level, not having the general populace of teachers trained to be able to deal with students. And then the next level is we'd have students that just didn't know what was wrong with them. They knew there was a mental health issue, but didn't know specifically what it was. So there's a support issue, and there's a diagnosis issue. And then when they were referred to specialists, we've got these massive waiting times, or they get bumped around to different services, so we felt it was an important issue to address. Also, our goal as a sixth form was to provide students with opportunities. These students are competing with every other student in the country when applying to university, and we've got to try and match what the private schools provide for students and what more privileged people provide for their children. So, the political aspect of it really appealed to us, to provide students with an experience they can then write about in their personal statements or CVs as they go forward, and be a more competitive person in the university/job/apprenticeship market. So, it's twofold for us. And when we were approached by Tim and heard about this thing called Citizens UK, we just said 'Yes, let's go for it…' We didn't know where it was heading. But it's gone to a place that I couldn't even have imagined it would go. And the students have had such a great experience. These guys have now got regular meetings with the CCG and Peterborough MP Paul Bristow, and are working at a level that we never thought they would be working, providing young people with a voice and shaping the future of Peterborough. That's why I think it's such an important thing to continue with beyond just this mini campaign, because it provides them with a voice and an opportunity to be involved in politics, and they can actually see the change they make.
At the mental health summit you all came together from different schools and identified key issues – but what change is actually happening as a result of this?
Althea: So we have been divided into two different groups. One is for drawing in more funding for the facilities, and one is working with the CCG to improve the facilities, especially in navigating through it. So I personally work on the funding side. I work with MP Paul Bristow and we are negotiating on bringing in more funding for mental health facilities in Peterborough for the youth. On the CCG side, they are working to create or redesign an already existing website to be more convenient for students to navigate for easy mental health help. They are also working on decreasing the amount of waiting time, because as we've already heard, it takes up to two weeks to even know that you are on the waiting list. So I feel that we have made good progress. There's a long way ahead, but we are a good team. We work together. And hopefully we will get there.
Am I right in thinking that the previous website had been put together without asking any young people what they thought of it?
Julia: Yes. I am on one of those teams working with the CCG, and when we looked into the website, we realised that what we needed was very different from what the adults that designed the websites thought we needed…
What was the response when you came to them and basically said 'Your website's no good'..?
Emma: Katherine Goose, the representative from the CCG, was really welcoming. And what I really appreciated was that she wanted to hear our voice. She did realise that we were needed in order to create the website. I was quite surprised, because I do feel as though youth are quite looked down upon sometimes, and actually, that willingness was really refreshing.
Tell me how MP Paul Bristow has responded to this…
Charlotte: I think we were very surprised how willing he was to help us and be on board with the campaign. One of the things that he said in our previous meeting was that he'd ask Dr. Alex George, the UK's newly appointed youth mental health ambassador, to have a meeting with us. If we're able to have that meeting with him, that would be quite a substantial thing.
Tim: I've just got to say here that the students are underselling this a little bit… They did the research. They found out that Alex George had been appointed to this new post. What these guys have done is say to Paul Bristow: 'Okay, this is the guy in charge. Can you broker a meeting with him for us?' He's still to do that, but I think it's fair to say they've got his feet to the fire! Another thing that they did was when Paul Bristow said there was £79 million additional funding for mental health, post-COVID, they came back to him and said 'Where? What does it look like in Peterborough?' That's how the relationship works.
Was it scary, doing all this..?
Charlotte: I think for me at the start, it was definitely very scary and daunting, because I've never really liked public speaking. But as this has gone on, I feel like I've really developed my confidence in speaking to a variety of people. It's just got a lot easier for me, and I think that's quite amazing how that's happened.
Emma: Personally, I've definitely felt that we can actually make a change. And it's given me the confidence to pursue other issues within my school, and just really given me the confidence in my own voice. We're not the ones being talked about – we're the ones doing the talking. And to me what really stood out was that our voices are being heard.
Michelle: I want to add, actually, in the school that I work at the confidence I've seen and growth in the young people has been phenomenal – how they're becoming leaders. It's been inspiring to me, as a member of staff in the school, and obviously running the charity, just how amazing these young people are, and everything that they've done. Just today, there were children from the school putting a presentation together to the headmaster to join Citizens UK. And it made me feel really emotional when I watched it, because it showed their journey from the beginning, and why they think it is so important. I don't think we've ever seen anything like this coming into schools before. And I think the schools all need to get on board. We need to have a campaign to do that, really, because I think for the young people this is something like they've never experienced before.
James: Just on that point, a saying that Citizens UK brought in is 'If you haven't got a seat at the table, you're on the menu…' And I think the students have completely embraced that. They are very much at the table and creating the menu!
Has the experience been a source of inspiration?
Emma: This has definitely given me the inspiration to look more into social justice and what I can do for my community, wherever that may be in the world. And just the way that I can help people and actually finding my voice has really helped me do that.
Flora: I've always been interested in mental health, but this has opened up my eyes and I've learned so much over the process. I think it's helped me and it will obviously help loads of other people as well.
Julia: I think in my case, it was just the fact that it gave us confidence and made us realise that we do have a voice and we can make a change in our community for those people that need help.
Charlotte: In terms of all the skills that we've developed through this, I've noticed that I've been able to implement them in other scenarios – things like arranging meetings and creating agendas has been something that's been really helpful. As was mentioned earlier, we created a PowerPoint presentation for our head about why he should become a member of Citizens UK, and I think many of the skills that we've gained from this we managed to put into that PowerPoint to create a really strong case.
Althea: I think, just summing up what everybody said, putting together the skills and the experience really made me evolve as a person and as a personality, making me more confident in the way I speak, being more open about my voice. And at the same time, acknowledging and understanding there are a lot of people who struggle to voice their opinions. And we should be mindful about it when we speak. Because at times, we may not know that people are going through certain things, and we may say something that may hurt them and not realise it. So altogether, this experience definitely taught me a lot.
Tim: One thing worth mentioning is that these guys are all from different schools. So Charlotte's from Peterborough School, Althea is from St John Fisher, Julie TDA. Flora and Emma from Kings. They've never met, and will be meeting for the very first time for photos on 19 May. All of this has been done online because of COVID, which is remarkable, I think.
Charlotte: On that point, I think at the beginning of this I didn't realise the friendships that I'd create through it. Doing this, especially within the smaller Paul Bristow team I'm in, I think a lot of us have created quite strong friendships that I don't think any of us realised we'd gain from this process – through social media and Zoom calls. I think it's been really great to make friends from different schools, and we all have the same goals and things.
Where does it go after this? Is there something else planned?
Tim: I think we went beyond what we thought we would do, as James said. We organised the summit, initially. And I think the key thing is to create the capacity in schools to carry on this type of work. So it's important to have a kind of handover – and James organized one in TDA – where you pass on your experience and wisdom and mentor incoming Year Twelves to continue this work, because holding to account takes time and patience. And that's why we're institution-based, because people come and go, but institutions stay. So I think that's key. There's a bigger picture to view as well. At the moment, progression routes into politics is a real problem, because people going into Westminster tend to do so from elite institutions. But I'd like to think that actually, some of the people that have been involved in this project will actually go into public office, and now they have the skills needed for that. Part of this project is about increasing participation in public life, and other pathways into politics. So, we're certainly not on the menu anymore – we have a seat by the window in the restaurant!
Peterborough Citizens launches officially in September 2021. To find out more, visit: www.citizensuk.org/chapters/peterborough/
---
Dilraj Kaur, Organiser, Peterborough Citizens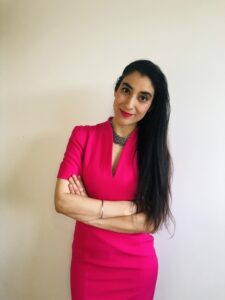 "What I've experienced with Peterborough Citizens is that when we've given these students the opportunity to not only talk about what makes them angry and frustrated, but to actually act on it, that there's been a massive appetite for it. They've really valued having this platform, and also they've just met a whole new network of other students from other schools – because we're working across so many schools in Peterborough – and they've created action groups on their social media. They're talking to each other. They're creating agendas. It's given them purpose and a community of like-minded people that have been able to connect during the pandemic. They've really flown with it and valued the opportunity to do something and have a new community of people and students."
---
Paul Bristow MP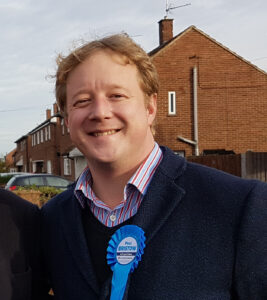 "This has, quite simply, been one of the best things that I have done so far as the local MP. I've really, really enjoyed it and the young people here make me proud of Peterborough. I don't think Peterborough is a downtrodden city, or left behind, I think it's a super city with super young people living in it. We are the beating heart of Cambridgeshire, and I think we've proved that."
Leave a Reply