The YMCA in Peterborough
The YMCA in Peterborough 1 2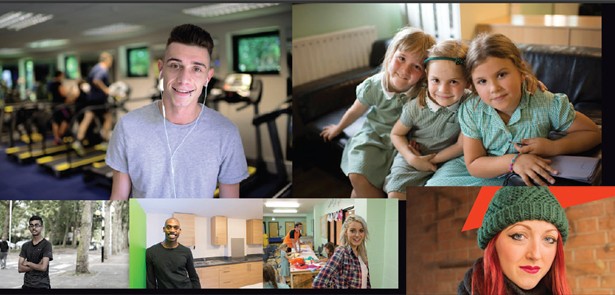 The YMCA has a simple mission: to help young people build a future. Often quietly and behind the scenes, the charity makes an invaluable difference to hundreds of young people in our area, giving them a roof over their head in troubled times, skills and training and, perhaps most importantly of all, hope. Benedict Vanheems talks to Cambridgeshire and Peterborough YMCA's chief executive Jonathan Martin to learn about the impact the charity is having locally
JONATHAN, YOU'RE AT THE HELM OF AN ORGANISATION THAT'S IMMEASURABLY CHANGING THE LIVES OF YOUNG PEOPLE FOR THE BETTER. THAT MUST FEEL PRETTY GOOD! 
It's a great honour to be able to make a positive change to the lives of young people. The YMCA can play a really key part in a person's journey through life. But while we can support young people to make some really fundamental changes, one thing I've learnt over the years is that the person that makes the change is the young person themselves – we just help them in the right direction, mentoring them from dependence to independence. All young people have the skills to become independent and productive in the community. They just sometimes need a bit of help to understand what that means and what they can do to make that change. It's our job to give that expertise.
THE YMCA HAS BEEN ESTABLISHED IN CAMBRIDGESHIRE FOR MORE THAN A CENTURY AND A HALF. CAN YOU GIVE US A POTTED HISTORY?
The YMCA was founded in London in 1844 by a guy called George Williams. George worked in a department store and noticed that workers coming in from the villages had a couple of choices after work: go to the pub, or go to the brothel and then the pub. He felt there had to be a different way. So he began supporting people in making that transition to city life. His work then spread pretty much by word of mouth The local connection came in 1851 when George visited Cambridge to meet Robert Sayle, who ran the department store (now John Lewis). George said 'look, not only are these people better off if you support them in this way, but you get more productive workers'. The following year saw the first meeting of the YMCA in Cambridge, at the same time as the organisation was getting established in Canada, America and Australia. The YMCA in Peterborough got going around the time of the development corporation and was built around a specific project – Time Stop [accommodation for the homeless] – in Wellington Street.
MANY PEOPLE READING THIS WILL GET THE CONNECTION BETWEEN THE YMCA AND YOUNG PEOPLE BUT WILL HAVE VERY LITTLE IDEA OF WHAT THE ORGANISATION ACTUALLY DOES TO HELP THEM. CAN YOU TALK US THROUGH THE SORTS OF ACTIVITIES YOU UNDERTAKE IN THE PETERBOROUGH AREA?
We offer housing to 16 to 25-year-olds from lots of different backgrounds; we've more than 240 units spread across the county. We run gyms that attract the general public and also work with groups that probably wouldn't normally join exercise groups, for example stroke survivors, people with disabilities, cardiac rehab patients, or people with longterm degenerative disease like muscular dystrophy. We run youth justice programmes with young people who have committed crime, and we run the appropriate adults service in Cambridgeshire, offering support when they get in trouble with the police. We also offer counselling, helping to support young people through difficult times or with mental health issues.
HOMELESSNESS IS A BIG PROBLEM IN SO MANY CITIES ACROSS THE COUNTRY. HOW DO YOU IDENTIFY YOUNG PEOPLE IN NEED AND GIVE THEM HOPE?
Some people literally turn up on the doorstep and say 'I don't have anywhere to live' and we take them in. Others are referred to us by local authorities – so Peterborough or Cambridge City Councils, Fenland, or East or South Cambridgeshire. Others are referred through agencies such as Social Care or the Youth Offending Service. We work to Maslow's hierarchy of needs, starting at the very basics – somewhere safe to sleep. The next stage is getting their income sorted and other practicalities. But then we sit down with them to work out what's next, whether it be more education, training or employment. We look at the skills they have to live independently. Our role is essentially to take them from dependence to the point they can sustain themselves. A good chunk of those coming to us will go back home – they came to the YMCA having had some sort of crisis and we act to mediate to show them that the best place for them to return to is home. But for quite a few that's not the best place, so we work to get them into independent accommodation.
OKAY, SO YOU'VE GOT THEIR ACCOMMODATION SORTED. HOW DO YOU MOVE ON TO PREPARING THEM FOR WORK LIFE – AND LIFE IN GENERAL?
First there are the basic life skills, so how to budget, cook, do the washing and cleaning, all those sorts of things. Then we move on to employability. What qualifications have you got, what training do you need, what are you interested in, have you got a CV? How do you go to an interview, how do you present yourself? What areas do you think you'd like to work in? Can we get you an apprenticeship or traineeship? It's trying to find the right solution for that individual. Some will be very capable of going straight out into the workforce and getting a job, while others may need a bit more education and training to get to that point. What we're offering are the skills to go out and be productive.
YOUR LOCAL ACCESS TO EMPLOYMENT PROJECT HAS DELIVERED SOME PRETTY IMPRESSIVE RESULTS – FOR EXAMPLE LOCALLY THE YMCA HAS HELPED WRITE OR UPDATE 185 CVS THIS YEAR ALONE.
Access to Employment's success is down to the fact it's very individual. We sit down with the client and look at what it is that's preventing him or her from getting employment. Sometimes it's a terrible CV or they don't know how to fill in an application form properly. Others need more skills before they go into the workforce, so we might work on their numeracy or literacy. It's also about being there to support them really practically: ringing them on the day of the interview to make sure they're where they are supposed to be and have changed their shirt – those sorts of things. And then if they don't get a job it's being there to say 'let's get back up at the next one' and building self-esteem.
THE COUNSELLING THE YMCA OFFERS MUST BE A REAL LIFELINE TO SO MANY YOUNG PEOPLE. HOW DO YOU TAKE SOMEONE FROM CRISIS TO RESOLUTION? IT MUST BE A VERY DELICATE PROCESS.
We have a team of brilliant qualified and qualifying counsellors. These are really skilled people. The counsellor will sit down with the client to identify some of the issues they're facing then help them cope or move on from them. Issues arise from many things: bereavement, coping with divorce in the family, or a troublesome relationship. Then, sadly, there are those who have suffered some sort of abuse. Others may have a mental health issue they are… [cont]
The YMCA in Peterborough 1 2
Leave a Reply