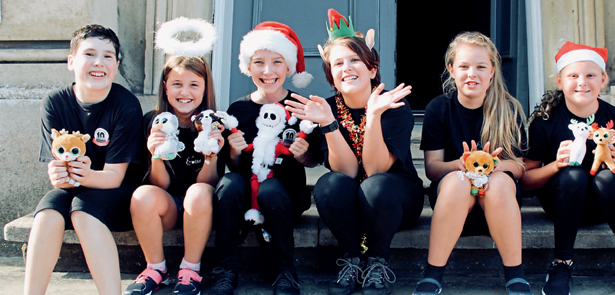 What helps children to build confidence, make friends and have fun? Exploring their creative side through performance – something Wildcats Theatre School students know all about
Wildcats finds the perfect balance. It's a place where children and young people can hone their performance skills while getting down to the serious business of having fun! Added to this is the opportunity for students to make friends while developing their confidence in a relaxed and supportive environment. The students at Wildcats are a diverse bunch, with all skills and experience levels represented, from those familiar with the stage or who love singing, dance or drama at home, to those for whom the wonderful world of performing arts is yet to be discovered. There's no expectation and it doesn't matter what stage your child is at – everyone is welcome and the LAMDA (The London Academy of Music and Dramatic Arts)-trained staff are committed to ensuring all children reach their potential. Confidence building is a big part of the Wildcats effect and many of the students who attend the classes see impressive leaps in their confidence, which can give a welcome knock-on effect on academic performance too. Younger children see the most rapid development in confidence and self-esteem, and early exposure to simple performance techniques can make an impact that lasts a lifetime.
Peterborough performers
Wildcats Theatre School is celebrating its first full decade, something founder Caz Dolby is clearly proud of: 'Wildcats has come a long way over the last ten years but there's a lot to look forward to as well. Our recent expansion into Peterborough means more young people than ever are discovering the thrill of musical theatre, drama, activing, verse and prose. We're thrilled to be here and it's evident there's a lot of talent in the city!' Wildcats Theatre School runs a number of weekly classes divided by age group for children aged four to 16. Students learn with the best, developing skills through the internationally recognised LAMDA syllabus. Musical theatre classes offer a broad introduction to musical theatre and the practical skills that go with it – skills such as projection, audibility, clarity, use of performance space, as well as emotion and engagement with the theme. Children progress at their own pace; no-one is pushed to develop faster than they are comfortable with. The emphasis is always on fun and enjoyment, which is the best way to keep children interested and enthused about coming to the sessions.
Learning and thriving
Wildcats Theatre School aims to bring out the best in your child through the supportive environment it fosters. As well as ensuring children are happy and comfortable at all times, there's also an emphasis on teamwork. Public speaking skills are developed too – both skills that will serve them well as they grow in character and confidence. But if your child isn't the most confident it really doesn't matter. That's what the staff at Wildcats are for! They'll spend time at the start of each session working on group dynamics, a crucial stage in the lesson that means no-one is left out and everyone's relaxed. Two venues in Peterborough – Thomas Deacon Academy and Queen Katherine Academy – play host to Wildcats Theatre School. There are also school holiday workshops and even themed parties – an imaginative way to celebrate your child's birthday or a special event.  Registering for Wildcats Theatre School is easy – just head online – and new students are welcomed throughout the term. Take a closer look and start your child on an exciting journey into the exhilarating, fun and always creative world of musical theatre.
Wildcats Theatre School
01780 762000, www.wildcatstheatreschool.co.uk
Wildcats classes in Peterborough
Wednesdays Thomas Deacon Academy Dance Studio ● 5-6pm Mini Wildcats (ages 4-7) ● 6-7.15pm Junior Wildcats (ages 8-13)
Saturdays Queen Katherine Academy Dance and Drama Studios ● 9.30-10.30am Mini Wildcats ● 10.45am-12pm Junior Wildcats (ages 8-11) ● 10.45am-12pm Senior Wildcats (ages 12-16)
Leave a Reply