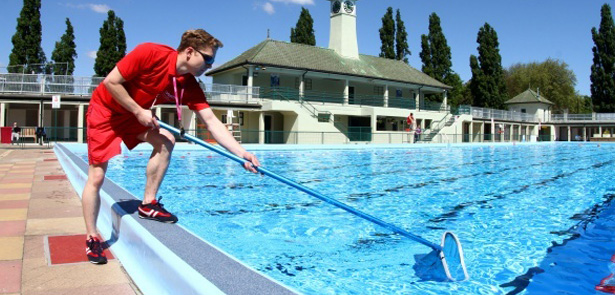 Vivacity's Chairman, Alan Sadler, looks forward to summer
On 27 May, Peterborough's historic Lido has its annual grand opening, with free swimming for all on the opening day. It's a fantastic event, always much anticipated by local people – and as a dedicated swimmer myself, it's one I'm particularly looking forward to. The Lido is something special, and not just because it provides a great day out for families at very little cost (think of it like a day out at the beach, but without the long drive or the sand in your picnic). It's also a vital part of Peterborough's heritage. People have been swimming, socialising and relaxing here for over 80 years now, and despite a few subtle improvements the heart of the place remains just as it ever was. It's managed to stay that way only because local people have loved it and used it, and I'm proud that Vivacity are now custodians of this remarkable place. There's something magical about swimming outside.
I used to spend much of my summer holidays at my local outdoor pool – learning to swim in it, joining the local swimming club there, and when I was a 14-15 years old hanging out there with my mates just about every day during the long summer holiday. I was very glad that I had the opportunity to learn to swim when I was young – but I'm also delighted that my own children were able to learn at an even younger age. They learned at Regional and Jack Hunt pools, where Vivacity is now proud to be offering free swimming for under fives. It's a fantastic opportunity for young people to learn to swim in an environment that parents know is safe, opening up whole new avenues for them to enjoy.
For many Peterborians, the opening of the Lido marks the beginning of summer. It looks like being a great summer, too, with a whole stack of Vivacity family events on offer. The grandest of all is the Heritage Festival, and although a youngster compared to the Lido – it's not quite ten years old – it has already established itself as a key part of Peterborough's cultural scene. This event, presented and nurtured by Vivacity in partnership with Peterborough Cathedral, Perkins and Peterborough City Council, is becoming bigger and better each year – and it's free. This is only possible because of our generous sponsors and the hundreds of Vivacity volunteers, to whom we owe thanks. Not all events taking place in Peterborough over the summer are on quite such a scale, but together they make for an impressively packed programme. We have our childrens' activities presented across most of our Vivacity venues throughout the holidays – from sporting activities to a growing number of creative opportunities at the Museum, the libraries and Flag Fen. Some are week-long summer schools, others one-off events where you can simply drop in – a godsend for parents needing to keep the kids entertained and active.
Taking this a stage further (pun intended) is the Kindred Key Youth Theatre Summer School, which offers young people aged 18 months to 18 years the opportunity to develop their performance skills and build their confidence. Covering drama, dance, singing and musicals, Kindred KYT is the only performing arts company based in a professional theatre. Another event that gives young people a boost every year is the Summer Reading Challenge, promoting literacy through fun events across all Vivacity libraries – and a bit beyond! Summer isn't just about events, of course. Vivacity is also custodian of some of the city's great sculpture, and is working on a programme of restoration and resiting in the coming months. Bob Dawson's Bird in Flight is to be resited at Ferry Meadows at the end of May, with the Caro sculpture Lagoon finding a new home outide the Key Theatre in June and something big coming in 2018.
As well as children and families, we're also looking at how we can help older people or those with health conditions get out and about. For some time now we have been running classes helping those with serious medical conditions. The newest of these is aimed at reducing people's susceptibility to falling, using Vivacity' gym facilities to build up lower limb strength and balance and improve general fitness and mobility. And, not to be left out, I'm going to be getting out and about too. One of my aims this summer is to get around all of the Vivacity sites and meet as many of our volunteers as possible. Our volunteers are so important. I want to work alongside them, talk to them and find out their views. And who knows – perhaps I'll even meet some of you as you're out and about visiting the sites!
Leave a Reply