Trying something new: Hereward Harmony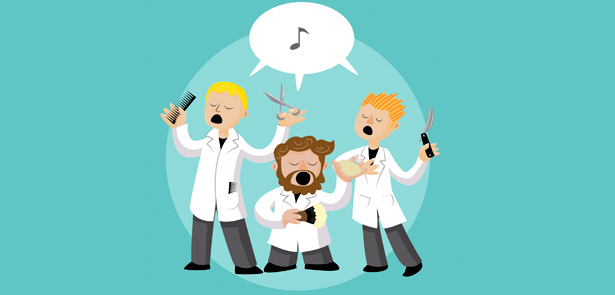 Terry Irwin of Hereward Harmony recalls his first encounter with this strange thing called 'Barbershop'...
The only real image I had of Barbershop Singers was from old Hollywood movies of men in funny clothes singing about their 'babee'; just four voices – no instruments – in close harmony. It seemed to be pitch perfect with a very distinctive sound and was definitely American. So I was surprised to discover there was a whole network of Barbershop clubs in Britain (men's and women's) and that one of them was quite close to me in Peterborough. I thought I would go along and have a look just for an evening. It surprised me that there was a chorus of Barbershop singers, not just four rather comical chaps in stripey costume and straw boaters. I was so impressed with the harmonies and the fun of the singing that I forgot to sneak out and stayed the whole evening.
I had to confess that when I joined Hereward Harmony that Thursday evening at the Community Centre in Napier Place, Orton Wistow, I had a great night and sang little snatches of songs on the way home. Barbershop singing grew at the same time the new forms of singing such as Jazz and Blues were emerging on the main scene, and spawned Glee clubs and Bee-Bop groups. The unique sound of Barbershop is created through four different parts – hence the reason you also get Barbershop Quartets. The Lead singers carry the tune of the song. Above them – unique to Barbershop – is a high harmony sound they call Tenor, but which is really a falsetto sound.
The Basses sing the normal bass harmony and the final section, the Baritones sing below and above the lead. I finished up singing Baritone which has a lot of sharps and flat notes along with the 7th note of a scale which also creates the unique Barbershop style. Most people start in the Leads because singing the tune is the easiest part to pick up. From there it can be decided if one's voice suits that range of notes or that another section will be more suitable. We started each song very simply. Robbie, the Chorus Director, blew a note on the pitch pipe and each section tuned to that note. Most members of the chorus could not read music but Robbie explained to me that everybody got a teach tape with their part sung on it. Non musicians simply had to listen to the tape and learn the part that way. People who could read music could use both the tape and the printed music that was also provided free to each member.
It's hard to describe to anyone who wasn't there how enjoyable it was to be able to harmonise with other voices and to sing along with other voices making what I thought was a pleasing sound. The songs had been specially arranged to create a series of long vowel sounds to disguise the fact that there is no musical accompaniment other than the voice. This meant that it was easy to follow what was being sung even if you were not singing the tune. What made it even more fun was the fact that everybody was enjoying themselves, both when they were singing (it's a sin to stand still in Barbershop!) and in between songs with lots of banter going around – especially during the raffle/tea break.
Hereward Harmony is one of over 50 Barbershop choruses scattered around Britain, all affiliated to the British Association of Barbershops (BABS). There are such associations all round the world from Sweden to Australia, from Japan to the USA. As Robbie says: 'All you have to do is like music – age and ability does not matter but standards do'. BABS holds a Convention each year and two years ago we won our Division competition – so why not give it a try? It's fun, healthy and challenging. Come along one Thursday evening and listen to us. I only went along for half an hour. After 15 years I'm still there singing Baritone!
Get involved! We meet every Thursday evening from 7.30 to 10pm (including a tea break) at Napier Place Community Centre, Orton Wistow, Peterborough, PE2 6XN. Our practice evenings are open to visitors so, just turn up, have a cup of tea and listen. Come along and see what you think. ● If you want to chat and ask questions first, call Brian McDonnell on 01733 752577 or Alan Lund on 0785 000 7057 for further details
Image: www.freepik.com/free-vector/barbers-singing_796534
Leave a Reply