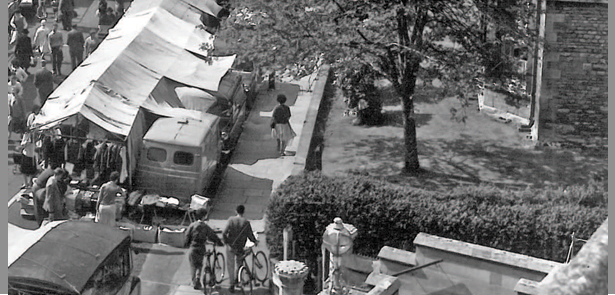 Stamford resident Dianne Drew takes a closer look at the town's market, its diverse offerings and its eclectic crew of traders…
Meandering along Stamford's Broad and Ironmonger Streets on a Friday morning browsing the wares of its market traders, with 'England's finest stone town' as a backdrop, few may be aware that is has an esoteric past dating as far back as Saxon times. Throughout its history, Stamford Market – which received its Royal Charter from King Edward IV in the 1400s – has seen great prosperity and subsequent periods of decline in its trading of local goods such as livestock and butter.
Nowadays – despite being able to source excellent dairy products there – one would be hard-pressed to find bales of raw wool or live sheep and cattle embellishing the charming old English ambiance of Stamford's centre. One can hardly claim the choices have reduced, however. Currently the 75 traders of today's bustling weekly Friday market offer everything from fresh produce, seafood, meat, spices and gourmet delights to clothing, haberdashery, watch repairs, flowers and a vast cornucopia of handmade goods. Given the present economic situation, with people compensating via tightened household budgets, it may be tempting to dismiss such things as luxuries. In fact, somewhat against expectation, the unique and the hand-made items and services available from markets can actually represent better value for money than their shop-bought equivalents. I set out to discover more about Stamford's varied collection of traders and their goods and why Stamford Market has become such an integral part of their livelihood.
Despite being a busy economics and finance student working on his university degree, Haris Alvi from Nottingham has been trading at the market for four years with his family's traditional Indian food cart. 'My mum and dad cook from a commercial kitchen we have at home, then we package it and sell it here. We don't have a shop, a restaurant or take-away and we only trade at one other market in a neighbouring district,' he explains. 'Stamford is a good market; it's a bit touristy and a lot more people visit it than the one in Nottingham. At first we tried doing a circuit of a few different markets, then when we'd return to certain ones, like Stamford. People would ask where we had been. They'd remembered us. We have been able to build a solid customer base and have quite a few regulars now. People like our food here because, unlike many Indian restaurants, we sell traditional "home cooked" curry dishes as opposed to the more modern British Indian curries you'd be served at a restaurant. We use free-range products, fresh ingredients and local produce, as you find here at the market.'
"We make the most of our sales here in Stamford. We get to meet a lot of people and get a lot of business through word-of-mouth and folks seeing our products"
Sarah Bentley, Bentley Pet Housing and Wood Products
Market traders Chris and Sarah Bentley – a married couple from Melton Mowbray, who started Bentley Pet Housing and Wood Products – like to keep it simple. They started off selling their hand-made garden accessories, such as nest boxes, bug boxes and planters, at Stamford's Saturday craft market two years ago and became Friday vendors seven months ago. 'We don't sell in any shops or have a website. Although sometimes we get inquiries for orders from people who have seen our Facebook page, we sell only at two other markets, and make the most of our sales here in Stamford. We get to meet a lot of people and get a lot of business through word-of-mouth and folks seeing our products, as well as repeat customers who might request a special order. We like to keep full control of what we're doing, we back all of our products and there is no… [cont]
Leave a Reply