Tolethorpe Youth Drama (TYD) – theatre makers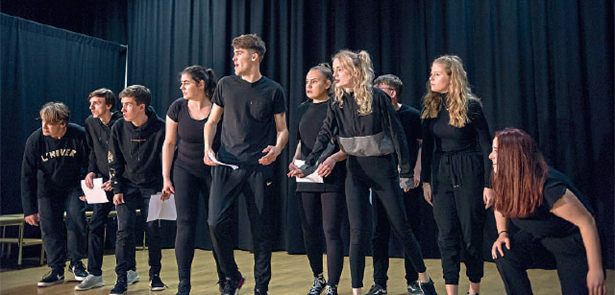 Bringing high-quality theatre experiences to young people in rural East Midlands communities
Tolethorpe Youth Drama (TYD) has been operating since 2001, providing professional drama classes for children and young people in the region. Set amidst rolling fields on the border of Rutland and Lincolnshire, TYD is a unique and magical place – a centre of excellence and a hive of creative activity for children and young people. TYD Principal, Mary Benzies, brings over 25 years' experience of making innovative theatre with children and young people throughout the UK and Ireland.
Mary says: "Having taught at TYD for several years, I am aware of the unique and magical place it is and believe in the huge potential for growth and development here. I think drama is about 'play', finding your voice and creatively exploring the world around you, whether you are on a path to pursuing a career in the business or simply want a few hours on a Saturday morning to be creative and have a great time. I believe everyone has the right to be exposed to quality drama workshops. We aim to offer that experience and really look forward to welcoming any new young 'players' and theatre makers to TYD."
The full and immersive programme features opportunities to train, make and perform innovative, exciting, theatre in a variety of settings and venues. Working alongside TYD's parent company, the Stamford Shakespeare Company, students have the chance to take part in special days and events, which help bring to life the works of Shakespeare. Weekly drama workshops are complemented throughout the year by specialist workshops and master classes, led by visiting top industry practitioners in areas such as Stage-Combat, Singing, Technical Theatre, Physical Theatre, Dance, TV and Film.
Holiday workshops are held during the summer and half-term holidays and a new younger foundation class for 5-7 year olds has also been introduced. Hundreds of children took part this summer in a hugely successful Summer Arts Festival which saw guest tutors such as The Royal Ballet's Senior Ballet Master and Principle Character Artist, Gary Avis MBE, and local feature film director Bill Clark among the incredible line up of professionals eager to lend their name to this very special place.
TYD have just launched a hugely ambitious and exciting new programme for young people aged 16 – 22, bringing together a group of talented and creative young people from all over the East Midlands to stage an electrifying production of Lord of the Flies on the renowned open-air stage at Tolethorpe Hall. The production, which will take place in July 2020, forms part of the annual summer season of productions produced by Stamford Shakespeare Company. Mary Benzies says: "This exciting new addition to the annual programme here at Tolethorpe Hall is aimed at growing and developing young theatre audiences in rural settings. We are a charity-based organisation reaching out to young people in rural areas who simply don't have as easy access to highquality theatre experiences as those in urban settings."
Building creative partnerships with secondary schools is a major aspect of the project. Throughout September and October the creative team at TYD delivered free workshops in schools to gain valuable input from students studying drama and to share the creative process together. In addition to the public performance of the play in July, the company will also host large-scale school's days which will see secondary school groups come from all over the region to watch the play in the unique theatre setting and take part in pre and post show workshops.
● For further information about TYD visit: www.tolethorpeyouthdrama.co.uk ● The booking line is open for the 2020 Stamford Shakespeare summer season of plays: William Shakespeare's Love's Labour's Lost & Romeo and Juliet Oscar Wilde's The Importance of Being Earnest William Golding's Lord of the Flies ● Box office: 01780 756133 For more information and to book online: www.stamfordshakespeare.co.uk
Leave a Reply