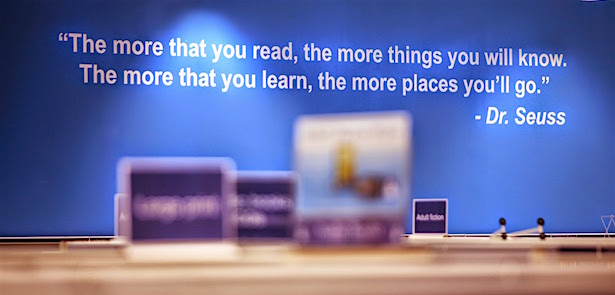 2018 year saw one of the biggest celebrations in Peterborough's history – a year-long festival of activities to mark the 900th anniversary of the Cathedral and celebrate the life of the city. But it didn't just end there... Peterborough Celebrates continues into 2019 by celebrating the wonder of words – and tackling the issue of literacy head on. To find out what's in store over summer and beyond, The Moment talked to Richard Hunt, Director of Culture at Vivacity, one of the campaign's key partners.
Tell me about the Year of Reading and how it connects with Peterborough Celebrates…
There are two strands here that have joined together in a really nice way. When we were originally thinking about what we should do to celebrate city's 900th birthday, we had a number of people come together to talk about the best way to do that. Ultimately, we wanted to celebrate much more than just the refounding of the cathedral because from that grew the city we know today, so it's really about celebrating the whole of Peterborough. And there were some super things that were achieved during the year. Lots of organizations, including The Moment, got stuck in and delivered activities and supported that campaign. But we always knew at the end of that year, we didn't want it just to fade away. We realised that if we were putting all that time and effort into creating this network of organizations, we wanted something to endure beyond that big 900th anniversary year. So, Peterborough Celebrates 900 Years was really just the first iteration of something bigger, and we hope the will be many more in future. It could be Peterborough Celebrates Business one year, or Peterborough Celebrates the Environment – anything the city wants to celebrate. That was the logic behind it. At the same time, Vivacity, Peterborough City Council and the National Literacy Trust were creating a new strategic way of working together to try and do something to enhance the life chances of young children by improving their literacy. Peterborough Celebrates presented a very clear opportunity to do something big, so we decided that the first year of celebration after 2018 would be a year-long festival of reading.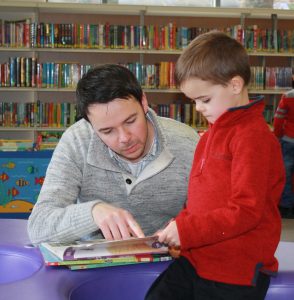 How important is this issue?
You know very well the challenges of literacy – you've covered them in previous issues – but essentially this city remains stubbornly at the bottom of league tables when it comes to literacy. We need to do something about this, because it will have a massive effect on everybody in the city and the future. So we created the Vision for Reading in Peterborough, which you can download from our website. There were various things we said that we would aim to do as part of that Vision for Reading – and we wanted to improve the enjoyment of reading, the engagement of children with reading and the attainment of children in reading. So our sole aim isn't just to get children to do better at the year phonics tests – it's far more than that. It's about making sure making children enjoy the wonder of reading so they will want to continue reading themselves. We know that family reading is a huge part of this, and that children in families where they are read to by their parents will read more often.
Partly what is important in all these partners coming together is us recognising that improving literacy levels in Peterborough is not just the city council's problem. It's not just head teachers' problem, not just my problem as head of the library service, and it's not just parents' problem. The only way we're going to shift the needle on literacy in Peterborough is if we all work together, understanding that we've all got a part to play. To that end, we've put together a whole year's worth of amazing programmes and activities, showing that we can all pull together to help make a positive change. Literacy as an issue is sometimes oversimplified, but after talking with colleagues over six years now, I can really appreciate the complexities of it. It's a factor of many, many elements, hence why I think the best solution is to really throw the kitchen sink at it and tackle it on various fronts, rather than simply thinking that it can be solved with one single solution.
How are businesses getting involved?
For businesses, there's a very easy pledge which you can take. You pledge to communicate to all members of staff that it's Summer Reading Challenge, and that they can send their children to the local library to do it. Or you can pledge to create a space for books and reading within the business. There are lots of different levels, so a big organization or a small enterprise can take part in a way that works for them. We'd love for more people to sign up for that pledge.
Is this a challenge with libraries under pressure nationally?
Libraries are a wonderful part of every community, and a place where I've spent almost all of my life. And, yes, it is a really challenging time for libraries, because they're a part of the public sector. But I think the most successful local authorities are the ones where their strategy for libraries is based upon the needs of communities. In Peterborough, we've kept all of our libraries and I'm really proud of that. Certain local authorities have gone down the route of saying you just need one really good Central Library. I'm much more of the opinion that people need libraries on their doorsteps. And actually, it's been really, really pleasing for me to see in recent years that actually the biggest growth within our within library usage for us is in places like Woodston. And there is the mobile library which comes round during the daytime. These services are hugely valued by people who can't get into the centre so easily.
We're also seeing a big growth in digital access to libraries. Peterborough has now got a fantastic ebook collection, and also a fantastic e-magazine collection. There's an amazing audio collection, too, so libraries are changing quite a lot. But also we know we've got fantastic staff who deliver amazing events and activities, as well as providing a great service to help people with their literacy, with their job search and with accessing computers. We're delivering business advice, we're delivering intellectual property advice to startups and small and medium sized enterprises, and people who are thinking of maybe taking their first step into business. And we've got people who are now coming to get visas through their local library service. So there's much more going on within libraries.
What special events will be happening for the Year of Reading?
Over summer, much of what we will be focused on is the Summer Reading Challenge. We would love to have this as the biggest year ever for that, and we have an amazing theme of Space Chase to get kids engaged with a whole host of activities. There'll be pop up shops in the city centre, based around reading and encouraging children and their families to get stuck in with activities related to reading. There'll also be a big exhibition of Nick's Sharratt's work in Peterborough Museum – he is the illustrator of the Tracy Beaker books and a whole host of others.
Plus of course there'll be celebrations for Roald Dahl day, pyjama story times, libraries week, book quizzes, buddy celebration reading. Then there's a writing competition coming in November for children, which is really exciting – the first time in the city. November will also see a big poetry festival that's geared to adults as well – and in partnership with Metal we're hoping to get the world's longest poem coming to Peterborough! So there's loads of really good stuff coming!
The Year of Reading is happening NOW! To find out more and get involved, visit the Peterborough Celebrates Reading website at: www.peterboroughcelebrates.org.uk
Leave a Reply