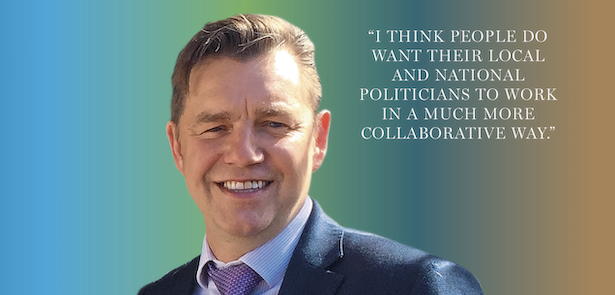 At the recent election for Mayor of Greater Cambridgeshire, Labour and Co-Operative Party candidate Dr Nik Johnson achieved a surprise victory over James Palmer, who had held the post at Cambridgeshire & Peterborough Combined Authority since it was created in 2017. Previously a Huntingdonshire District Councillor, Dr Nik Johnson has also been a paediatrician at Hinchingbrooke Hospital since 2007 – a role he will continue part-time while serving as mayor. So how will the change in leadership bring change to the region? One week into the role, Toby Venables talked to him.
First of all, congratulations – this is clearly a significant moment of change for the region…
It's certainly a change for me! And it was very much a fork in the road moment. I said to my wife 'Well, you know, what will be will be…'. It's one of those moments when you recognise that if you're going to take a certain route, it will change a lot in one go. In many respects, this change has come as a bit of a surprise as it seemed like it was a safe Conservative seat. But while the Conservatives made gains elsewhere during the UK local elections, most of the mayoral elections have gone in favour of Labour. Why do you think that is? A lot of that has to do with the performance of people like Andy Burnham through the course of the COVID pandemic, and local community responses in general. I've talked about my message based on compassion, community and cooperation, and as a country we have found refuge and hunkered down into more local community groups and found great leaders in the people around us – be it in volunteer groups, or just looking after your neighbour. When the leaders from places like Greater Manchester says, 'Look, I'm sticking up for you…' that hits home far more than the messaging that's coming out of central government. If you've got local voices, local people who are recognisable, saying they'll stick up for the best interests of the community, that really strikes a chord.
You began as an outsider in this race, but presumably you can't do this unless you really believe it is possible?
That's a lovely way to phrase it! It's funny, the things in life that you kind of regret. I regret I didn't ring my wife quickly enough to say I'd won, and yes, of course, I was surprised but actually I was more 'delighted'. Both myself and the team I have around me – the very, very small team – had an ambition during this campaign, centred on presenting myself as somebody who is based in the community with messaging around compassion and cooperation, firmly moving away from the traditional kind of adversarial politics. One of the reasons I won was because people who were not necessarily traditional Labour and Co-operative Party voters, who may not have put me down as a first vote, were nonetheless prepared to give a vote of confidence by getting behind me in the second vote. That was something that they were willing to do. I think people do want their local and national politicians to work in a much more collaborative way, because you're stronger together, and you have to be respectful for the people out there taking the time to vote. But in terms of belief, I knew if I could get above the Liberal Democrats, and if the kind of support that had previously been there for James had dropped a bit, and as long as people used second preferences, there was a chance I could do it.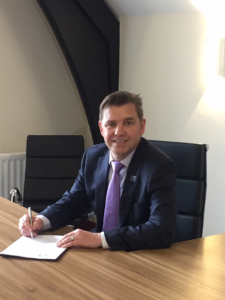 So, in practical terms, will things change now?
In practical terms, things will change! That starts with the messaging coming out of the Combined Authority and how teams approach problems. We have this phrase that I've introduced: 'At the heart of Greater Cambridgeshire is Compassion, Co-operation and Community'. First of all, we must listen to the population. What do they want? That's compassion. Working with the Combined Authority is not just about the mayor. I have to work with every single district council, we need to look at how we redistribute the success and the growth and productivity of the region to everybody so that nobody gets left behind. That's co-operation. Peterborough has been left behind in the success story of the region and I want Peterborough to be included in the success. I'm not 'levelling up', its more than that, it's not forgetting those who have been left behind. That's community.
James Palmer's focus was very much on business, but your background is health. Will this mean a shift of emphasis?
Unlike other metro mayors, health and social care isn't part of the role that is currently in place for the Cambridgeshire and Peterborough Combined Authority. I have got almost 30 years in the NHS. And so yes I've got very much a health focus. But the idea of public health is the reason I chose to step outside of the comfort zone of a fantastic organisation, the NHS. I can fix problems about children's asthma, but that doesn't tackle the fact they live in poor quality housing or have poor quality air. And I can look at issues around child obesity, but, more often than not that's because of poverty, lack of access to green open space, or lack of good quality food. It's all of these things that drive me to the point that I want the world to be a better place. How do you change it? As a doctor, I know how to make a difference by treating people, but in public health it's not just a doctor making the difference. It could be a local businessman or businesswoman, it could be a librarian, it could be somebody who's a school teacher –or a community volunteer just making contact, getting involved in local projects and meeting people. That's what drove me to get into the politics, and I'm really keen to bring public health as an overarching priority to all public policy matters and to be talking openly with all public policy makers. The Combined Authority already has a document which has been independently put together with 20 recommendations called 'Health at the Heart of Every Decision We Make'. And the point is, if you have a healthy population, you have a more productive population. So that's where I'm really keen to work. I want to be the mayor who, when people speak to the councils, actually gets what you're doing, because I've been writing reports, and I've been trying to understand the financial restrictions of your organisation. But I'm also presenting myself as a collaborator, somebody who will enable real meaningful change. Business is absolutely part of that. But what keeps us going is that desire to have fun, to live… The thing that keeps us going is our families. Yes, we need to earn money. But you know, that's not what it's all about. That's what COVID taught us, because business fell apart, and we needed the support of the people around us. I am very entrepreneurial, and I'm really keen on business, but the business modeling I'm keen on is going back to co-operation, it's about the idea of the Cooperative model of business, when people are invested in an idea, when they've all got a stake in the business, they all want to work to the best of their ability. They feel included. I am a Labour and Co-operative Party mayor. In some respects I'm more Co-operative than I am Labour – and if you don't know an awful lot about the Co-operative Party, I absolutely recommend looking into what it stands for.
What has the response of business been like?
I'm still meeting people within the Combined Authority, but I am beginning to make contact with business and setting up introductions. I think the business world have similar sorts of desires and ambitions. Big companies or small to medium enterprises, they all want to have a good reputation. Whether delivering franchising arrangements or affordable housing, they want to be the good guys – and developers can be the good guys, and the good guys are the people who are listening to the local communities and going above and beyond. It's not just about a small donation to the local primary school and then going away, it's about the ones who really want to invest and really want to be remembered. People like to be remembered for doing good things, not bad things. That's what's behind the messaging that comes out of the Combined Authority – trying to get the best out of everybody, to get the best out of partner organisations. We want an environment where people are listening, and people are bringing new ideas to the table, but overarching it all with a sense of improvement around co-operation and compassion, but also around public health and embracing the green agenda.
One of your first acts was to cancel James Palmer's proposed CAM Metro transport system. What were the reasons for that?
I'm looking at all the information that has been gathered over time, but the direction of travel, as articulated by James is not a model that I see going forward. The timelines were not dealing with a more immediate problem, and that's why I am more keen to put an emphasis on improving bus networks and gaining control of a franchising arrangement which would work for all. I also have significant concerns about huge expenditure and the idea of value for money. The costs predicted per kilometre of track were escalating and there was a danger of being quite focused on solving a problem in the Cambridge City and greater Cambridge area, and I feel my role is to be thinking about the whole of Greater Cambridgeshire.
Did it seem like it could be something of a vanity project?
I wouldn't use those words. Similarly, I would not use the word 'Tory'. I think it's disrespectful. They are the Conservative Party. I'm not the sort of person that's disrespectful to people. I'm very much looking forward. I have met James on a couple of occasions, I've wished him all the best, and I've recognised there were successes within his four years, such as pulling together the development of ARU Peterborough. So, no – it simply wasn't the direction of travel I wanted to follow through with. I think he believed in it. But it didn't convince me. In all honesty, I don't think he convinced enough people he actually expected to vote for him, either.
Getting away from adversarial politics seems to be key to your approach…
I'm pretty sure that the majority of people go into the political arena because they feel they have something to help their communities – to make the world a better place. But people come at that in different ways. Margaret Thatcher believed in pulling your socks up, and then there would be a trickle down effect – it was the idea of free market economics. Norman Tebbit said 'Get on your bike…' It was all about the strength of individual. But for me, it was about seeing what we've achieved within the NHS, meeting the challenge with remarkably small amounts of cash. That is what good leadership does. In the course of my campaign, people said 'You're not being aggressive enough!' But, I think, forget what other people are doing, just get your message in. You can utilise the idea of being a person in the community, you can utilise the idea of being compassionate and listening. You can utilise the idea that you're going to work with the community, and co-operate. Just get that right. Because that's what people want to hear.
I'm going to be biased now and ask what you see for the future of Peterborough in particular…
I have the benefit of having a link with Peterborough through my job being in Northwest Anglia NHS, and although most of my work is done at Hinchingbrook I have been coming to the hospital in Peterborough quite a lot. So I know about the parking problems, I know about the community and the kind of families and children that are coming through the door. But I think there's a sense that Peterborough is now going places, especially with the establishment of the university and the developments planned. Cambridgeshire/Peterborough area is a bit of a microcosm of the United Kingdom. Down in the south is Cambridge city and South Cambs area, which is like the affluent southeast and London. And for me, the Peterborough area is our northern powerhouse. I'm a northerner, from Northumberland – and I recognise how the North got left behind. I grew up in the 1980s and I saw what happened, with big industry leaving, shipbuilding, coal mining – we're 40 years down the line now and we still haven't recovered. But the north is beginning to turn and so is Peterborough. Things are changing – and my challenge is to make sure that Peterborough won't be left behind.
Leave a Reply