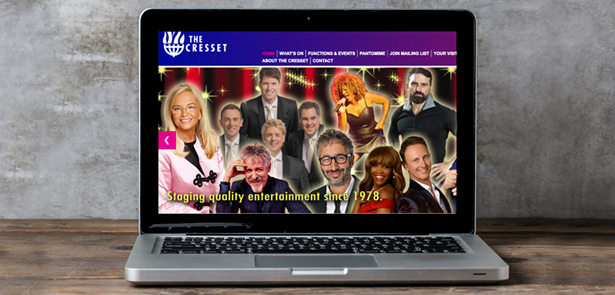 The Cresset are celebrating a significant birthday this year – and they want you to join the party!
The twenty-second of March marked 40 years since The Cresset was officially opened by HM The Queen. The Queen attended with Prince Philip and toured the building meeting with staff, clients and volunteers before unveiling a commemorative plaque which is displayed in The Cresset reception. A brand new concept, devised by Sir Harold Haywood, The Cresset was designed to be a community hub at the heart of Bretton, Peterborough's first new township.
A joint venture between the Development Corporation, Peterborough City Council, Cambs County Council and 9 voluntary organisations, the ambitious plans included a library, youth club, theatre, events venues, day care centres, sports facilities and a Church, as well as over 70 flats managed by the YMCA. 40 years on and many of these services are still in operation.
The commercial side of the business has developed out of necessity, with changes to funding opportunities up in the 80s and 90s. However The Cresset still remains true to its original community purpose, and offers space and facilities for the elderly, disabled, young people, and many charity and community groups throughout the local area. In 2014 The Cresset merged with what is now YMCA Trinity Group, which has secured the future of the building and the organisation for the future, with considerable investment taking place into the building and facilities in recent years.
They're keen to hear your stories. Were you there on 22 March when The Queen visited? Did you attend events at The Cresset in the early days? Or maybe you worked at The Cresset or one of the partner organisations. Whatever your memories, The Cresset wants to hear from you! Get in touch via their Facebook page, or email and share your memories with them. The best photos and materials will be gathered together to form a visual history of The Cresset which will be on display in 2018. Plans are underway for a big celebration event in the summer, and we'll be sure to bring you that info as soon as it's available. Meanwhile, here's to another 40 years!
Image: www.freepik.com/free-photo/laptop-with-blank-screen_951866
Leave a Reply