Swimming: essential life skill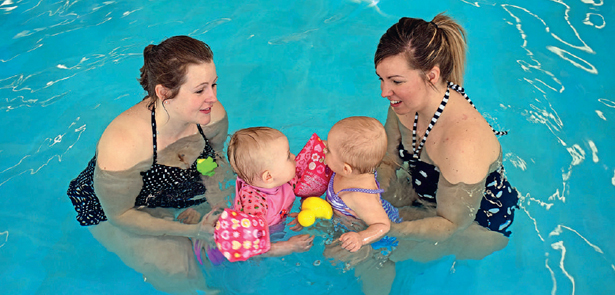 Swimming is a crucial life skill that helps to instil confidence in children and adults alike, as Vivacity's Swimming Coordinator Sarah Snodgrass explains
Swimming is an essential life skill that supports so many other areas of both childhood and adult development. 'There are lots of advantages to learning to swim,' explains Sarah Snodgrass, Vivacity's Swimming Coordinator. 'It contributes to self-esteem and confidence, and it really helps with concentration. Swimming also opens up opportunities for other fun, water-based activities, such as rowing, sailing or water skiing. And, of course, gentle exercise like swimming is so important in today's sedentary lifestyles. It's a life skill that helps to get people out and about. 'It's never too early – or indeed too late – to learn to swim, but the sooner the better. The younger you can get a baby or toddler into the water, the sooner it will get rid of any fear. Swimming with a parent builds a special bond between parent and child too.'
Vivacity's Swim Academy delivers a programme of tuition and continuous assessment that builds solid foundations for confidence in the water. The focus is very much on the fun and enjoyment of swimming, however. 'The academy is suitable for all ages and abilities. It's predominantly aimed at children, but we have adult lessons too, which sometimes includes teenager participants who may feel a little selfconscious within a younger group,' says Sarah. 'So no matter what stage you are at or how confident you feel around water, there is a session perfect for you.'
Early years
The Swim Academy begins soon after birth, with Foundation level sessions that develop early-years water confidence based around adult-and-child participation focusing on developing basic motor skills. Children progress to the Duckling stage, where it's all about the fun of learning to swim, in small groups so that children can get the most from their instructor. Learning to swim needn't be an intimidating experience for youngsters. 'All our instructors are very understanding and encouraging; they're a lovely bunch. I compare them to a box of chocolates – there's every kind of flavour and style of coach that you could possibly imagine. But every one of them is passionate about what they are doing and committed to dispelling any nerves so that each session is relaxed and fun.'
Early years Swim Academy sessions are held in either the teaching pool at the Regional Fitness & Swimming Centre, at the Jack Hunt pool, or at the Vivacity Premier Fitness pool. 'The three swimming pools offer very different ways to learn. At the teaching pool the children can run around and touch the bottom of the pool, whereas at Jack Hunt they learn out of their depth, which can help children to progress really fast. At the end of the day it is up to the parent and child to decide what's best for them.'
Next steps
The next level up from Duckling is the Learn-to-Swim stages one to seven. Aimed at school-age children, the Learn-to-Swim Programme takes absolute beginners from their first splash in the water, building both confidence and competence as they progress through the stages. 'Class sizes are never any bigger than 16 children, so water-based skills are taught in a safe and very supportive environment,' says Sarah.
Beyond stage seven are the Aquatic Skills stages eight to ten, when children have the opportunity to take their skills to the next level through one of three specialisms: competitive swimming, diving or rookie lifesaving. Adult swimming lessons offer a chance for those who want to begin or improve their swimming journey later on in life. The one-to-one lessons will quickly give you the confidence and skills you need to become a competent swimmer. 'It really doesn't matter what stage you're at,' says Sarah. 'The Swim Academy can get you swimming and comfortable around water very quickly. It's a great way to begin your swim journey.'
Vivacity Swim Academy Learn more about the Swim Academy and the Adult Swim School at vivacity.org/sa or call 01733 864000.
Leave a Reply