Super half-term with Vivacity's Club Viva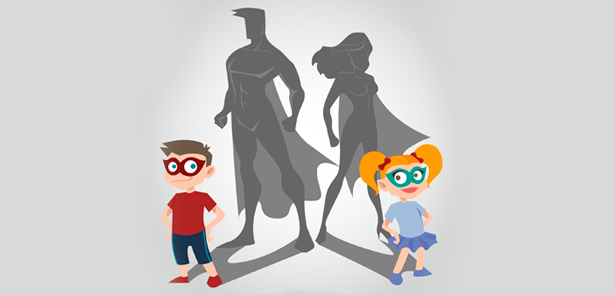 February half-term will be upon us before you know it – and if like most parents you are beginning to wonder how to keep the kids super-entertained, then Vivacity could have just the thing to leave everybody smiling!
Club Viva –Vivacity's popular holiday club – is even bigger this year, with a wider range of activities in more venues than ever before. Superhero-themed activities are going on all across the city at Peterborough Museum, in the city's libraries as well as Vivacity's sports venues. Hampton Leisure Centre, Jack Hunt Pool & Gym and Regional Fitness & Swimming Centre will host day-long programmes of sports and craft-based activities every weekday, while Club Viva at Vivacity's libraries will also help children work towards, or start their journey with, Arts Award (a similar award to Duke of Edinburgh).
Please note that Club Viva activities at sports venues are designed for children to be dropped off by parents and then picked up at the end of the day. Club Viva activities at Museum and Libraries require children to be accompanied at all times. Some Museum and Library activities are drop-in events – which means there's no need to book. Booking is essential for Club Viva activities at sports venues. Please check the Vivacity website for details, plus the latest times and prices, at vivacity-peterborough.com/clubviva
Superhero Sport
Monday 20 – Friday 24 February
Hampton Leisure Centre; Jack Hunt Pool & Gym; Regional Fitness & Swimming Centre
Play a variety of superhero themed sports and games or get creative with crafts – you can even dress up as your favourite superhero or villain! Each day has a different 'hero' theme – days for each theme vary from venue to venue; check on the Vivacity website for the full timetable for each venue.
Here's just a taster of the themed days that your little superheroes can take part in!
● Viva Sports Heroes brings together individual and teams sports, including Dodgeball, Boxing, Ta g Rugby, Diving and Multi Sports – where you get to choose from a variety of games and challenges designed by Vivacity coaches.
● Viva Football Heroes teaches new footie tricks, pits team against team and provides the opportunity to compete in the quarter, semi and finals of the day's tournament – complete with prizes! Plus design your own club kit and crest.
● Super Recruits presents a variety of army challenges, teaching diving skills, taking you on a Maps and Manhunt mission, creating maps of the territory to help hunt down the enemy, and finally through an army assault course with a climactic NERF War!
● Heroes vs Villains starts with you creating a secret identity and symbol for yourself (either for good or bad), then training to become the ultimate hero or villain with sports-based activities both in and out of the pool. Will the heroes succeed in bringing down the villains? The future is in your hands… Feel free to co me dressed up as your favourite superhero or villain!
● Gaming Heroes (at Regional only) combines video game challenges with sports activities, including swimming in the pool with inflatables.
● Lego Legends (at Jack Hunt and Hampton) gets you building your very own Lego city, working as a team to complete the challenges set by the Master Builders and fighting across the Lego Galaxy to save and capture a variety of Lego Star Wars characters. The day ends with a variety of sports themed around Lego characters and adventures.
Drawing Heroes
Werrington Library – Friday 24 February, 11.30am – 1.30pm
Hampton Library – Friday 24 February, 2.30pm – 4.30pm
Peterborough Central Library – Saturday 25 February 10am – 12pm & 1-2.30pm
Drawing Heroes will give children the opportunity to work with a real artist to learn about drawing comics, designing characters and writing storyboards. As well as enjoying a great workshop with James Parsons, children will also learn about different art forms and will have the opportunity to talk to James about what it's like being an artist. Ta king part in one of the two hour workshops at Hampton, Werrington or Central will earn children their Arts Award Discover, with certificates being available to collect from the library at a later date. The sessions are for ages 5 and up, children must be accompanied by an adult and booking in advance is strongly recommended as places are limited. There is also the option to take part in a second session at Central on Saturday 1-2:30pm which will be a drop in event. For this session only, there is no need to book and children of any age will be able to join in. Families will help to create an amazing group artwork to be displayed in the library. This final session at Central, which does not feature Arts Award, is purely for fun and families. ● Book at any Vivacity library or call 01733 864280 ● For latest times, prices and information, visit: vivacity-peterborough.com/clubviva
Superhero Science
Peterborough Museum Monday 20 – Friday 24 February 10am – 5pm (last entry 4pm)
Ever wished you could have superpowers like your favourite comic book heroes (and villains)? At Peterborough Museum this February half term, you can enter a world of Superhero Science and discover some real science behind these amazing feats! Yo u can test your super-strength just like Wo nder Woman, or discover how superheroes fly. Did you know that x-ray vision like Superman's is real? Discover how doctors use it to look inside you in the Museum's real Victorian Operating Theatre. There will be superhero themed craft and trail activities, with stations set up to try out science experiments and discove ry activities related to different superheroes' powers and the scientific principles behind them. Explore superhero powers within the animal kingdom (did you know that ants can carry up to nine times their own body weight?) with each area of the Museum themed to represent a different superhero or villain. Be astounded as you see amazing powers demonstrated before your very eyes! Yo u'd better wrap up warm, though, as Vivacity's super-science experts will also be instantly freezing objects, just like Captain Cold or Mr Freeze… ● No need to book, just drop in. ● For latest times, prices and information, visit: vivacity-peterborough.com/clubviva
Main activities run from 10am to 4pm, but for early arrivals and late departures (arriving 8.30-9am, leaving 5-5.30pm) there is also the chance to play a variety of SuperSports or get creative with Crafty Kidz activities. Please note: Activities vary by site. Please see website for full details of the timetable at each venue and age range the activities are suitable for. Full day or full week packages available. Prices start at just £16 per day. Advance booking essential.
For latest times, prices and information, call 01733 864754 or visit vivacity-peterborough.com/clubviva
Image: www.freepik.com/free-vector/kids-and-superheroes-cartoons
Leave a Reply