#SummerFun | Holiday time with Vivacity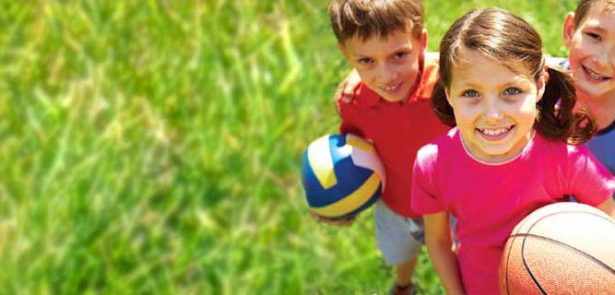 Vivacity offer holiday events across many of their services, it isn't just about sport– and it isn't just for kids, either. This issue, we find out how some of Vivacity's creative and educational activities can help you spend quality time with your children during the summer holidays. The Moment talks to Peterborough teaching assistant Lisa Bloodworth about why she wouldn't be without them – and how they provide her with some serious fun of her own...
How have Vivacity's holiday events helped you?
I have a seven-year-old daughter, Maisy, and I go to these events with one of my best friends who also has a seven-year-old, because we're both single mums. We've been to various events over half term and holidays – an Egyptian event, a Mad Hatter's event, a science event… They're great, because you can spend as little or as much time in there as you want – though we always make the most of it! There's always plenty going on – they have events that take you through the whole of the Museum, and you see things that you hadn't seen before. One event involved us searching the Museum for a ring that was found in Stanground. It's a really lovely piece of local history. My friend lives in Stanground, so her daughter was particularly excited that this was found right on her doorstep. That's the thing about these events – they make you see things in a new way, and not just the things in the Museum itself.
What first attracted you to these events?
There are a lot of reasons, really. Costs can sometimes get out of hand when you visit places with children during the holidays, but these options are extremely reasonably priced, so anybody can do them. They're suitable for a wide range of ages, too, from about four to at least ten or eleven. And it's local. They're very popular events, but that doesn't diminish it; even if it's quite full they spread it across the whole of the Museum, you're able to go to other parts that are less busy, and are never hanging around waiting. It is also educational, and they always come away learning something. My daughter has been in school and then told the class all about the things she has attended. They were doing the Egyptians in school so she was able to relate that directly to what she'd already seen in the Museum. But also we just love the Museum! I think it's really important to support our local facilities.
As a teaching assistant, do you see the value of keeping children's learning going through the holidays?
Absolutely. The summer holiday is such a long period of time for children not to be at school, so when they return to school they have lost some of that momentum, but doing activities like these encourages them to keep that going. They don't realise it, but they're reading, doing research, doing maths problems. But it's education wrapped in fun. It's always very hands-on, and there's always an activity where you get to make something – it's not just reading or looking at things. Activities like that can be really important as a way of keeping their skills up and their minds active. At the science event, for example, they had an activity where they froze a flower in dry ice, and then shattered it. The children were amazed by that! It's things like that that really stick in their minds. They also had some experiments with ultraviolet light which showed the effect on the skin if you don't use suntan lotion. And because they're doing these things, they really go in and they remember them. The staff and volunteers also really engage with the children. You come away feeling you've been looked after.
What's the best part of it for you?
It's a lovely way to spend a bit of quality time with the children. And they really do love it. We've been to a number of events and they never get bored. They always know they're going to see and do something new, and they always make something that they can then bring home. They went to a superhero day and came home with masks that they'd made, having come up with their own superhero names. It's social, too. Every time we've been there we've bumped into people we haven't seen for a long time, and they always start chatting to the other children. For the adults too, it gives us a chance to catch up and have a bit social time while the kids are off searching for things. There's a lovely coffee shop there, and we always treat ourselves to a cake afterwards!
Are you planning to go during the half term and summer holidays?
We always do. The Museum is one of the places we always visit during any half-term or long holiday. During the summer, we'll go at least four times. That's minimum – even if there isn't an event happening, we'll go in and have a look around. My daughter is fascinated by the fossils and dinosaurs – partly, I think, because they were found in the local area. But she never gets bored of going in there, and always finds something different. She'd go every week if she could! And Flag Fen, too. They've done archery there, made clay pots, dug for artefacts and fossils in the archaeology tent. Last time we went, we spent hours there. We were thinking it would just be the morning, but luckily took a picnic and I was very glad, because we ended up being there the whole day – and came home with clay pots and new archery skills!
Vivacity holiday events run during school holidays for children aged 4+ and are a great opportunity for them to get involved in fun activities, make new friends and try something new. With a wide range of choice for parents and children, Vivacity run drop-in days and activity sessions at Peterborough Museum, Flag Fen and Vivacity Libraries, as well as 'Club Viva': week-long programmes of bookable sports-based activities at Hampton, Jack Hunt, the Regional Pool and Werrington where your children are looked after by trained session leaders.
For timetables, info, and how to book please visit www.vivacitypeterborough.com
Leave a Reply