#SummerFun: Eastern Angles bring comedy to Peterborough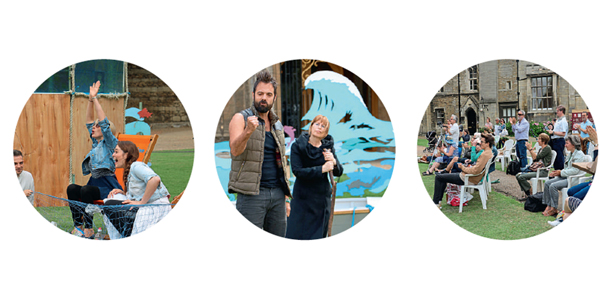 Mary and Joseph take lie-detector tests. Boy band The Shepherds see a star – is it their fourth member? Herod claims Fake News on birth of Messiah... It's the nativity story, but not as we know it – and what led up to all that Christmas stuff anyway? A new play gives the medieval sources a 21st century twist and takes us behind the scenes of the western world's most famous tale, as Eastern Angles' director Ivan Cutting reveals...
Last year you did some open air performances of a medieval mystery play about the nativity. Is this the next step on from that?
Yes! We did Mary and the Midwives with community performers and in the original language, but we thought this time we'd take a different approach. Even though it's a medieval play – or, actually, a cycle of plays that we have compressed into one – we've given it a bit of an update. Five local poets have been given the task – including four Peterborough poets laureate. It also looks at the part that is not in the Bible. The nativity is one of the most well-known stories, but what led up to it? That's what this asks. A lot of the stories that answer that question are taken from the Apocrypha – stories that did not make the final cut of the Bible, but which nonetheless became very popular. They're like the deleted scenes – the bonus bits! It was when the writers started thinking about this aspect of it that they got really excited.
What is the original, and where does it come from?
There is actually a folio with 42 plays in it, called the N-Town Cycle, also called the Hegge Cycle and the Ludus Coventriae cycle, which is like the York, Chester or Wakefield cycles but not quite as well known. They think a scribe – probably living in Norfolk, judging by the dialect used – put together a number of different plays that were being done around the region, which was quite a hotbed of medieval drama. One American academic has said that East Anglia was the West End or Broadway of mid 15th C. to early 16th C. England! When we sat down and analysed it we realised that there was one section that was really interesting.
The traditional view of the nativity is that all this was meant to happen, whereas this cycle has a play in it called The Parliament of Heaven in which the Holy Trinity – Father, Son and Holy Spirit – are challenged by four virtues, Mercy Peace, Justice and Truth, to have a debate. God has created man in His likeness but man has failed, Lucifer has become the Devil and Adam and Eve have been consigned to their punishment. And they say: 'You've made the world so tough, God, that actually no one is getting out of Hell! Heaven is empty! How are we going to get out of this?' In the end, it comes down to God sacrificing his own son. But then there's the question of how it's going to happen. Well, first he needs a mother, of course… As a result of this, Mary goes on her extraordinary journey. Some of it is knockabout comic, but it is also incredibly moving, when she finally realises that her son – her baby – is going to die on the cross. It ranges across quite a number of emotions.
So it is making something old new again, for a new audience?
Making it new is really important. We're kind of presenting God as a chief executive who's not sure his company is working to its best advantage. His son meanwhile has an X-Box and is playing on it because he has nothing else to do, and the Holy Spirit, we think, is probably raiding the drinks cabinet… We also don't have the baby being born in a stable – these days we think you'd go to hospital and they'd have no beds because of cuts, so it happens in the A&E department surrounded by the drunks on a Friday night. So, yes, we have updated it! It'll be about an hour long, performed in large open spaces so people can stop and watch as they go past, or bring a picnic and sit and enjoy the entertainment – this is one theatre that they can eat and drink in!
The Trials of Mary
● Friday 14 July at 6.30pm at The Undercroft, Serpentine Green
● Saturday 15 July at 12 noon and 2.30pm at Peterborough Cathedral
● Saturday 15 July at 6.30pm at Nene Park ● Sunday 16 July at 12 noon and 2.30pm at Cathedral Square
● Tickets are free – but book via www.easternangles.co.uk or 01473 211498 to get your free drink!
Leave a Reply