St George's Community Hydrotherapy Pool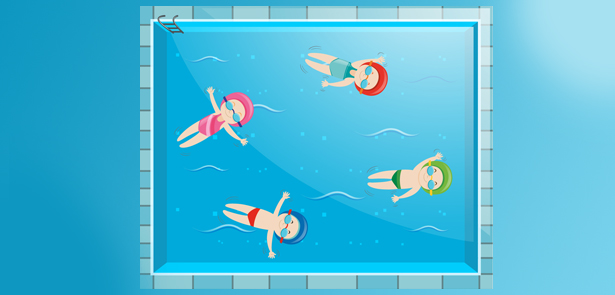 Following a six-month closure Peterborough's only hydrotherapy pool, St George's Community Hydrotherapy Pool, has reopened under the management of Vivacity. The new arrangement promises a wider offering and a bright future for this valuable community asset, as Vivacity's Steven Luker explains
Tell us about the social events– what are they and why were they set up? What's the background to St George's and how does a hydrotherapy pool differ from a standard swimming pool?
St George's has been managed by Peterborough City Council for many years. The pool itself is small, shallow and very warm, which makes it ideal for children and adults with a wide range of disabilities or long-term health conditions. The warm, supportive waters can also assist in rehabilitation from surgery or an injury and can help with circulation too. It's a great community pool that offers those who perhaps can't cope with a mainstream pool, for example because it is too cold for their joints, an opportunity to exercise in the water. And, of course, there's the really friendly atmosphere that goes with it.
Why was the pool closed for six months?
The pool had sprung a leak, so it needed to be fixed, re-lined, retiled and painted, which all takes time. But this gave us the chance to complete some much-needed updating of the site, something we've continued to do since taking over management of St George's in March. There's been a lot of redecoration and general TLC. Our new supervisor at St George's, Laura Hardeman, has worked really hard to help everything come together. She's really keen and is making the transition to Vivacity work for everyone involved.
Was this injection of resources partly why Vivacity was invited to take over the running of St George's?
Vivacity can run the site slightly differently to how Peterborough City Council did. We've got our own resources, which is going to help modernise the pool. We also have ambitions on how we'll use the pool. We are keeping the current timetable so that regular users have consistency, but are working around that to bring in our own sessions. For example, we would like to return Aqua Fit sessions to the pool. Then there will be rehabilitation, GP-referral and physio sessions, organised through Vivacity's health and wellbeing arm. At the moment St George's is closed on Sundays, but we're looking to open it up on these days for our Swim Academy – the warm water is perfect for parent and baby sessions.
It seems like the hydrotherapy pool has a bright future – there's a lot of investment going on, the programme is being expanded and the facilities updated.
It is a really positive story, yes. We're also putting in a micro library to increase awareness of the site and potentially footfall too so, instead of going to a traditional library, local residents and pool users can just nip in and take books out from here. It will help to make St George's a bit more of a community hub. Around 250 people a week already rely on St George's for pain relief and companionship. All of the changes planned by Vivacity are designed to protect this valuable community asset, safeguard its future and develop the services offered by this much-loved facility.
New sessions at St George's
Vivacity's Health and Wellbeing Manager, Sarah Leadbetter outlines some of the new sessions planned for the hydrotherapy pool
Public physio sessions
The pool will host a couple of water-based physiotherapy sessions a week, led by aqua physiotherapists. The sessions will be open to anybody who thinks they will benefit from a bit more intense work. This includes members of the public who need to do more specialist water-based exercises to help or continue their land-based physiotherapy. Physiotherapists could complete a land-based assessment of their clients then bring them into St George's to take them forward with their exercises and complement what they are doing out of water.
GP referral sessions
Plans include GP referral-based sessions, linked with existing GP referral classes, such as our mobility and musculoskeletal classes. These sessions will help anyone with osteoarthritis or osteoporosis, or those with new hips, knees and so on to rehabilitate. They would then be able to access the pool at certain times outside of the organised sessions to make the most of the warmer water. The depth of the water is only 0.9-1.2m (3-4ft), which means it's easy to walk up and down the pool, all while the water supports your joints as you work on your movement. Again, this will add to any programme of land-based exercises.
Cardio sessions
Our cardio sessions are currently landbased but the hydrotherapy pool offers us the opportunity to expand these into the warm, supportive environment of the water, which is set to around 36°C/97°F. There are a lot of cardiac patients who also suffer from bad joints, restricting how much cardiovascular exercise they can undertake. Sessions in the pool would help to get their heart working a bit harder.   St Georges Community Hydrotherapy Pool, located in Dogsthorpe, is a fully accessible, friendly community hydrotherapy pool open to anyone in Peterborough and the surrounding area, including family members and carers.
For more information please visit www.hydrotherapypeterborough.com   
Image: www.freepik.com/free-vector/kids-swimming-at-the-pool_1021845
Leave a Reply