So, what is a 'cresset' anyway..?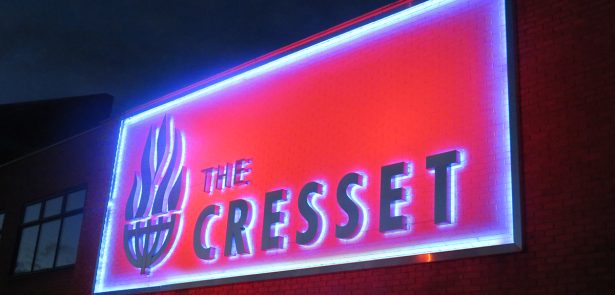 Everyone knows The Cresset – for comedy, for music, for panto. But there's much more going on there than you might imagine, some of it literally life- changing. We go behind the scenes with Martin Chillcott – perhaps best known to Peterborough audiences as a DJ on PCRFM, but also a marketing specialist and Chair of The Cresset Ltd for the last four years – to find out what makes The Cresset unique, how it serves its community as well as its audiences, and why we should all know what a 'cresset' is...
To begin… What is your connection with The Cresset, and how did it come about?
I'm chair of the board, which sounds rather grand, but actually I'm a volunteer just like all the other trustees. I was asked to get involved with The Cresset as a trustee, and then I was asked to be the Chair of the board within about six months. The Board's job is to make sure that the organisation is meeting its objectives and focusing on its priorities – but, actually, all the work is done by the team led by Penny Hansen and Darren Buckman. So, I bring marketing expertise to the role, but also a slightly different perspective because I'm not directly involved in the day-to-day running – and can perhaps afford to be a bit more vocal and emotional about it!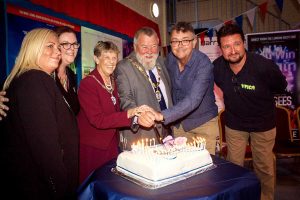 The Cresset is well-known and well- attended locally, but what do you think people should know about it that they don't already?
Well, I think The Cresset and the team there deserve more exposure and support for things they do. Whilst recently we got the Arts Council subsidies, like every other performing theatre across the UK, over the last 12-15 years we haven't gone cap in hand to anybody – not the City Council, not anybody. The Cresset is unique in a way. Yes, it is a theatre, and it's best known for that – 60,000 ticket sales a year, more stand-up than anywhere else in the city, tribute bands, great entertainment. That's all wonderful. But also, as part of all that, we have a panto that's been going since 1998 – and around 180 local kids get to audition for that. In fact, during the year, we've estimated that about 2,000 young people get the opportunity to do something in the performing arts. And we're proud to provide a home to Goldhay Arts, an organisation who provide performing arts experience for adults with learning disabilities. If you're in the audience when they do their annual show, which we now put on in the main theatre, you will end up with a tear in your eye. It's incredibly moving – for the performers, for the people who are directing them, but also you can just see the joy on the faces of parents and carers at what they are able to achieve. I think that is terrific. And it's a unique business model, because it's not just theatre. You've got lots of other things going on as well, many of which connect it to the immediate community in a significant way. It's actually in the DNA of The Cresset to do that, because when it was set up 44 years ago, it was a partnership that came together to ask 'What do we want?' That partnership included the Mid-Anglia Association of Youth Clubs, Local Community Association, Peterborough City Council, Peterborough Development Corporation, Peterborough Council of Boys Clubs, and the Housing Association. The YMCA was also an original partner. So, it was a wide range of people in collaboration and partnership that brought it together. So it really is in its DNA to be doing more than one thing.
What are some of those other things, and how do they connect to the local community?
It's there for celebrations. So, we provide a venue for large weddings, and it's a good, value-for-money way of having a wedding or celebration party. It's also a place for companies to have their own Christmas parties. Then there's the stuff that happens day-to-day that makes the world go around: the blood donor clinics, Red Cross first aid training for companies – those are some of the regular events. The YMCA gym is also in The Cresset. We've got about 1,800 members, and membership starts at £15.99. That provides very good value and so is accessible for many more people than the regular sort of gym model. Then there's The Fayre Spot Bar & Restaurant, which was recently completely refurbished and is just a nice place to eat, drink and relax. A couple of times a month I have a Full English breakfast in there. Terrific! It really is a place where people come together – certainly for Bretton, but also right across Peterborough.
We have a range of other services with a specific community focus; there's a pre-school nursery Bees In The Hive that is based in The Cresset, for example, and we are also home to day care services for the elderly and disabled adults. The pub even provides the hot lunches for the older people's day service. I was actually talking to somebody the other day about an elderly resident who lives near me and who goes twice a week to The Cresset day service, and her friend said: 'You know, if it wasn't for that, I don't think she'd leave the chair in front of the telly.' So, while that's not necessarily a big part of what we do, it is one of those little things that makes a difference to people. And that's why I wanted to get involved in the first place. I liked all the showbiz stuff, of course, but the role of a trustee or non-exec director is not to try and run it, but to make sure that the people who are really running it – the day-to-day management – are able to plan well for it, budget, manage, put on the right sort of programmes. And actually, you start to see that this means much more to people. Four years ago, when I had just been made Chair, we had the 40th birthday celebrations. The deputy mayor was there – but there also must have been 600-700 people who turned up for a bit of cake and a cup of tea! It was absolutely packed. It was terrific, really – and there were one or two people who said 'I wish we had one of these near us…' It's a multi-use venue for a wide range of people.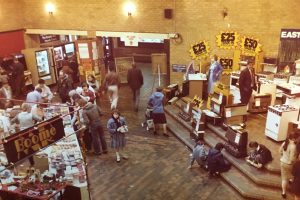 With all those different levels of things going on it actually seems it's part venue, part community centre, part village hall…
I've been chair of the board for four years, and I think everything I've seen says that if you've got a venue anywhere, you've got to run it hot. So, yes, we've got shows in the evening, but what are we doing with it during the day? What are we doing with corporates, businesses who want to get people together? We can provide that service, and as the pandemic lifts we're seeing that really pick up – and not just businesses, but people who've put off weddings and celebrations. It's the fact that you've got multiple different ways in using the facility. As I said, I think it's in our DNA to have lots of different people collaborate, and we're very fortunate in having the backing of YMCA Trinity Group – and, I have to say, Penny and Darren, and how they've led and managed the operation for the last 10 years. We've put lots on, and people have got a great deal of enjoyment out of it – but that success has also been tangible. During that time we've also invested £1million in The Cresset – not of anybody else's money, but our money, from the surpluses that we make. We completely refurbished The Fayre Spot from that, which, as a project, was close to a quarter of a million.
How have you managed to achieve that?
Over the last 10-15 years, The Cresset has been a real beacon of sound management, great entertainment and helping and working with the community. And without the backing of YMCA Trinity that probably wouldn't have happened, because they've been right behind it in terms
of making sure that we've got the management resources and the ability to do that. 15 years ago
the YMCA Trinity stepped in to make sure that The Cresset had a future, and since then, the two organisations have worked very closely. From that foundation, The Cresset has built a completely sustainable business model – more than that, one that is able to support its own growth and the YMCA.
How is the venue connected to the charitable work the YMCA does?
Whenever there is a profit – we call it a surplus – that contributes directly to the YMCA's work. The Cresset is a trading arm of YMCA Trinity, and the YMCA manage all the accommodation here – about 80 flats for young people stepping up, trying to help them find their way, but also self-catering apartments for other folk, many of them key workers – NHS, social care. That's really enabling people to live near where they work. And we'd like to do more of that. The YMCA is also providing a huge range of support services across Cambridgeshire and Suffolk, including Youth Justice programmes, childcare, the gyms, mental health counselling and training in schools, Access to Employment services and so much more. They're one of the key organisations in the frontline of tackling social problems.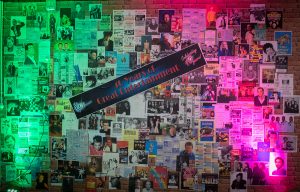 How does the relationship between The Cresset and the YMCA work on a day-to-day basis?
It's sort of symbiotic. The YMCA supports The Cresset and The Cresset supports the YMCA. The YMCA Trinity Chief Executive, Jonathan Martin, is on the board of The Cresset and is the line manager, effectively, of Penny and Darren. At The Cresset we manage the trading activities, but also Penny and Darren are managing the building in which YMCA activities happen. So it's quite amorphous. But in essence, The Cresset Limited is a trading subsidiary of YMCA, and with prudent management and a sustainable business model, we've managed to make sure that there are surpluses which enable us to also fund some of the YMCA's work.
How do you hope to develop and grow things in the future?
We took some time out during the pandemic to ask ourselves 'What are our big priorities for the next 15-20 years?' Because, as a marketing person, I always want to know not only what we're going to be doing this year or next year, but to think about how we answer some of the bigger questions. Who are we? What are our priorities? What do we invest in? What do we focus on? First of all, we listen to staff, and with regard to what we want to do next, we came up with three main things. We want to grow performance, of course. But, alongside it, number one is performing arts. So already 2,000 kids get a chance, but we'd like that to be more, so we've got to change and improve to increase that. The second thing is we want to invest in collaborating – to make people feel welcome as partners, but also to actually go out and work with different people – so, going back to our DNA, focusing more and spending more time on partnerships. And then the third thing is what we call 'animation of the space' – making The Cresset more about art, more about culture. There's all sorts of things that we can do, and I'm very keen to make it a more interesting place to pass through and to spend time in, not just a venue for entertainment. And actually that, again, comes back down to a team which understands these things. And they do. Penny, for example, has made a great contribution to the city's Cultural Strategy, and also contributed to the city centre animation project.
Do you think that having that charitable foundation shifts your perspective on what you can and should do?
I think it does, because it's not just about maximising profits. We do want to make a surplus, but we want to put it to use right here, ploughing it back into the venue and the YMCA's services. So it's about doing more with more. If we can generate more people going to see shows, more people celebrating their weddings, more people enjoying the pub and more people going to the gym, we can make a surplus that improves all those facilities, but also goes back into YMCA services, making them more accessible to more people. So, it's like a social enterprise in some ways, which is actually looking out for those most vulnerable in society. And that, I think, makes a difference. It also relates to one of the things that almost no one knows about The Cresset, which is why it's called The Cresset and what a 'cresset' actually is! People often ask me about it, so it's definitely something we should shout more about. Do you know what one is..?
I actually do, but that's only because I'm a massive medieval history nerd…
Well done! Basically, it's a bowl of fire in the centre of a village, which people come to because it provides light – but it's also a place they can take fire from, back to their homes. I don't think we talk about this enough, and I want to make sure that when you visit The Cresset, you will see something that explains why we call it that. Because, yes, it's a central point of a community where people come and get light… So, maybe you went for some stand-up comedy and that light is laughter, and you take that back home. Or you come for the pre-school group because you're a young mum and that gives you and your kids an opportunity; and you take that back to your home. Or it's a gym, where you come and get fit, and you take that back with you and feel great. It's all those things, I think. Saying there's something for everybody at The Cresset is maybe a bit too glib, but we do do lots of stuff that appeals, and which genuinely brightens up your week. Recently I came to see Al Murray the Pub Landlord and he built half the show around the people in the front three or four rows, just improvising. It was brilliant. But also it was unique to this place, and that night. And you take something away from that. It may not be vital, but it's a bit of light in life. And the surpluses we make from that will be used by the YMCA to do things which really are vital. We just help lots of different people get more out of life, I think, which is a nice thing to do.
The Cresset
Rightwell Bretton Peterborough PE3 8DX
01733 265 705
Leave a Reply