Sing for life: 40 women wanted!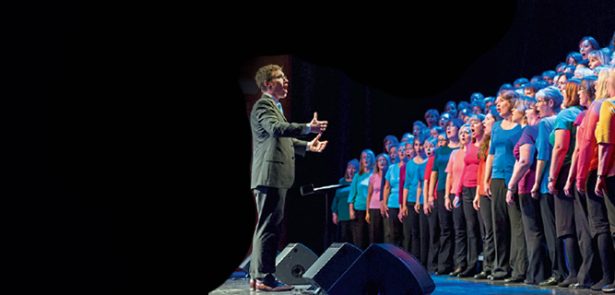 It's almost Sing for Life time again! Following its phenomenal success last year, the charity project is back for 2017, looking for 40 local women to perform in a concert supporting Sue Ryder's Thorpe Hall Hospice
Now in its fifth season, Sing for Life has introduced hundreds of local women to the joys of singing while raising thousands of pounds for charity, both for Cancer Research UK and for Thorpe Hall, with over £5,000 raised for the hospice last year alone. 'The project is not about finding the next Adele; it's about helping ordinary women find their voice,' says Will Prideaux, Sing for Life's director.
'So many people lack confidence or genuinely believe they can't sing, but deep down just about everyone secretly has a favourite karaoke number, and – we promise – with support from our very experienced music team we will have you singing in no time!'
There are as many reasons for getting involved in Sing for Life as there are women who have taken part over the years – all of them completely individual. Many talk about doing something 'just for me' and it's certainly true that singing is therapeutic, with a whole host of well documented physical, psychological and emotional benefits. There's a fantastic social scene too, and the opportunity to meet people you wouldn't ordinarily meet and to discover music you wouldn't normally experience. Plus of course there's the charitable aspect of the project, and the opportunity to give something back to the community. And what better charity for the project to support than Thorpe Hall Hospice, which has personal relevance to so many local people? With £7,500 needed every day just to keep the hospice running, providing incredible care for patients and their families, fundraising is always a priority.
'The kind of care Thorpe Hall provides is not just a job, it's a vocation,' says Marina Bridger, one of last year's Sing for Life women. 'It's fantastic to be able to do something to support this wonderful local cause while doing something really exciting and challenging into the bargain. I have discovered a new passion and a whole new group of friends – I've never looked back.'
Whatever your starting point, over the 12-week project your singing will improve in leaps and bounds and – while you might not end up winning the X Factor or perform at Covent Garden – that's a huge confidence boost and very liberating! So, get in touch and get involved: there's a whole new world waiting!
● Sing for Life launches with introduction sessions on Wednesday 12 July, (7-9pm), Friday 14 July (6-9pm) and Saturday 15 July (10.30am-12.30pm). Absolutely no previous singing experience is necessary, just a willingness to step out of your comfort zone, get stuck in and give it a go!
Leave a Reply