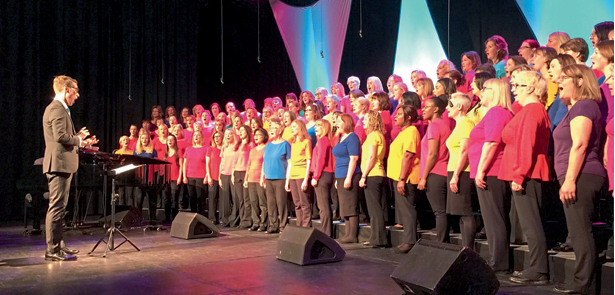 Now in its seventh season, Sing for Life is back for 2018, once again raising money for the city's much-loved Sue Ryder Thorpe Hall Hospice
Launching in May, the project will take 40 local women with a range of previous singing experience (including none) to rehearse over 10 weeks for a charity concert at the Cresset Theatre on 21 July. Over the years, the project has introduced hundreds of local women to the joys of singing while raising many thousands of pounds for charity. 'I decided to give Sing for Life a shot because my life was completely enveloped by children, work and home life and I needed to do something wholly for me!' says Emma Rice, who participated in the project last year. 'The first rehearsal was incredible, everyone was so welcoming and kind – I have made so many friends and my confidence has soared. It gave me an evening a week to disappear completely into my singing, concentrating on nothing else, which was such a boost – I would recommend it to everyone!'
'Sing for Life has been one of the best things I have done in a very long time.' agrees Katie Hart, who also took part last year. 'I have made new friends, gained confidence, sung on stage in front of a paying audience, and learned a huge amount about myself. The team really know what they're doing, so by the time of the concert we had achieved an amazing level of quality and my family and friends were bowled over! I'm so proud of what we did, not just for the charity but also for what each one of us managed to achieve. If you're even half thinking about coming along to find out more – JUST DO IT!'
'I had seen the banners and posters advertising Sing for Life,' says Rachel Francis, 'but it never really crossed my mind it was for someone like me, until a friend suggested I go along. I decided I had nothing to lose so went along to find out more, and I'm so pleased I did! I would walk out of every rehearsal in a fabulous frame of mind, and the progress we made every week was incredible – it was so exciting to be part of it! On the day of the concert I was nervous, but standing on stage and performing in front of my friends and family was amazing, I will never forget that feeling! Add to that the fact you're raising money for a brilliant cause, why wouldn't you come along and find out more?'
There are as many reasons for getting involved in Sing for Life as there are women who have taken part over the years. Singing has a host of well-documented benefits, there's a fantastic social scene and the chance to meet people you wouldn't normally meet and to discover music you wouldn't usually experience. Plus of course there's the charitable side of the project, and the opportunity to give something back to the community. And – with £9,000 needed every day just to keep it running – what better cause to support than Sue Ryder Thorpe Hall Hospice, which has personal relevance to so many local people?
'Sing for Life is not about finding the next Adele; it's about helping ordinary women find their voice" says William Prideaux, the project's director. "So many people lack confidence or genuinely believe they can't sing, but deep down just about everyone secretly has a favourite karaoke number, and – we promise – our very experienced music team will have you singing in no time!'
Cheyenne Graves, community fundraiser at Thorpe Hall Hospice, says: 'We're delighted that the Sing for Life team have chosen to support us once again. We love being involved in the project, which seems to inspire so many people to do something they've never done before. And the concert is always a wonderful evening of entertainment.'
Sing for Life launches with introduction sessions at the Key Theatre on Thursday 10 May (7-9pm), Friday 11 May (7-9pm) and Saturday 12 May (10.30am-12.30pm). Absolutely no previous singing experience is necessary, just a willingness to step out of your comfort zone, get stuck in and give it a go! Whatever your starting point, over the 10-week project your singing will improve in leaps and bounds and – while you might not end up winning the X Factor or perform at Covent Garden – that's a huge confidence boost and very liberating! So, get in touch and get involved: there's a whole new world waiting!
● The Sing for Life concert will be at Peterborough's Cresset Theatre at 7.30pm on Saturday 21 July 2018.
● Introduction sessions will be at the Key Theatre, Peterborough on Thursday 10May (7-9pm), Friday 11 May (7-9pm) and Saturday 12May (10.30am-12.30pm). Please call/email to register.
● Rehearsals will be on Thursday evenings from 7.45pm-9.45pm at the John Mansfield Campus, Western Avenue, Peterborough PE1 4HX.
● For further information call 01733 425194 or email
Leave a Reply