Scottee: belonging in Peterborough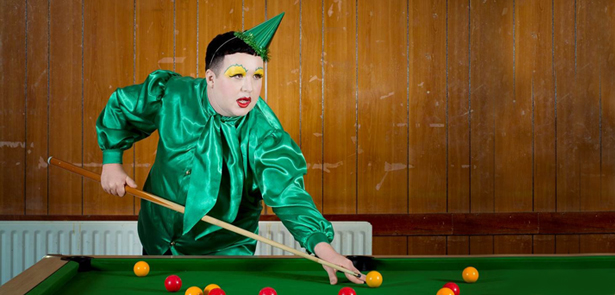 Arts organisation Metal welcomes performance artist and provocateur Scottee to the city for a new special relationship...
So, who is Scottee?
Scottee is an artist from London, who lives by the seaside in Essex. His work is often about those pushed to the margins of society through race, sexuality, class, age and gender. He creates artworks and performances where the perceived 'underdog' is celebrated, positioned at the forefront and no longer ignorable. Scottee is not easily definable. In his own words 'he is an artist, troublemaker, loudmouth, show-off and attention seeker'. His work is live, brash, clumsy and will often leave you covered in confetti!
Is his work any good…?
In 2010 Scottee won the Time Out Performer of the Year, his debut solo tour The Worst of Scottee won the Total Theatre Award for Innovation in 2013 and in 2015 he was included in the Independent's Rainbow List as one of Britain's most influential LGBTQI+ people. Last year Scottee created and directed the critically acclaimed Putting Words in Your Mouth, which was listed as one of theatre critic Matt Trueman's top 10 shows of 2016 (The Stage, The Guardian). Scottee is currently an associate artist at Duckie and the Roundhouse in London and co-host on BBC Radio 4's Loose Ends. In 2015 Scottee's debut radio documentary My Big Fat Documentary was BBC Radio 4's Documentary of the Week.
What is he doing in Peterborough?
Over the coming months, Scottee will be contributing to and hosting a number of events that raise questions about the way we live as a society and our hopes and fears for the world. To kick things off, he will be chairing a public debate, as part of his series called 'Belonging' that explores where and if queer people belong in society in 2017; if being on the margins is inevitable and asks why homophobic hate crime is on the rise in England? The project aims to uncover what it's really like to be queer in the UK.
Why now, and why Peterborough?
2017 marks 50 years since the decriminalisation of homosexuality in Britain. The Sexual Offences Act of 1967 was an Act of Parliament that decriminalised acts in private between consenting men, after the Wolfenden committee (consisting of a judge, psychiatrist, an academic and various theologians) came to the conclusion that criminal law could not credibly intervene in the private sexual affairs of consenting adults in the privacy of their homes. 50 years later the lives of queer people are perceived to be very different – equal age of consent, equality law and equal marriage are all heralded as progressive markers in LGBTQ+ equality but has the UK become a queer-friendly nation or are homophobic prejudices just as prevalent? Social intelligence company Brand-watch and anti-bullying charity Ditch the Label analysed 19 million tweets from the UK and the US over the last four years. The researchers looked at speech across topics including racial intolerance, misogyny, masculinity and homophobia. Whilst Scotland showed the most widespread level of homophobic language, Peterborough was also identified as a hot spot of homophobic hate speech.
So is Peterborough homophobic?
To kick-start his year-long queer arts project in Peterborough, Scottee is inviting the public to join him for a chat and takeaway at Metals' premises Chauffeurs Cottage on St. Peters Road on Saturday 24 June 2017. Over food we will ask what life is like for LGBTQI+ people in Peterborough, question if the city is homophobic and/or transphobic and attempt to answer some questions local people have about the LGBTQI+ community. Is Peterborough a safe place for LGBTQI+ community? Do we feel safe in our own city? Scottee will chair the discussion. This will be followed by drinks and 'a gossip' in the Metal Garden. Everyone is welcome to this free event – including your homophobic Nan! Scottee says: 'I'm really looking forward to starting working with the people of Peterborough – from the great response to the work I've already made for your city and the people I've met, I'm excited to get started! I'm going to ask some annoying questions but I promise it will be worth it, we'll have fun and there will always be cake. Who's up for getting involved? Who's up for throwing themselves into the unknown?'
Scottee
Chauffeurs Cottage, St. Peters Road, Peterborough
Saturday, 24 June  
If you would like to reserve your seat at the table and for more information, please email , see www.metalculture.com or call 01733 893077
Leave a Reply