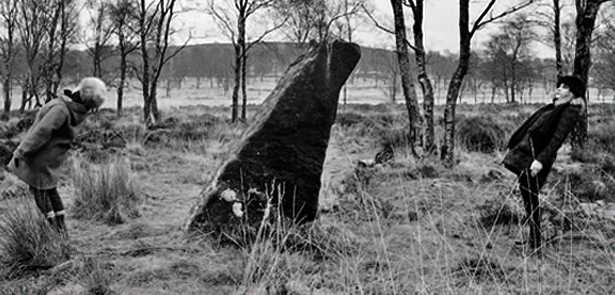 We all have those often-told stories in our communities and families that take on mythical proportions. The agricultural landscape of the Fens are steeped in folkloric traditions which we see increasingly re-enacted over subsequent generations. Peterborough also has its fair share, from mythical 700-year-old tunnels to standing stones – yes, standing stones of the Stonehenge variety, although maybe not as big... And this particular story is soon to be brought to life through a performance by artists Arianne Churchman and Chloe Langlois
Based in Nottingham, Arianne is no stranger to Peterborough. Back in 2015, she worked with the Green Backyard volunteers, gardeners and allotment holders to re-enact the Harvest Wain procession as part of Metal's Harvest celebrations. Dressed in outlandish costumes as horses and passengers, the rowdy crew galloped up Bridge Street towards Cathedral Square to kick-start the evening's entertainment. As a performer, Arianne is fascinated with folklore, rituals and mysticism.
During her time in Peterborough she became aware of Peterborough's own standing stone; a small Neolithic relic displaced from its original site to make way for a housing development and now located outside the museum. Considering the importance placed on standing stones elsewhere in the UK, it became Arianne's mission to explore its speculative history and raise its profile in the community.
Together with her long-term collaborator, artist Chloe Langlois, Arianne secured funding from Arts Council England to set up residence at Metal. They have brought academics and specialists to the city to carry out research and consultations around the stone. And, this is when the fun began. Since March, the artists have been working with local residents interested in folklore to create a new performative stone circle bringing new life to this untold history.
Along the way, there have been New Age Bannerthon's with local crafters, sound workshops with Droney Mitchell (aka Rebecca Lee), explorations of archaeoastronomy and relic gathering – as well as a lot of hard work rehearsing. Arianne and Chloe's performances draw on the quirks of folklore and, whilst honouring the traditions and history, they instil a huge sense of fun. Their aim with the Peterborough Stone project is to formally reintegrate the stone through public 'ritual' with its current site and with the local community. Intrigued? Their free performance will take place on Saturday 6 May at the two sites, Peterborough Museum and the Green Backyard – featuring as part of the Mayday celebrations.
● For details of times and locations, visit www.metalculture.com or pick up a leaflet around the city centre.
● For details of the Green Backyard Mayday celebrations, visit www.thegreenbackyard.com
If you are interested in getting involved in the performance, there may well still be opportunities to attend the workshops. Please call Metal on 01733 893 077.
Leave a Reply