Regenerating North Westgate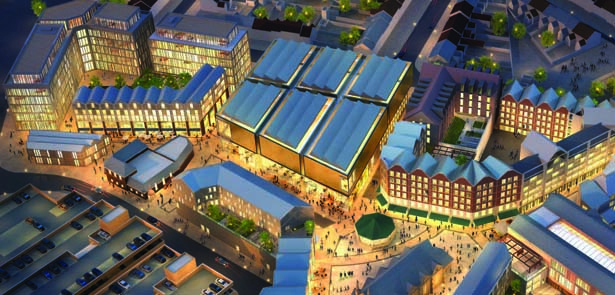 Ambitious plans to transform the North Westgate area of Peterborough were put on display for the public to comment on earlier this summer. Find out what the resulting views were for this development which could see a new cinema, food hall, apartments, a hotel and more for the city centre
People have been giving their view on what has the potential to be greatest city centre investment in Peterborough for decades. Now the team behind the ambitious North Westgate development, which will regenerate a key part of Peterborough's city centre, is preparing to submit a new planning application. In order to do so, the team was keen to hear the views of the people of Peterborough and a consultation ran earlier this summer. This included two public exhibitions, stakeholder roundtable briefings and an online survey. The development extends from Bourges Boulevard across to Lincoln Road, and from Bright Street on the north side to Westgate at the south.
Feedback showed 96% of people think that it is important for Peterborough to regenerate North Westgate. It also revealed that the most important aspect of the project was regeneration. Other features which people felt were important included having an enhanced evening economy for the city, having a city centre cinema, the creation of city centre apartments and having a food hall. The aim is to create a regional leisure centre that will regenerate not only the North Westgate area, but the whole of the city centre. It will create approximately 120 new one, two and three-bedroom city apartments, some with rooftop gardens, plus a 100-room hotel. The development will be pedestrian friendly, creating an appealing outdoor space with external dining areas for cafes and restaurants, and Westgate Church as a focal point.
With luxury office space a key part of the project, it is anticipated that 1,500 new jobs will be created. Peter Breach, Chairman of Hawksworth Securities, the investment company behind the development said: 'This development will play a pivotal role in Peterborough's ongoing regeneration. The new cinema, hotel, restaurants and bars will bring new jobs and entice more people into Peterborough both in the daytime and evenings. North Westgate development will deliver major benefits to the city, at both an economic and a cultural level, and we want to ensure we are working in harmony with the local community. The time is now right to push this project forward and we will be submitting our planning application shortly.'
North Westgate sits close to an area which has seen great redevelopment in recent years. Peterborough's Cathedral Square, Cowgate, Bridge Street and Bourges Boulevard have all been revitalised, making the city centre an attractive place to visit for residents and visitors alike. There will be a further opportunity to comment on the North Westgate proposals once the planning application has been submitted. If planning is approved, it is anticipated that construction will begin in 2016.
Have your say  If you would like to give feedback on the project then send an email to , call 0800 1583 218 or visit www.north-westgate.com
Follow on Twitter @WestgateNorth and search for North Westgate on Facebook.
Leave a Reply