Recycling: because it matters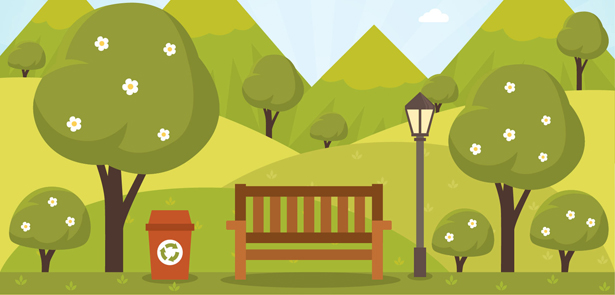 There's a lot to be said for recycling. It saves energy and natural resources, so it's better for the environment, and it saves taxpayers money. The last week of September is Recycle Week – a celebration of all things recycling that encourages us to recycle even more
Now in its 15th year, Recycle Week showcases the joys of turning the old into new by demonstrating the benefits of recycling items from around the home. Recycle Week 2018 runs from 24-30 September and will focus on plastics under the theme of 'Recycling. We do. Because it matters.' The aim is simple: capture the public's attention and communicate the simple but important message about why recycling matters. Recycle Week 2018 should be the biggest yet, helped along by intense media coverage surrounding the blight of plastic in the wider environment. From cotton buds on the beach to wet wipe-clogged waterways or hedgerow's entangled in plastic bags and wrappers – there's no escaping the devastating impact of our throwaway culture and the peculiarly modern menace of plastic. The global scourge of plastic is no more obvious than at sea. The Great Pacific Garbage Patch is a mindboggling gyre of marine debris estimated to be anywhere up to the size of Russia. And who hasn't seen those haunting images of the plastic items to be found within a typical seabird's stomach? These are just some of the stories hitting the headlines… and our consciences.
Why we recycle
Of course, recycling avoids any risk of that waste getting out into the wider environment. And by keeping those original resources in the loop for another use, valuable raw materials and energy can be saved too – it's far easier to melt, crush or pulp recyclables into feedstocks for new items than to mine, chop or extract it all over again. With our ever-increasing impact on the Earth, recycling is an easy win. It avoids unnecessary pollution and keeps natural resources such as timber, water and minerals untouched for the future. It's good for the economy too, promoting jobs and minimising the high cost of landfill or the less efficient process of energy recovery through incineration. Recycled materials can be turned into all manner of new items. For example, plastic packaging could be re-born as clothing, toys, tables and chairs, car parts, duvet filling, pens, flooring, piping, buckets – or simply reinvented as new plastic packaging!
Plastic's appeal
It isn't hard to see why plastic is so entwined with our modern lives. It has a valuable role in helping to keep produce fresher for longer and, believe it or not, it has played its part in enabling society to live more sustainably. Plastic is light, flexible and convenient, making it cheaper to transport and work with. Plastics are often used for packaging because of their durability and safety – it's harder to shatter plastic and it's easier to make plastic containers tamperproof. Plastic packaging is often more hygienic too. Yet despite all this, there's probably too much of the stuff ! Plastic has crept into areas of our life that perhaps it needn't have: coffee cups, disposable straws and cotton buds being just a few examples.
Use less, recycle more
The first step to reduce spiraling plastic use is to, well, use less of it! Avoid excessively packaged items, take your own reusable bottle of water to work, say no to the straw, opt for natural fibers over synthetics, upcycle, avoid one-use cutlery – these are all simple steps with minimal inconvenience to us. Then recycling the plastics we do use couldn't be easier. Most of it can be placed into your green bin (clean and loose). Plastic items for recycling this way include all plastic tubs, trays, pots, plastic film, carrier bags and, of course, bottles. Don't forget the less-obvious plastic items too: empty cleaning products such as bleach bottles, shampoo bottles, and deodorant and air-freshener caps, for example. Recycle Week is about recycling more than just plastic, so don't forget all those other recyclables too: everything from clean cardboard to glass jars. Check the table of what can and can't be recycled, or head to the council's website for more information. Remember, all items should be clean and loose. Heavily contaminated items run the risk of an entire load of recycling being rejected, which undoes all the good work of everyone else. Make sure you get it right. If in doubt, leave it out!
Plastics in the home
● An estimated 2.2million tonnes of plastic packaging is used in the UK every year, of which 1.1million tonnes is rigid plastics packaging consumed by households. ● Almost 600,000 tonnes of plastic bottles are used by households each year – that's about 33 million bottles a day! ● Recycling one tonne of plastic bottles saves enough carbon dioxide to power an average car 2,500 miles.
What can you recycle?
YES PLEASE ● Plastic tubs, trays, pots, plastic film, carrier bags or bottles ● Food tins and drink cans ● Foil, aluminium trays, aerosols, large metal sweet/biscuit tins ● Junk mail, envelopes, telephone directories, catalogues, newspapers, magazines or holiday brochures ● Milk, juice and squash cartons, cardboard and packaging card ● Glass bottles, jars or jam jar lids
NO THANKS ● Polystyrene, shredded paper, black bags, Pyrex or ceramics ● Food – please use your food waste caddy ● Textiles – can be taken to the Household Recycling Centre ● DVDs, video tapes and CDs ● Energy saving light bulbs or household batteries – can be taken to the Household Recycling Centre ● Oil cans, paint tins or small electricals – can be taken to the Household Recycling Centre
What happens to recycled plastic?
Ever wondered about the journey your plastics go on to be reborn as new products? It's an incredible trip! ● Empty, clean plastic items are placed into the your green wheelie bin ● Collected plastic eventually ends up at the Materials Recovery Facility at Waterbeach ● Plastic is sorted into different material types ● Bailing machines squash the plastic waste to make solid blocks called bales and sent to reprocessors ● The bales are then shredded into flakes, which are washed in a big whirlpool bath to clean off any labels and residual dirt ● The flakes are sorted again, depending on whether they sink or float ● Giant industrial dryers dry the flakes, which are blown down pipes into bags or boxes ● The sorted plastic is ready to be passed on to recyclers and manufacturers ● New products such as clothes, duvets, garden furniture, fencing and pipes are created
How to join in
As well as making an effort to recycle more at home, there's the opportunity to join in one of the special events being held within Peterborough to celebrate Recycle Week 2018. School visits The Energy Recovery Facility (ERF) at Fengate is throwing opening its very big doors to welcome schoolchildren from across the area. Groups will be learning what happens to waste and how easy it is to recycle more at home, school or out and about.
Tours will include a visit to the control room to watch the giant wastelifting crane in action, while discovering the incredible state-of-the-art technology that's used to turn the city's waste into electricity powering the equivalent of 16,000 local homes. Recycling Roadshow Meet the council's recycling team on Wednesday 26 September as the recycling trailer visits the city centre. Browse information on recycling and local waste management. Chat to staff and ask them any niggling recycling or waste disposal questions. Get the lowdown on the waste hierarchy, swat up on what can and can't be recycled, and discover the best ways to get rid of awkward items responsibly.
Make it even easier to recycle
Recycling doesn't have to take much time or effort and it's easy to get into the habit of doing it right. Here are a few tips to help you recycle more and recycle better. ● Clean and tidy: Jars and tubs heavily contaminated with food waste are harder to recycle. The same goes for bathroom items such as shower gel bottles. Wash items out before you put them into your green bin. Old washing up water is perfect for giving items a quick rinse. ● Convenience: Keep your green recycling bin alongside your black general waste bin. This way you can take out your recycling and rubbish at the same time. ● Supermarket sweep: Overflowing green bin? Bulky items of cardboard? Or a glut of bottles after a party? Excess items can be taken down to the supermarket as part of your weekly shop so you can 'drop when you shop' at supermarket recycling points. Items can also be taken to the Household Recycling Centre in Dogsthorpe.
Useful contacts
● For general advice on waste and recycling, including collection days, visit: www.peterborough.gov.uk/recycling
● Household Recycling Centre: Welland Road, Dogsthorpe, Peterborough PE1 3TD. Open Mon & Thurs, 8am –8pm (4pm August Bank Holiday), and Tues, Weds, Fri, Sat & Sun, 8am – 6pm.
● WEEE Reuse Facility: Fengate, Peterborough PE1 5XG. Tel: 01733 425450. Open Mon-Fri, 9am – 3.30pm
Image: www.freepik.com/free-vector/flat-bench-in-a-garden-landscape_851996
Leave a Reply