Peters' Cleaners' promise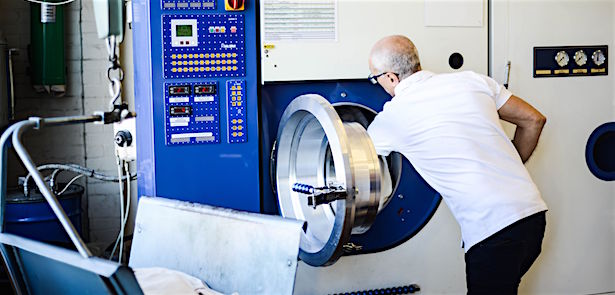 Leading independent dry cleaner Peters' Cleaners' mission is to ensure that every item cleaned is returned on time and in the best possible condition. Commuters can now take advantage of their services at Peterborough Station too.
Founded in 1963 by father and son Peter and Peter Grist, Peters' Cleaners aim was to bring 'on the spot' cleaning services to Peterborough. Following decades of success and expansion, the strain on the high street finally took its toll and in 2016 the business was sold.
Over the last three years new owner Vicky Whiter has invested in machinery, freshened up the shops and factory, and extended the range of services offered. The new mission is to 'ensure every item we clean is delivered back to the customer in the best possible condition, on time'. Feedback from thousands of happy customers confirms they're on the right track.
The company is now focussing on convenience and has opened a 24/7 pick-up and drop-off for its services at Peterborough Station. Vicky used to travel to London daily and understands the time pressure commuters are under.
Peters' Cleaners offers a number of different services, including four different methods of cleaning (dry cleaning, wet cleaning, laundry and hand wash), a press-only service, rug and curtain cleaning, leather and suede cleaning, repairs and alterations (including invisible repairs), and handbag restoration.
Cleaning options
Having four different cleaning methods to hand makes it possible to get the best result for every item brought in.
Dry cleaning uses no water in the cleaning process. It is very effective on oil-based stains and keeps natural fabrics such as wool, cashmere and silk in the best possible condition because it relaxes the fibres, ensuring they stay soft and there's no shrinkage.
Laundry uses water and detergent just as you would at home. It is more effective for water-based stains and smells. High-quality, professional detergents are used to give an excellent clean, though because water makes fibres contract, many items (such as wools) are not suited to this way of cleaning.
Wet cleaning uses water and a special chemical that changes the properties of the water to avoid shrinkage. This is effective on dry clean-only items that have water-based stains or a strong odour.
A milder detergent is used for hand washing, which is ideal for delicate items with, for example, heavy beading that may get damaged in a machine.
Attention to detail
Before cleaning every item is inspected then cleaned according to the care label. If it's felt that a different process will give a better result due of the nature of the stain then the team at Peters' Cleaners will discuss this with the customer, explaining the benefits and risks. Where necessary, items are pre-treated ('spotted') to give the best chance of removing the stain.
Items are cleaned, inspected and, if necessary, cleaned again. They are then pressed using steam, avoiding direct heat (such as a hot iron) so there is no risk of burning or damaging fabrics. Finally, items go through a quality control check before being returned to the customer.
Rugs and curtains go through the same process. The curtain service differs from most because the curtains are pressed then returned unfolded so they're ready to hang.
Repairs and alterations
Peters' Cleaners in-house seamstress, Lily, has 35 years' experience undertaking repairs and alterations having had her own tailoring business and made countless wedding dresses and curtains. If the collar of your shirt is frayed, Lily can turn it over and give it a new lease of life. She can shorten, lengthen, take items in, repair moth holes and re-hem – among many other things!
The team works closely with trusted partners to clean suede items, for invisible repairs and for handbag restoration.

Peters' Cleaners
01733 562997
Leave a Reply