Peterborough's making music!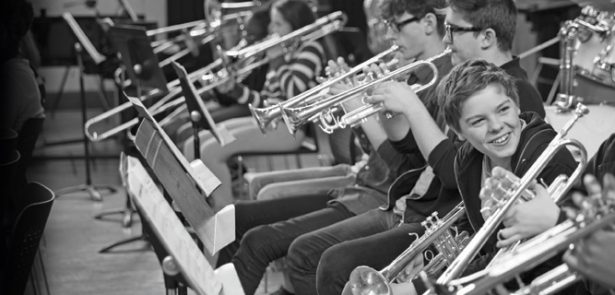 Peterborough has long had a rich musical scene. But now, a collaboration between Peterborough City Council's Music Hub and brand new arts organisation PHACE (Peterborough Heritage, Arts, Culture Enterprise) aims to make it more vibrant still!
Working from the ground up, it provides support and opportunities for budding young musicians of all ages in and out of school – whether they want to take it up as a profession or just have fun. We talk to Lisa Roberts, Strategic Client Manager for Culture and Leisure at Peterborough City Council and manager of the Music Hub to find out what it's all about – and hear from some of the key figures involved in different areas of this exciting new initiative…
First of all, what is this thing called the Music Hub?
The Music Hub is a national programme funded by the Department of Education and Arts Council England. There are actually music hubs all across the country, and we've got one here in Peterborough. Our main aim is to ensure that music is an important contribution to the life of every school, and that it is enjoyed, celebrated and encouraged.
How does that work in practice?
What we do involves two streams. The first is focused purely on schools and the development of music within them, to encourage music learning and participation – so we provide the opportunity for every child to learn a musical instrument for one term, but we do other things too, such as providing support for music teachers' training and development, or providing professional musicians to go in and showcase music within schools, as we do in partnership with Britten Sinfonia. It's about enhancing the national music plan for schools, including bursaries and funding to help schools develop their music programmes.
The other strand is the wider programme, and for that we have commissioned PHACE to be our lead partner. This is really about encouraging students and young people to continue with music outside of school, so we have orchestras, ensembles, music groups and CPD – Continuing Professional Development – with lots of activities for young people to get involved in. It means that whatever stage a young person or child is at, they've got the opportunity to take part in an activity that will showcase and develop their skills, or to try something new. I manage the Music Hub, but as Strategic Client Manager for Culture and Leisure I also look after anything that comes under PCC's culture remit in the city. I'm a director of PHACE too, so I'm able to see where synergies are and where connections can be made. We don't want to duplicate what other partners are doing, but we work very closely with all our partners, including Vivacity, Peterborough Sings! and Beat This to ensure our offer is distinct and that we have the same aims and objectives.
Could this help young people make a career in music?
The Music Hub is specifically for school-age young people, but it fits into a bigger city agenda – the Cultural Strategy – and for us it's all about developing and retaining talent within the city. The Music Hub employs local teachers to teach in local schools, for example, so it's about developing talent but also providing opportunities for them to use those talents in later life. It's giving people a pathway to learn, develop and then pass on their skills – and in a way that provides them with a living. People will want to live and work in Peterborough if there are more opportunities, and when parents are looking at schools to send their children to it's always about the added extras. Music is already part of the curriculum, but if we can help support and enhance that curriculum, then young people are getting more benefit – and that benefits the city as a whole by developing and retaining talent.
One new development is the Peterborough Centre for Young Musicians. What is that?
With the Music Hub, one of our main focuses for the next three years is on excellence and opportunity, and we are working in partnership with Ormiston Bushfield Academy, the Guildhall School of Music & Drama to establish this new Centre. We saw that Peterborough really needed a focal point for young musicians to develop their skills, and what the Guildhall and the Academy have brought is a permanent base for where this can happen, with a structure behind it that promotes quality at the highest level. This is for young people aged 7-18 who are already expressing musical talent. What is really exciting is that because the Music Hub is involved, we're able to put funding directly into it. The Academy has put funding in as well, and Cross Keys Homes is supplying bursaries for any young person living in a Cross Keys home to access the Centre. That means it's very reasonably priced – £5 per hour for the three hours on the Saturday morning – which makes it one of the most competitive ways to access musical education in the city.
How are Peterborough Youth Orchestra and City of Peterborough Youth Ensemble involved?
This is a project the Music Hub has been supporting for the last three years, but we're stepping it up a level with the new Centre opening. This activity complements the Centre in that it takes place during holiday times, so students will now be able to have something during term time and during the holidays. The City of Peterborough Youth Ensemble has two groups that meet on Thursday evenings during term times, but then they also have an opportunity during the holidays to get together for week-long workshops and performances. They have a junior band, junior strings from grades 1-3, and also a concert band and a string orchestra for grades 3+. These meet at Ken Stimpson Community School. It's possible to join them for free taster sessions, and there are then courses that young people can join. The Peterborough Youth Orchestra takes this development further, providing musicians of Grade 6 and above the opportunity to play in a full orchestra. Again, this is about a progression of excellence and providing a range of opportunities for young people. Whatever level they are at, we can find something for them to engage with.
Is it only classical music?
No, it's not purely classical music. There's electric guitar, acoustic guitar, piano, drums… We wouldn't want to limit it to one genre, and the vocal side is also very diverse. Whatever musical instrument people want to play, we can support them. There's the Beat Orchestra which is an alternative ensemble – mainly rock and pop. There's also Eastern European music, samba, all kinds of world music. There has actually been a whole world music programme with Britten Sinfonia and four secondary schools, where 125 students took part alongside professional musicians.
What opportunities are there at Peterborough Music Festival?
This year for the first time Peterborough Music Hub supported the Festival and brought to it a new category, which was the New Youth Music Showcase. We had such a variety of performers – it was absolutely amazing! Everything from rappers to classical pianists to singersongwriters. It was such a diverse range of ages, too – and it was actually the youngest entrant, Thomas Dunleavy, who won the competition. His performance was absolutely amazing; he wrote his own song and performed it with a confidence well beyond his years. He was on first, too, so it was a great start to the programme! The quality of the music that these young people were producing was really reassuring – it showed that the talent is in Peterborough. But also, we wanted to make sure it was meaningful for the people taking part, so the winner won a cash prize and a day in the recording studio.
The judge for the competition was Hayley Sanderson, a local Peterborough girl who now sings with Dave Arch and his Orchestra – the band for Strictly Come Dancing – and has performed with Jeff Beck, Joss Stone, Chrissie Hynde, Elton John and Jools Holland. She gave really positive, constructive feedback – no nasty Simon Cowell comments! – and being a musician herself was able to talk them on a more technical level and offer advice to help them develop in future. So it
was a really good experience for all taking part.
Can you give other examples of how Music Hub connects students to the world of professional music?
We've had a performance with Britten Sinfonia which has gone around to primary schools in the city, for reception classes and Key Stage 1, so the very youngest in the school are getting to experience professional musicians coming into their school and performing for them. As they move through primary school and into secondary school there will be lots more initiatives like this, so that musical journey really does follow them all the way through, giving them opportunities to expand outside of school as well. Then when they leave school they can continue to develop those skills too. We have the City of Peterborough Symphony Orchestra, so there is potentially somewhere for them to go when those skills are developed. Even though the adult orchestras are not exactly within our remit, we're very aware that we are developing the talent that will step up to those orchestras. So, we are looking at the wider city picture. Having the Cathedral, which is so important to the music scene here, is a great help in sparking ideas and ambitions, too.
Music Hub partners include
Peterborough City Council, Britten Sinfonia, Beat This, Peterborough Sings!, the Guildhall School of Music & Drama, Ormiston Bushfield Academy, Peterborough Learning Partnership, Vivacity and Peterborough Cathedral 
Peterborough Music Festival March 2017 14-18 March 2017 at the Key Theatre ● Tue 14 – Strings ● Wed 15 – Brass and woodwind / Instrumental ensembles ● Thu 16 – Piano/ Solo and duet singing / Recorders ● Fri 17 – School choirs / New Youth Music Showcase ● Sat 18 – Adult and youth community choirs / Young Musician of the Year concert.
The New Youth Music Showcase on the evening of Friday 17 March and the Final Concert featuring the Peterborough Young Musician of the Year contest on 18 March are both open to the public.
Leave a Reply