Peterborough Youth Choir: now recruiting!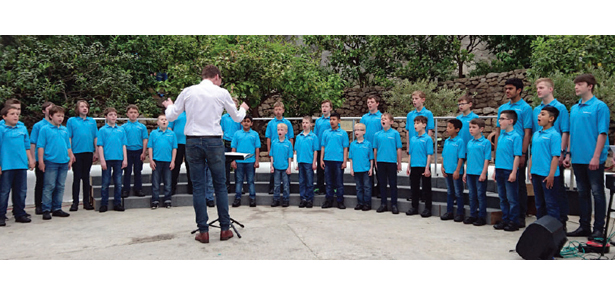 Looking for an activity for the kids which will give them new skills, independence and self-confidence, not to mention new friendships and some once-in-a-lifetime experiences? Then look no further, Peterborough Youth Choir provides all this – and more – to children aged 7 and upwards. Better yet, it's completely free!
Directed by William Prideaux, Peterborough Youth Choir is the city's leading youth music group, providing professional tuition and exceptional performance opportunities to over 40 members aged between 7 and 19 from schools across the city and beyond. Their performances have been broadcast on BBC Radio Cambridgeshire and in 2016 they were featured on BBC One's Songs of Praise. Peterborough Youth Choir has collaborated with world-class musicians including the King's Singers, the BBC Concert Orchestra and the Central Band of the RAF, among many others.
Members of the choir have also performed in the national tours of Evita starring Marti Pellow, Joseph and his Technicolour Dream Coat, starring X Factor winner Joe McElderry and Dreamboats and Petticoats: The Christmas Party. Always a highlight of the choir's busy schedule is their annual residential weekend at Buckden every February half term, which – as well as being lots of fun – enables them to rehearse intensively, making remarkable progress in a very short period of time (even if they haven't always had much sleep!). The Peterborough Youth Choir boys also recently enjoyed a five-day trip to Cumbria, performing highlights from their repertoire at Carlisle Cathedral. Last year, the boys participated in the Cornwall International Male Choral Festival, competing and performing in Truro's Hall for Cornwall alongside some of the world's leading boys' choirs as well as singing informally at the Eden Project and the National Maritime Museum in Falmouth.
Peterborough Youth Choir has an excellent trackrecord of preparing singers for regional and national opportunities. As well as going on to join the city's award-winning adult choirs Peterborough Male Voice Choir and Peterborough Voices, members have successfully auditioned for the National Youth Choirs of Great Britain, and some have gone on to specialist music schools and gained places with Durham Cathedral Choir and the choir of King's College, Cambridge. Rehearsals are at All Saints Church Hall, All Saints Road, Peterborough PE1 2UL on Wednesdays during term time from 4-6.30pm, supervised by a team of enhanced DBS checked chaperones.
The choir is split into three groups – junior, intermediate and senior – so that singers can rehearse at their own level and progress through the choir as they develop musically. New members are always welcome! So what are you waiting for? Get the kids signed up now and in a few short months you could be watching them perform in Christmas Magic in the spectacular setting of Peterborough Cathedral. And next year…who knows!
Peterborough Youth Choir is now recruiting. For further information visit our website at www.peterborough youthchoir.org. uk, email admin@ peterboroughsings. org.uk or call on
Leave a Reply