Peterborough young people give boost to local charity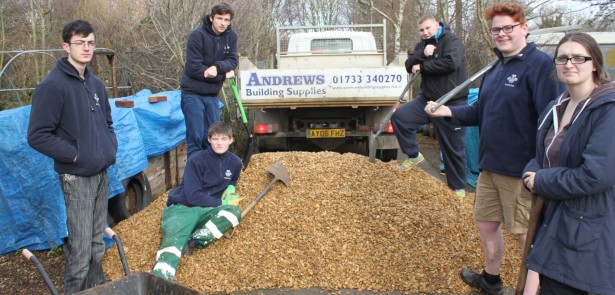 Youngsters aged 16-19 from Peterborough have been lending a hand to support local charity, New Ark Play, based at Hill Close off Reeves Way.
With a farm, eco garden and adventure play facilities, New Ark welcomes children from across the city to play and learn.
As part of Peterborough's Prince's Trust programme, the young people have been volunteering to improve facilities and help with general maintenance of the farm at New Ark.
The Prince's Trust aims to help young people develop skills and experience to improve their employability.
Fengate firm, Andrews Building Supplies, also offered their support by donating four tonnes of gravel so that the volunteers could resurface the visitors' area of the farm.
Prince's Trust team leader, Steve Milford said: "Our programme is all about giving young people a leg-up to develop their confidence and at the same time support local organisations through volunteering.
"We're so pleased to have been able to help New Ark and very grateful to Andrews Building Supplies for their contribution to the project."
Peterborough's three-month Prince's Trust programme runs throughout the year to give local young people the opportunity to build self-esteem and learn skills for work.
Leave a Reply