Peterborough Together: Why have I stayed?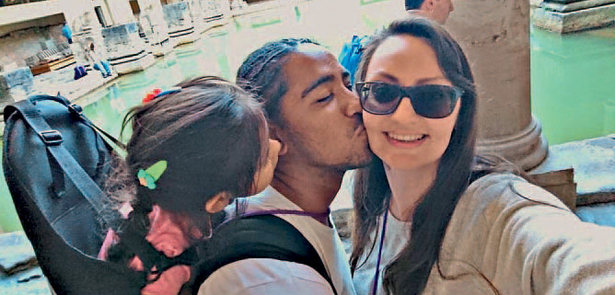 A personal perspective on a new life in the UK from Agnieszka Coutinho...
I came to England over a decade ago for a gap year only. If you had asked me on 5th October 2005, the day I arrived in the UK, I would have told you that there was no way I would live abroad for more than a year. A year was fine.

Thirteen years later here I am. Sometimes people ask me what has made me stay. 'The opportunities!' I always reply. When I came here in 2005 and compared the possibilities for personal growth, living an independent life, being able to afford accommodation, food, recreation and educational courses on my own with what was available in Poland back then… To tell the truth, it surprised me a great deal.
The first months in England it was cold, rainy and dark. I found work in a factory and didn't enjoy my life there much. Work, home. Home, work. A sad life for a twenty year old, right? I decided to start a basic English course so I could hopefully move up the career ladder one day. I didn't plan and expected very little. I was simply curious about the different beliefs, laws, food, language and culture of my new home. I wanted to learn as much as I could.
Suddenly everything started to change for me. I started to make friends and I was finally able to speak some English. I managed to get some supervisory roles in my workplaces but I was fed up with poor working conditions in factories. I went for interviews at restaurants and bars and started to get jobs in these places.
Real change came in 2009 when I got a job as a receptionist in a medical centre. During my long interview the manager picked up a Polish magazine and saw my name under one of the articles. Yes, I did write sometimes about education, immigration or English learning. She decided I'd be a good person for a project she had been thinking about for a while – classes for foreign people to help them learn basic English. I was allowed to do this huge project on my own, from advertising, preparing materials, and organising classes to teaching. It was a fantastic opportunity to meet lots of different people! I used to see 200 people on a weekly basis. The project developed over a two-year period and I learnt a great deal about myself, and even more about the English language and Peterborough communities. I ran the project for Poles, Slovak and Czech people as well as a small group for Portuguese speakers that came from Brazil, Portugal and African countries. That was a memorable experience and it pushed me to complete a qualification in teaching.
Over two years ago I found a very interesting and challenging job in an admin department in the NHS. The job offers a lot of variety and I work closely with managers, children's therapists and psychologists, among other professionals.
What have been my key achievements during this time? Well, the most significant ones are that I met my husband and gave birth to two children here in Peterborough. We are a multilingual family which tries to lead a healthy and active lifestyle. In England, contrary to my previous belief that I lacked the talent to learn another language, I've learnt to speak fluent English and Portuguese. Also, I completed two degrees as well as a variety of other courses. Living in England gave me an amazing opportunity to travel to distant countries and I've been involved in many different activities, research studies and projects, and whenever I had the chance, I wrote articles for English and Polish newspapers and magazines.
I'm also honoured that I became one of the main characters in a book written by local author Carol Browne. Being Krystyna: A Story of Survival in WW2 is a moving account of one woman's experiences in the Holocaust based on authentic events. I met Krystyna on several occasions in her care home in Peterborough and our conversations, as well as those with her son (Peterborough paramedic and photographer Chris Porsz) formed the basis for the book.
This country proves to me every day that nothing is impossible, and that the only limits that we have exist inside our heads. Life may be tough sometimes but we are the masters of our own ships, and it's up to us where we want to be in our lives and what we will achieve. Serendipity, luck – that's only a small part of the story. Hard work and embracing every opportunity that comes our way, that's what really matters.
And that's how a one-year adventure brought me to my new home.
Leave a Reply