Peterborough Sports Football Club: a league above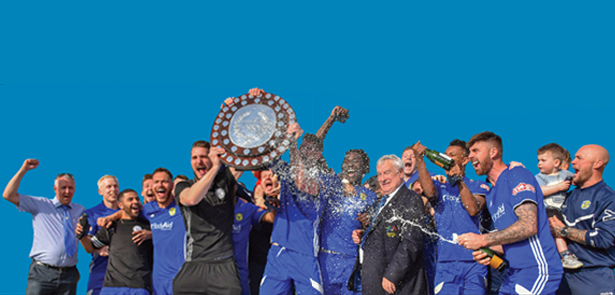 Peterborough Sports Football Club has enjoyed a meteoric rise over recent years, including a series of promotions that culminated in last season's topping of the Southern League Division One Central. This season they move up to the Central Premier Division, making them the highest non-league club in Peterborough and just one step below the National League. It's been an incredible journey, as club chairman Grant Biddle tells us
Peterborough Sports FC has a long and proud history doesn't it. When and why was it founded?
The club has been going since 1908 when it started as a factory side for the Peter Brotherhood engineering works. Back then the club was known simply as Brotherhood Engineering Works. The nickname 'The Turbines' remains to this day though, honouring this industrial past. The club started competitive life in the Northants League in 1919, winning the title that first season before joining the Peterborough League in 1923.
But it's only in the past decade or so that the club has suddenly shot up to its recent success.
Well for 90 years or so the club had languished in what we would call step eight or nine of the English football league system, which is three or four steps down in the Peterborough League. Then eight years ago a previous manager of the club, Stephen 'Tommy' Cooper, returned as Chairman. Tommy started to put some money into the club and got it promoted. Since then The Turbines have been promoted five times. That's five promotions in just eight years, which is an incredible achievement! We are now playing at step three, in the league below the National League. It means we have gone one step ahead of many other local clubs – clubs such as Stamford, Spalding and Wisbech. So we are now the highest placed non-league team within 20 miles. The closest to our level is probably AFC Rushden and Diamonds, and they are a former league club. That's the sort of level we've now reached.
That's fantastic, and a very rapid rise! So how did you get involved as the new Chairman?
Three years ago I moved up to Peterborough from near St Ives. I used to watch St Ives Town, so when I got here I looked around for a local club to go and watch. Peterborough Sports was managed, and still is, by Jimmy Dean, who I used to watch down at St Ives. So I thought I'd come along and support him. I watched for about a year without having any involvement at all. But then Tommy had taken the club as far as he could in terms of resources and was inviting someone else to come in and help take the club up to the next stage, to continue its progression. I could offer the practical support necessary in the form of the resources Peterborough Sports needed. We may be at a non-league level but our players are now semiprofessional. We're paying our players as a sort of second job and that requires a financial commitment. Then there are the additional commitments in the form of ground sponsorship, stand sponsorship and player sponsorship. It's an expensive list and the gate money just doesn't cover the costs.
Deciding on the right level of ticket pricing must be tricky because you don't want to put people off, but equally you need to make some money at least!
Well our average crowd last year was 200, which has grown from an average of 50 only four or five years ago. But we are now playing teams that regularly get 800 to 1,000 average attendances. Some of the teams in step three have got league history. There's Nuneaton Borough, Tamworth, and Rushden and Diamonds of course. We will be playing Lowestoft Town soon. So there are some big names there that can command some pretty sizeable crowds. We will probably be in the bottom three or four in terms of crowds this season.
Can we expect the numbers that The Turbines attract to increase, after all Peterborough isn't a small place is it?
No, but it's not a football hotbed either. If you talk to The Posh themselves they would probably expect only 5,000 to 7,000 out of a city with a population of 200,000. There's a lot of local competition too. At the level we were at last season you've got Deeping Rangers, Stamford, Yaxley, Wisbech Town, Spalding United – all within spitting distance, so it's quite competitive.
Does Peterborough Sports feel somewhat in the shadow of its more famous neighbour Peterborough United?
Well the honest answer is we're too far apart in the football pyramid to be challenging them. But there's not the warmth of close-working relationship that perhaps there could be either. We are competing for the same sorts of crowds, so it's a tricky one.
Tell us about the team. You describe them as semiprofessionals, so what sort of commitment do the players need to show and how do they balance this with their full-time jobs?
The majority of players have full-time jobs but that's possible because most of the games are on a Saturday, with the occasional Tuesday night game. Training is on Tuesday and Thursday evenings. A couple of the players are also football coaches, balancing their time with us with their coaching commitments.
You're one step below the National League now – the excitement must be palpable. What's the atmosphere like on match days?
It's a very buzzy atmosphere. There's a very loyal band of people who come and watch, mostly from Peterborough, with a good following from Stanground, but all local. The stand out reason for the unique atmosphere at the club is its players. At our level it's a fairly small network and most of the players within a range of about 25 miles are likely to know every other player paying at that level. We do have one guy who comes down from Lincoln and another across from Cambridge, but the bulk of the team are Peterborough based so, if you'll excuse the cliché, it's very much a band of brothers. And for the last two to three years it has been a bit like David and Goliath as we keep moving up. So it's a close-knit group. Eight members of the squad were playing with us when we were four steps lower. It's not just that they've grown as players. Tommy attracted players to come in at that level, positioning it as a project – 'start off now and go through the leagues with us' – rather than 'well that team's got us out of this league, we'll buy a new team this season'. At step six they won the league easily, and the players were all too good for that, but they came in for a long-term journey with us.
That's great isn't it, because at higher levels there's so much coming and going. But here you've clearly got people who have grown with the team.
We know that many of the players could get more money if they went to some of the bigger clubs in the region, but they stay loyal to the group, which is fantastic. Next season our budget will probably be in the bottom three for that step. We've already had one player sign a contract because he was being approached by a team a league above the level we were at. They stay loyal and it is largely because they're local. If they were coming in from Norfolk, for example, just to play what we are playing it probably wouldn't work as well. But because they're very much local they haven't got as much travelling and there's just a very good atmosphere.
You've had some exciting news recently. Tell us about that.
Well, having had a bit of a distant relationship over the past years we have resurrected our relationship with Peter Brotherhood. They have signed a two-year deal with us as our main shirt sponsors. It's like going back full circle to the club's roots.
And your own company, Bee Residential, will continue as sponsors too?
Absolutely. We sponsor the grounds, so it's the Bee Arena. But we have quite a few local businesses sponsoring us too. Companies can get involved from as little as £100 as a match sponsor. It's fairly modest but it all helps and it's great exposure for them. In fact we have a lot of sole traders – plumbers, electricians and so on – who just like to put a little money in to support us. Aside from Peter Brotherhood, for which there's the obvious connection, we tend not to go for the blue chip names.
What's your strategy for the next few years? Continue progressing up the pyramid or take stock for a few years?
For the next five years we'll be very comfortable consolidating our position. Every time you go up a level the jump gets bigger. So I think for us to be thinking about trying to play in yet another league above is a little bit too much of a stretch. That's not to say the players couldn't get us there, it's just that the infrastructure of the club isn't there yet. In the league above you have the likes of York City, Stockport County, Kings Lynn, Kettering Town – they're all huge clubs. It would be a battle playing at that level, so we're looking to consolidate where we are. We have already got to put a stand in to meet the requirements of the new level we are at. But even that is fairly modest compared to a lot of the grounds we're going to. So there's a lot of work to bring it up to the next level.
So there are standards to meet for each step up you take?
That's right. At each step there are specific requirements on the minimum level of infrastructure. So there are rules governing numbers of seats, covered areas for standing and even the size of the changing rooms. It's not just about playing football! You couldn't be playing Queens Park Rangers, on the rec – the grounds have to match the level you're playing at.
Is external support available for this kind or work?
We have received some funding for ground development through a grant from the Football Foundation, which is where the Premier League, the FA and Government put money into grassroots football. That support is there to help clubs get the stand they need to progress to the next level. It's great that they like to support clubs that are on the rise and it looks good for them too.
It's evident there's a lot of passion within the team and from yourself. Do you hope to continue with Peterborough Sports to lead it on to the next chapter of its development?
Oh yes, absolutely. This is a long-term project for me and I'm loving every minute of it.
Leave a Reply