Peterborough fundraisers raise money for breast cancer research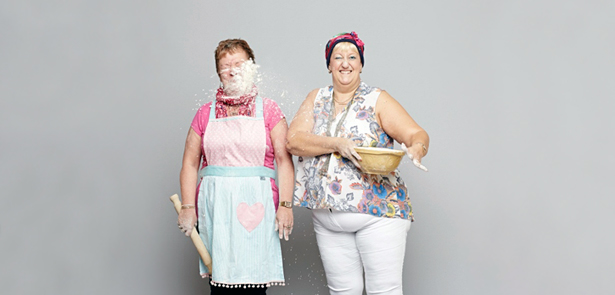 Local residents, Karen Hingston, Pauline Murphy and Anne Evans from Peterborough have been selected to front a new and exciting campaign, now is good, launched by the UK's leading breast cancer charity, Breast Cancer Now
Now is good will encourage new and existing supporters to commit to raising money for breast cancer research and will bring UK fundraisers together to make a difference to the lives of those affected by breast cancer. Whether it's putting on a bake sale, organising dances or balls, holding collections, wearing fancy dress to work, signing up for a marathon, trek, cycling challenge or even skydiving – whatever it is that helps to raise money – now is good.
Karen Hingston, Pauline Murphy and Anne Evans all took part in a photoshoot to help encourage the nation to join the now generation and fundraise in fun and effective ways – the ones who can change the future for good. Karen, 48, was diagnosed with breast cancer in April 2015. She had a mammogram in 2014 which was all clear, so it came as a big shock to Karen when she found a lump last year. Karen's treatment included a lumpectomy, chemotherapy and radiotherapy, and she will now take Tamoxifen for the next 10 years.
A huge support to Karen is her best friend of 25 years, Pauline, who took part in the now is good photo shoot with her. Pauline was the first person she told about her breast cancer, after her husband, and attended many of her medical appointments with her. Karen remained very positive throughout her illness, even when she lost her hair to chemotherapy. With no personal family history of the disease, Karen believes that research into the disease is imperative, and is dedicated to raising awareness of breast cancer.
Anne was diagnosed with stage 3 breast cancer in January 2013, aged just 48. Anne had the tumour in her breast removed, followed by a course of radiotherapy, and she now takes Tamoxifen. Anne still works as a Care Assistant but has had to halve her working hours, and is unable to do as much gardening as she used to, which is one of her passions. At the time she was diagnosed, Anne hadn't noticed a lump, nor did she have any history of breast cancer in her family – so she is now dedicated to raising awareness of breast cancer, and is very open about sharing her story.
"This is a cause so close to my heart," Anne explained. "Thanks to incredible research breakthroughs, more women are surviving breast cancer than ever before, but more than 30 women still die from the disease every day in the UK. If research has the funding it needs to continue, by 2050, Breast Cancer Now believes everyone who faces breast cancer will live. I want everybody in Peterborough to join me and help fundraise for Breast Cancer Now's vital research to stop women dying of breast cancer in the future– and it starts right now, with each of us!"
Breast cancer takes the lives of nearly 12,000 women in the UK every year – that's 1,000 women that will die from the disease each month. Loved and needed women whose families rely on them, whose friends adore them and whose communities are brighter because of them. By funding pioneering research, we can stop breast cancer and save lives.
Colin Norford, Assistant Director of National Fundraising at Breast Cancer Now, said: "Breast cancer is a heart-breaking disease, and when we hear that yet another life has been lost, it feels like we're powerless against it. But there is something we can do – we are the generation that can change the future for good. We know that there are thousands of people out there who have considered fundraising for charity or who are already out there doing it – so we want to encourage them to make 2016 the year they all come together to achieve even more. With every cake we bake and every bucket we shake we're powering research that's finding new ways to prevent, detect and treat breast cancer until the day when we stop it, once and for all. And with you by our side we can make it happen faster. We think now is the time to get started!"
Fundraise for Breast Cancer Now and you can help to stop breast cancer. Every action, big or small, gets us a step closer. We're the people who can make it happen – so let's get started!
Sign up for your free fundraising pack at www.breastcancernow.org/nowisgood or text Good7 to 70660 to receive your free fundraising pack. Texts are charged at your standard network rate and you can text STOP to the same number any time to opt out.
Leave a Reply