Peterborough Community Radio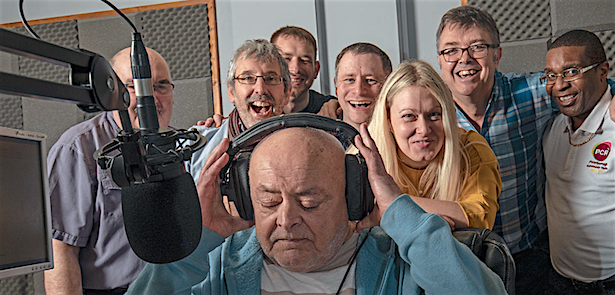 The city finally has its own, truly home-grown radio station – and there's some serious talent at the helm... Toby Venables investigates.
What image does the phrase 'community radio' bring to mind? Does it, as DJ Martin Chillcott says with a wry smile, suggest 'something like Wayne's World – a bunch of people with no mates doing something from a basement somewhere'?
The fact that the station's founder is indeed named 'Wayne' is not lost on Martin, but fortunately for the city, Peterborough Community Radio (PCR) is a long way from that stereotype. 'The people on the station are Peterborough people, but they're pretty much all professional DJs. Skip Stewart has been a professional DJ with Steve Allen discos for about 40 years, and we once worked out that in that time he's made about 300,000 people dance… It's actually a full professional studio with people who, in many cases, have spent their entire careers in commercial radio.'
Among those is the station's very own Wayne – Wayne Fitzgerald, former presenter and producer at Hereward Radio and founder of both Lite FM and PCR's predecessor, Peterborough Radio. Another is Dave King, a veteran of numerous local radio stations who is now PCR's managing director as well as a regular presenter in its drivetime slot. Dave expands on Martin's point. 'Even though it's entirely run by volunteers, people listening expect it to be as professional as Radio 2 or anyone else on the dial. They're not going to cut us slack just because we're not being paid. And advertisers are not going to choose to advertise if it's not right. We've got to be up to that mark.'
To achieve that, PCR knew they needed a strong breakfast show and a strong drivetime show – the two main anchors of any radio station. Now, they have them; every morning at 7am-10am Chris Tate presents the breakfast show, while the drivetime slot, 5pm-7pm is taken by Dave Edgeworth – who also records local news every day – and Dave King. 'Dave is hugely experienced,' says Martin. 'Listening to his show you really would think you were listening to national radio.'
Dave started his radio career in 1982 working at Hereward, becoming a full-time presenter in 1987. He then moved over to KLFM in Kings Lynn, working his way up to managing director in 2002, then moved back to Peterborough to work at Wayne's new station, Lite FM. He moved out of radio for a while, then about three years ago got a call from Wayne inviting him to get involved in PCR. Now he's back on air, and running the station.
'Drive is a fun, two-hour show,' explains Dave. 'It has great music, as well as local traffic news and weather, which is what makes it really local. The music is key. You can't have a drive show with ballads and slow songs, it's got to be moving. But we also keep an eye on what's been going on in the national news, because if you've been in work all day you may not be aware of what's been happening. So, you get home knowing what's been going on in the world and hopefully without hitting any traffic!' Dave claims it's not a show to be taken too seriously – but there have been times in his career when circumstances have dictated otherwise. 'I was on air at KLFM when the Twin Towers went down, and was on air when Princess Diana was killed. That's when you do have to be on the ball.'
What makes PCR special, though, is its connection to the community – something that many 'local' radio stations have lost. 'The thing about PCR is that we can be really local.' says Dave. 'We can talk about every single thing in Peterborough, ignoring Cambridge or Kettering, because that's where we're broadcasting from. We're going back to where local radio used to be.'
'Wayne felt that Peterborough deserved decent local radio,' adds Martin, 'because Heart wasn't truly local any more. There used to be a requirement that a radio station had at least a breakfast show and a drivetime show that were locally produced in order to qualify as "local" but that's no longer the case. So now people either listen to national radio, or go the other way and seek out something that is really from their community.'
And that's where PCR comes in. 'There is Salaam Radio, which is great but is specifically targeted at the Asian community, but we're really just there for everyone. Peterborough's station.' Being genuinely local allows the station to do things that others couldn't or wouldn't do, of course. 'I play Kerry Devine,' explains Martin, 'who is a fantastic local singer-songwriter. The local music scene has hardly been better, I think – I can think of at least a dozen local performers and bands that I play – and we're able not only to reflect that, but actually facilitate it. It's a feedback loop. If you've got the bands you can play them, and if you play them it encourages the bands. And it's really good stuff.'
There's no restriction on what DJs play, either. 'We have a system called Myriad, where you have all the songs stored, but there isn't an A list, B list and C list. That's how most commercial radio works: A has to be played eight times a day, B four times and C twice, and there might be twenty songs on your list – which is why you get the same old songs coming around.' But no one is pushing playlists here. 'Wayne just said to me "Play whatever you want…"'
So, what should listeners expect? In Martin's case, it's what he calls 'an eclectic racket'… 'My show, 6-8 every Sunday, is called Lazy Sunday with Chilly. Chilly's been my nickname ever since I can remember. It's essentially music to round off the weekend – bit of rock, funk, soul, ska, indie, electronica… Anything, really. A typical playlist might be Bob Dylan, live Stones, The House of Love, Austin Gold from Peterborough, Aretha Franklin, Sharon Jones and the Dap Kings, a bit of Motown, Half Man Half Biscuit…'
Another facet of PCR is that it features bands playing live in the studio – something that is very unusual for a community station, not least because it presents considerable technical challenges. Cue Steve Durham, acting manager when the station was first launched, and now all-round technical guy. 'I'm the one they come running to when they break things,' he says, 'which they do quite often!'
There are two shows that feature live music each week: Peterborough Most Wanted on a Monday and Doc Mason on a Thursday. 'We're lucky that Studio 1 is quite large, so we have two separate mixing desks in there, and we mic everything up and broadcast live, going out on Facebook at the same time. It's fantastic, because it's supporting local bands, which is something I truly believe in, but also we get good sound.'
Getting that sound right is a challenge, however. 'For most bands we'll put out eight or ten mics, and we try to get as close to studio quality sound as we can. It's actually more complex than doing mics for a gig; I try to get some kind of stereo ambience, for example, which you don't usually bother about at a gig. But it's a skill we've developed. We also do some outside events, and have broadcast live from the Broadway, the Cresset and Kingsgate.'
Although he has been interested in radio for as long as he can remember, Steve is entirely self-taught. 'I'm a fully licensed ham radio operator, and I also did discos for about 30 years, from the age of 14. But I'd never actually been involved with broadcast radio until about six or seven years ago, when a friend of mine started doing hospital radio. They didn't really know how to set the station up – neither did I at the time, but it sounded interesting!'
Steve helped to set up an internet station called Peterborough Youth Radio, where he also did some presenting, and it went from strength to strength. 'We got to the point where we had about 30 presenters – but, as ever, money was the issue. We ultimately found we were spending more time raising funds than actually doing the radio bit and were about to pack it in when I went to an open day at Radio Peterborough and got talking to Wayne.' He offered Steve use of Studio 2 at Herlington – PCR's current premises – and Steve relocated the station there, then went from managing Peterborough Youth Radio to managing Radio Peterborough as well. After a period broadcasting on a limited licence, Radio Peterborough put in a bid for the community licence. They lost out to Peterborough FM, but when Peterborough FM later went bust, it left the community FM licence – and a lot of radio talent – up for grabs. Under Wayne's guidance, Radio Peterborough and Peterborough FM merged their resources – and Peterborough Community Radio was born.
At PCR Steve has kept up the presenting, but admits that time restrictions – and his own high standards – have prevented him doing as much as he might otherwise like. 'I do present on occasion, doing the fill-in shows. But I'm a bit particular. I do a dance music show which means beat-mixing every track, and that takes a lot of preparation – a two hour show is going to take about four hours to get the way I want it, so I've opted not to have a regular slot for the moment! A typical week for me is six to ten hours – but I do a lot from home as well, editing the pre-recorded shows and adding the adverts in. Time is the biggest problem for all of us – in real life I'm operations manager for a big metals company, and the job that pays the bills has to take priority – but you do it because you love it.'
'Nobody is paid at the moment,' says Dave, 'but we're hoping to change that. It's not-for-profit, so any money we make we need to spend on the station, so hopefully we'll be able to pay mainline presenters and a station manager in the near future.'
Another game changer for PCR and other community stations like it has been the internet. Not only has it allowed the technical kit to get smaller, smarter and more portable and made it easier for broadcasters to reach their intended local and community audiences, it's actually created new audiences. Martin Chillcott explains: 'A community radio FM license means you can only have a certain power of transmitter, which gets the signal about 10 miles. I sometimes say: "From Stamford to Whittlesey, from Yaxley to the Deepings – and maybe even out to posh Oundle!" But you can also listen online at pcrfm.co.uk, and that has no limits.'
So, if you're from Peterborough but don't live there any more, or you live there but are having to work away, you can still get a little slice of it on your laptop or phone, no matter where you are in the world. 'That might be Oldham, or Penzance, but I've had a bloke I used to work with listening from an island in the middle of Vancouver Lake. I also had two work colleagues who were stranded at Vientiane airport in Laos message me from their laptop to wish a friend in Taiwan a happy birthday! It's incredible, really.'
The internet and digital media are often seen as enemies of traditional media – even destroyers of it. While there may be some situations where this is true, when it comes to truly local media, they have actually given those traditional methods a shot in the arm, not only providing new ways to reach and interact with the community, but creating a whole different levels of community, such as the Peterborough ex-pats spread across the globe described by Martin. It also means that anyone interested in knowing more about Peterborough for any reason – whether they are considering visiting, or moving here, or sending their kids to its university – can listen in and get a taste for the place. All the more reason for it to be professional and up to that national standard Dave King describes…
This is not just one way. Radio has always thrived on listener participation (where would it be without the phone-in?) and now the means to achieve that have vastly increased. 'Thanks to social media I get instant feedback from various listeners in Peterborough,' says Martin. Dave adds: 'I look at the internet as a huge help. We can do live broadcasting via the internet with webcams that allow listeners to see them too. We can also interact with our audience directly and see what likes we're getting and know what we're doing right. We just didn't have that 20 years ago.'
This brings us to PCR Extra – a separate, internet-only radio station operated by PCR, which is paving the way for the future. 'It features younger, less experienced presenters,' says Martin, 'but is giving them experience driving a desk, putting together a show and so on, so it's also training the next generation.'
'It's great,' adds Dave. 'I've been in radio for over 30 years, so have a fair bit of experience to offer, and now we have new people coming asking to learn how to do it. PCR Extra is basically a training ground for people who want to be presenters, and that is a great way forward.'
So, what does the immediate future hold for PRC? 'This year we're planning to be out and about everywhere,' says Dave, 'bringing local radio back to where it was. Back to the people. Technology has made that so much easier.' Sponsorship from Vodaphone, just secured at the time of writing, is undoubtedly going to help PCR connect the cities communities. 'Then we can talk about all the good things that are going on in Peterborough. What I love is that feeling of it being one on one, like talking to one person. And when you get positive feedback, it's absolutely golden. You realise you are making a difference.'
And it seems to be making that difference. 'A year ago, it felt like you were on your own, sitting there in the studio,' says Martin, 'but it doesn't feel like that any more. People talk to you about it, or you get into a taxi or go into a shop and it's on the radio. That's another reason we want to encourage businesses to advertise, because apart from the revenue it means they'll play it in their premises, and it gets the word out.
Dave adds: 'I was looking at a car on a car auction website the other day, which had pictures of the insides of the cars, and the radio was tuned to PCR – so the message is getting out there! Hopefully it'll start making its own money and be really good for the city.'
'We just all feel Peterborough deserves its own station, and that it's for everybody,' says Martin.
Find PCR FM on your radio at 103.2 FM or online at www.pcrfm.co.uk
Leave a Reply