PETERBOROUGH'S BLUE PLAQUES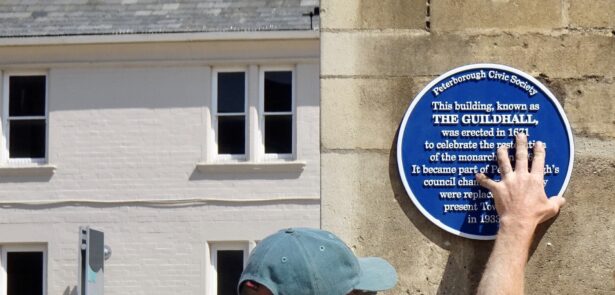 Peterborough Civic Society Chairman David Turnock and Vice Chairman Toby Wood sing the blues…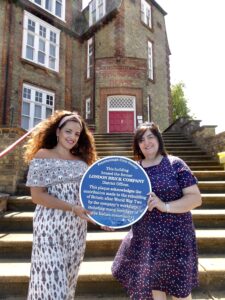 David It seems ages now since the Civic Society installed the latest set of blue plaques in and around Peterborough city centre. Unfortunately, on this occasion, we just seemed to get the timing a little wrong – putting them up in June 2020 just at the time people were being encouraged to stay at home and not visit the city centre unless essential. Bloomin' Covid!
Toby Yes, we were really pleased with the fifteen new ones, to add to the twenty-one that we erected back in 2017. We had a really positive response to the first phase so that inspired us to add to the originals. And now that things are opening up, we are looking to encourage people to once more take a walk around the city centre to find them all. Having said that, it would be quite a trek to find them all at a single go!
David Now there's a thought – a blue plaques triathlon – how many can you find in an hour or how long will it take you to 'tick off ' all thirty-six! Remind me Toby, how did we decide what or who to include?
Toby Well, for proposals concerning famous or important people, they had to be of significant standing in a local, national or international context, or be understood to have made a positive contribution to human welfare or happiness. Also their achievements should have made a significant impact in terms of public recognition, and there were strong grounds for believing that they are regarded as eminent and distinguished locally by a majority of members of their own profession or calling. Of course proposals for such commemoration couldn't be considered until the subject had been deceased for ten years. A person's residence in the Peterborough area should also have been a significant period, in length of time or in importance, within their life and work. There's a plaque on a hotel in Spalding where Jimi Hendrix stayed for a night in 1967. Although that's a fascinating fact we decided that any connection to Peterborough for our plaque recipients had to be a little more substantial. Anyway I don't think Hendrix stayed in Peterborough!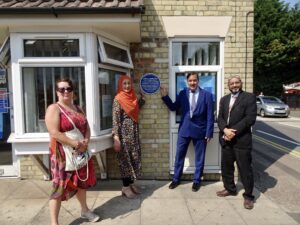 David Of course proposals could also be considered for the commemoration of buildings that have historical significance worthy of public notice – other than a particular personal association – either because an historical event of particular importance occurred there, or because the building had an important historical significance that is not obvious from its present appearance.
Toby There are also people and events that are already commemorated in the city in different ways. For instance dear old Walter Cornelius, Peterborough's favourite strongman, is commemorated at the Lido with a weathervane and an aluminium plaque just inside the main entrance, put up a few years ago by his friends and supporters. And let's not forget that there might also be people or events that we don't want to commemorate. For example, in 1856 Charles Dickens wrote about poor service he had received at the station. He wrote, 'the lady in the refreshment room…gave me a cup of tea, as if I were a hyena and she my cruel keeper with a strong dislike to me'. I'm not sure any building or organisation would want to
commemorate that.
David True, that's more notoriety than fame. One of the things we were determined to do was to include some of the newer areas of the city, encouraging people to travel 'south of the river' in particular. That's why we included plaques at Fletton Quays commemorating the old Engine Shed and the East station.
Toby Ah, the East station – now you're talking – I remember catching a train from there in the 1950s to take us on our summer holiday to Cromer. We'd go out past the Dogsthorpe brickworks…
David Er, Toby let's leave the Wood family reminiscences for another day. I have to say that so far we've had plenty of positive comments about the blue plaques.
Toby Yes, there's something pleasing and familiar about their design and ubiquitous nature. Wherever you are in the country, whenever you see a blue plaque in the distance you know that the building is known for something distinctive. The odd thing is – the actual plaques themselves actually give out very little information in their forty words or less. They're a bit of a taster – if people want to find out more then they will have to do a little more research.
David That's why we have produced a free booklet that describes each plaque and provides more information. However if folk want to find out even more, the best place to go is the Civic Society's website where there is still more information on each one.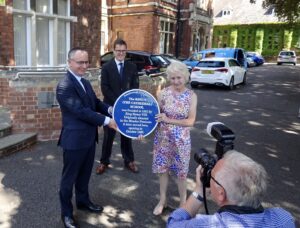 Toby That's right – without doubt the website is the easiest way we can add, alter and amend information. We can also include links to other online articles on relevant topics – it's so easy.
David Aren't there some differences between the first group of twenty-one that we
installed and the latest batch?
Toby Yes, there is one significant difference – the new group includes four plaques in the Cathedral precincts. Previously the authorities hadn't given us permission but now they are far more willing to be involved. Those four are the Almoner's Hall, Simon Gunton, Laurel Court/Edith Cavell and John Fletcher.
David I bet most Peterborough people have never heard of John Fletcher. He's the playwright whose father reputedly shouted out at Mary, Queen of Scots' execution at Fotheringay, "So perish all Queen Elizabeth's enemies!" He worked with William Shakespeare, and probably knew Old Scarlett, the gravedigger, which could have seeded in Shakespeare's mind the notion of the graveyard scene in Hamlet. But of course we'll never know for certain. Are we planning any more plaques?
Toby Not at the moment although we are always open to suggestions. We have used the same manufacturer for all the plaques – Leander Architectural of Derbyshire – and they have kept a tin of the exact same blue paint in case we want any more!
David A number of people have asked us if we plan to erect a plaque to Peter Boizot. After all he did so much for the city. However, since he only died in 2018, we can't erect a plaque to him just yet, one of the rules states that any subject has to be deceased for ten years before they can be considered. And of course, where would we put a Peter Boizot plaque – he had such an influence all over the city – Great Northern Hotel, Odeon cinema site, the football ground? Anyway, that's a decision for the future. So Toby, what's next?
Toby Well it's likely that we will do a relaunch of the plaques in the autumn, now Covid regulations are eased. We may spend a day on Cathedral Square, publicising the plaques and reacquainting the public with the fact that they actually exist. We're also very keen for the City Council's Tourist Information Centre to reopen so that we can direct people to an actual place where they can pick up a free blue plaques booklet.
David In the meantime anyone can download the booklet by visiting the Civic Society website and clicking on the 'Plaques booklet' logo or by the link below. If you want us to post your copy of the booklet, it can be ordered from the website and costs £2.00 to cover postage and packing.
www.peterboroughcivicsociety.org.uk/doc/BluePlaqueBooklet2.pdf
Leave a Reply