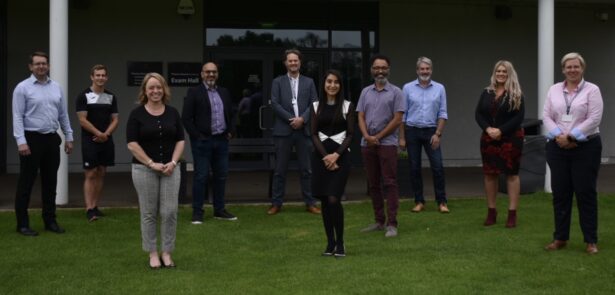 The new local chapter of Citizens UK moves towards founding assembly in October.
Peterborough Citizens is an alliance of civil society organisations that work together for social justice and the common good. It comprises institutions from across civil society in Peterborough including churches, mosques, schools, colleges, academy trusts, trade unions, universities and charitable organisations. It is part of Citizens UK, the largest civic alliance in the country, with chapters in towns and cities across the UK.
Since November 2019, – and thanks to seed funding from Peterborough City Council's Integrated Communities Fund – key leaders have been exploring the appetite for a civic alliance in Peterborough. This involved setting up a sponsoring committee, comprising key leaders from across the city to oversee the formation of the alliance. Citizens alliances hold those in public office, or in positions of power, to account.
Peterborough Citizens held its first Mayoral Accountability Assembly in April with the three candidates for the Mayor of Cambridgeshire and Peterborough and secured pledges from all candidates to work with us on the agenda we have worked up. We will meet with the new Mayor Nik Johnson at the end of the month to discuss how we will work together on the priorities we identified at the assembly: improved mental health services; safer streets, particularly for young people; tackling homelessness and reducing intolerance. Peterborough Citizens is able to hold those in power to account by being independent from local government and by raising its own money in the form of dues from member institutions.
The dues pay for a community organiser to work across institutions to develop campaigns but also enable member institutions to access training in community organising. The role of the sponsoring committee has first and foremost been to raise funding for the alliance to enable it to continue as an independent organisation when the seed funding runs out.
More fundamentally it has been to bring their own institutions into the alliance to demonstrate what is possible.
The sponsoring committee met in person for the first time since February 2020 at Thomas Deacon Academy on Monday 5th July to celebrate their achievements to date and plan the launch of Peterborough Citizens as an independent alliance later this year.
VERY REVD CHRIS DALLISTON, DEAN OF PETERBOROUGH
"Peterborough Cathedral is proud to support the emerging Peterborough Citizens. Among the Church of England's five marks of mission are the call for the Church 'to respond to human need by loving service' and, 'to seek to transform unjust structures of society, to challenge violence of every kind and to pursue peace and reconciliation'. Our own Vision Statement echoes the words of Jesus that he came to bring 'life in all its fullness', and we take that to mean a commitment to seek human flourishing in every way.
Peterborough Citizens seeks to bring people together from across the social, religious and political spectrum to find common cause, empowerment and practical solutions to the challenges that face us as a society and specifically in this city. We will do all we can to work with others to ensure Peterborough is a healthier, safer, fairer and more just city."
RACHEL NICHOLLS, PRINCIPAL OF PETERBOROUGH COLLEGE, DEPUTY CEO, INSPIRE COLLEGE GROUP
"Peterborough College and University Centre Peterborough are proud to be one of the founding strategic partners of Peterborough Citizens, part of Citizens UK. The principles of community organising are very much part of how we aspire to develop our students – how to listen, form a team, relate to people in power and hold decision-makers to account. We want our students to be positive members of society, to make a difference, to challenge the status quo and be leaders in their communities. Peterborough Citizens have achieved so much in a short space of time and we will continue to work together as leaders and organisations to build a stronger and fairer community, that works for everyone."
MATTHEW BRADBURY, CEO NENE PARK TRUST
Nene Park Trust are delighted to be part of Peterborough Citizens and, as such, also part of the amazing Citizens UK network.
As a community focussed organisation seeking to improve the lives of the people of Peterborough, the benefits of being part of an organisation that is so focussed on community organising and empowerment are clear. We look forward to working in partnership to effect positive change, to support social justice and to empower our communities for mutual benefit."
To find out more, visit: https://www.citizensuk.org/chapters/peterborough/
Leave a Reply