Peterborough Celebrates: some summer events…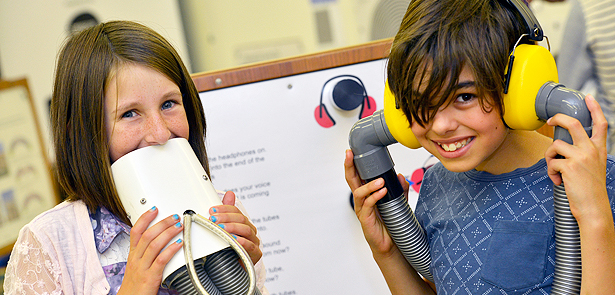 Grabbing a pizza the action
When pizza delivery restaurant Papa Luigi asked local schoolchildren to invent their own toppings, some of the suggestions took them by surprise
Papa Luigi Dial-a-Pizza is a Peterborough institution. It was the UK's first pizza delivery service and ever since the first delivery back in 1983 it has stuck to its winning formula: ingredients freshly prepared on site every day, including dough that's lovingly made each morning.
'We've always been a community-based business, so we knew we wanted to do something special to celebrate the 900th anniversary of the cathedral,' says Papa Luigi's Pietro Scibelli. 'It's why we came up with the idea of a drawing competition for local primary schoolchildren.'
The competition invites children to invent with their own pizza designs. 'They can be as wild or crazy as they want. We've had a good response, with 10 schools taking part and the competition now heading online to our Facebook account.' It's here that members of the public are voting for their favourites, with a winning design selected from each class. Each week sees the culinary creations of a new class up for the vote. Every class that has submitted designs receives five free pizzas for their efforts.
The children who came up with the winning entries will be invited to a special pizza demonstration to be held in the cathedral grounds. 'During the demonstrations we'll attempt to get them making their pizzas, although there have been some pretty unconventional designs! We'll show them how we make pizzas at Papa Luigi, from stretching the dough to adding the toppings.
'They'll be some fun and game too, including dough throwing. We'll also get Mr Papa Luigi down to entertain the kids. It should make for a really fun time.'
The toppings conjured up by the fertile imaginations of the youngsters involve some highly unusual additions. 'A lot of them like sweets and there's quite a few with things like salsa and guacamole on them – some very odd and elaborate toppings!'
As well as the pizza designs, Papa Luigi will be looking to raise money for the Peterborough Celebrates campaign by selling slices of pizza during September's Italian Festival. 'The plan is to try and sell 900 slices, raising £900 in the process,' explains Pietro. 'We thought that would be a nice little bonus.'
And, just out of curiosity, what is Pietro's preferred pizza topping? 'Nice and simple: salami!'
---
The Peterborough Bake Off
Staff at Peterborough City Council are about to bake cathedral-inspired cakes…
As Peterborough celebrates the 900th year of the cathedral, the council has been supporting the campaign in a number of ways, most recently through its 900 Steps Challenge which saw staff step up their exercise as part of the council's Boost Health and Wellbeing week.
Now all that exertion's out of the way it's time for some serious fun! Announcing the launch of the council's next and definitely most appetising event: the Peterborough Celebrates Bake Off and Cake Sale! Every council member of staff is being invited to roll up their sleeves, don their aprons and unleash their creative side as they get baking – Peterborough style!
'Working alone or as part of a team, we're looking for people to summon their culinary magic to produce some Peterborough 900-themed cakes or cupcakes, which will then be sold to raise money for the campaign,' explains Employee Engagement Officer Jaspreet Matharu.
As well as key ingredients like sugar, flour and butter, bakers will need a good pinch of imagination. 'We're thinking cathedral-inspired ideas, perhaps incorporating the history, key events/people or architecture of the building. But those are just suggestions – it's up to competitors to interpret the theme in any way they like!'
The Bake Off-style event will be judged by none other than Gillian Beasley, Peterborough City Council Chief Executive, and The Very Reverend Chris Dalliston, Dean of Peterborough. It's a tough job but somebody's got to do it!
Prizes will be announced shortly after the judging. The prizes, kindly donated by Vivacity, include a one-month gym membership, two main courses at the Riverside Restaurant and a family ticket for a family film of the winner's choosing at the Key Theatre.
The cake sale and judging are set for Wednesday 27 June in the Town Hall.
---

Don't look down!
The Council's Chief Exec better have a head for heights as she's about to abseil – down the cathedral!
Thrillseekers, including Peterborough City Council Chief Executive Gillian Beasley, will soon be abseiling down Peterborough Cathedral in aid of two good causes. The abseil will be one of the special events marking a momentous year for the cathedral, which commemorates its 900th anniversary this year.
The abseil, which takes place on 18 and 19 May, won't be for the faint-hearted. After ascending the ancient spiral staircase within the great North West Tower and taking in the breath-taking views across the city, participants will clip in and descend the 150-foot vertical drop, cheered on by friends, family and colleagues watching from a safe distance below.
Funds raised through sponsorship are to be equally split between preserving the magnificent 900-year-old cathedral for future generations, and Peterborough-based charity Shine, which provides specialist support for those affected by spina bifida and hydrocephalus, complex conditions affecting movement, learning and health. Prizes await the top fundraisers and all abseilers will receive a personalised image to share on their social media in the lead-up to the event.
---
Peter Burrow picks up the pace
The Posh mascot put his best feet forward in a springtime sprint
Peter Burrow showed his speed at an out-of-the-ordinary race for charity at Peterborough Athletics Track. The Peterborough United mascot completed 900 metres in sweltering heat during the event, organised by Group Travel World.
The curious race was part this year's Peterborough Celebrates campaign. Also taking part in the run were several employees from Group Travel World, and Mikey Clarke who stepped in at the last moment to represent local charity Little Miracles. The runners were cheered on by supporters from other charities, including Anna's Hope and Shine.
Event organiser and Group Travel World general manager Harley Denham says: 'We're always looking for ways to encourage tourism in the area and support Peterborough, so we came up with the idea of involving Peter Burrow. It was a fantastic day in great weather, which we all thoroughly enjoyed.'
---
A moment in time
'Peterborough Cathedral: A Moment in Time' is the theme of a photographic competition just launched by the Cathedral to celebrate its 900th anniversary year.
The competition is open to amateur photographers of all ages to encourage them to capture some exciting moments during the Cathedral's 900th year. This might be the effect of a fleeting moment of light or weather on the building, or the people and events that are part of the anniversary celebrations. The competition is open until Friday 9 November so there is plenty of time to take pictures throughout the year.
The judges include experts from the fields of photography, the visual arts, printing and the media, as well as representatives of the Cathedral itself. They will be looking for imaginative and eye-catching images that illustrate the theme. The public will then be invited to see an exhibition of the images and to vote for their favourite to win a cash prize.
The judges' selection of shortlisted photographs will exhibited at the Cathedral Visitor Centre from early December 2018 until the end of January 2019, and voting will be open during this time.
Each contestant can submit up to four pictures. There is a registration fee of £6 which gives photographers a permit to take pictures inside the Cathedral on four occasions (normally they would be asked to buy a camera permit for £3 on each visit). There is nothing further to pay to enter the competition.
Register on a paper form or online. To download full details, including guidelines and terms and conditions, visit: www.peterborough-cathedral.org.uk/photocomp.aspx
---
COSMOS Roadshow: Interactive Science Exhibition for Families
Cathedral New Building
26 May-June
Monday to Saturday, 10.00am to 4.00pm
Sunday, 12.00 noon to 3.00pm
Be a part of a 'Sensational Science!' roadshow as COSMOS brings hands-on exhibits, shows and activities to Peterborough Cathedral for all the family to enjoy!
Experience an illuminating illustration of how your mind and body work together to let you sense the world around you. From the anatomy of the ear to the eerie 'velvet hand' illusion, it has to be seen to be believed! . Each experience is designed to encourage young people to explore and discover science for themselves. Visitors will also be joined by our enthusiastic science communicators who will be delivering drop in activities twice a day, where you can get creative with science.
This event is drop-in and free to the public
---
Time Explorers: Normans
Cathedral Nave
Monday 28 May to Friday 1 June
Drop in, 1pm-4pm
Explore the Cathedral's 900 year history through hands-on holiday activities. This time, experience the story of Norman Peterborough by building a castle like Abbot Turold, making a chest to hide treasure from Hereward the Wake, and creating an arch to help rebuild the Abbey after the fire of 1116.
Entry: Free (no need to book), but donations are welcome to cover costs. Children must be accompanied by an adult.
---
Peterborough Celebrates
Find out more about Peterborough Cathedral's 900th anniversary and the many other planned events and activities at: www.peterboroughcelebrates.org.uk
Leave a Reply