Peterborough among first in UK to receive Towns Fund cash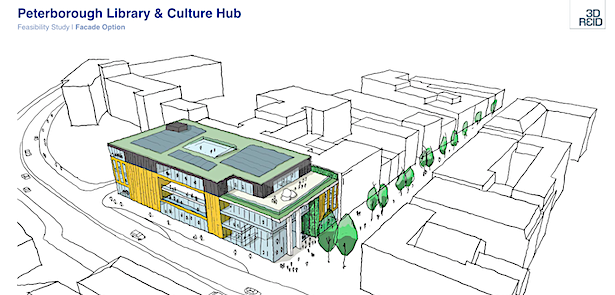 Peterborough is one of the first towns and cities in the UK to receive the opening instalment of the Government's Towns Fund cash.
On 19 March, an opening installment of £4million was transferred by the Ministry of Housing, Communities and Local Government (MHCLG) to Peterborough City Council, to fund the purchase of the TK Maxx and former New Look building in Bridge Street in December 2020.
The 89,000sq.ft three storey building on 62-68 Bridge Street is set to be transformed into a new city centre library, culture and community hub, named 'The Vine'. The building will be a must-visit location for residents and visitors alike and will drive footfall through Bridge Street along a key route from the city centre towards the new University and the refreshed Embankment/River Front and Fletton Quays.
The building could include:
A brand-new city centre library
Business space with specialist support for start-ups businesses in digital, creative and design sectors with access to meeting rooms and rehearsal studios.
A learning resource centre which could include testing and assessments for T Levels (recognised technical based qualifications).
Gallery space for artists.
A community café
A visitor information hub
A study area for young adults
A creche with informal learning spaces, such as a group reading room for parents with young children
Meeting rooms for council/community use
Support for voluntary sector
Commercial activities such as retail and services
Matthew Bradbury, private sector chair of the Peterborough Towns Fund Board, said: "MHCLG was so impressed by the Peterborough Towns Fund Board's quick and well thought through business case for The Vine, that they were quick to confirm that Peterborough is one of the first to receive a cash payout. This is amazing – yet more proof that we are a young, vibrant and growing city that's worth investing in."
Councillor John Holdich, leader of Peterborough City Council, said: "Before the Towns Fund came along we were already creating our Local Area Development Plan and thinking long-term about what our vision for the city in 2050 would be. We are a growing city and one with big dreams for the future.
"Therefore we had already begun thinking about these projects and putting in the background work in order to seek investment. This has put us in an excellent position as it shows that we are keen, eager and more than that, we have a clear vision for what we want to achieve with projects such as The Vine."
Public consultation on many of the Town's Fund projects, including plans for the Hub will be taking place in 2021/22.
Leave a Reply